Rachel Roginsky '79 – The Climb to the Top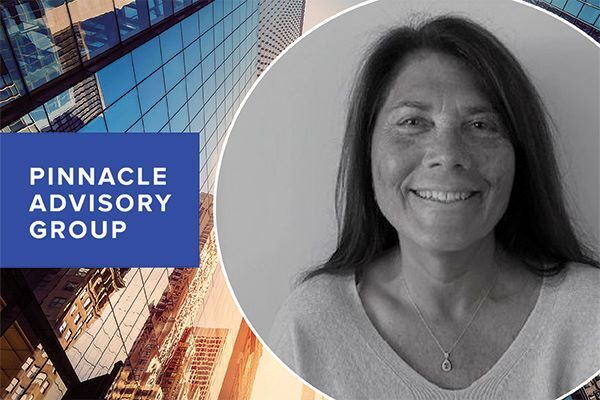 Rachel Roginsky's name reverberates with regard for many people in the hospitality industry. She's the owner and principal of Pinnacle Advisory Group, the leading hospitality consulting firm in the United States. She's a member of the renowned International Society of Hospitality Consultants and the widely published author of journals such as Hotel Investments: Issues & Perspectives. She has led litigation assignments, arbitration, and mediation for hospitality companies. She is a board member of numerous hospitality societies, including the Nolan School's Center for Real Estate and Finance (CREF) Advisory Board. And, of course, she is an educator– a regular lecturer at many prestigious universities across the country and an adjunct professor at Boston University's School of Hotel Administration, where she draws upon her 30+ years in the hospitality field to inspire real estate students from around the world.
Getting started
Her illustrious career started in an unconventional place: Disney World. As a new graduate of the Cornell Nolan School, Class of 1979, Roginsky pursued her passion in food and beverage service by running a restaurant at the media conglomerate's biggest park. Working six days a week, she immersed herself in the high-energy world of restaurant operations. From there, she went on to work for a major restaurant chain, moving from one location to another as she gained operational and managerial experience. While she moved up quickly in this industry, Roginsky knew she had a different calling and turned towards the world of hospitality consulting, what she is known for today.
Former Cornell peers helped her obtain a job at the highly regarded consulting firm Panel Kern Foster (PFK), where she transitioned from operations to consulting. Drawing upon her tireless work ethic and leadership experience, she worked her way up the ladder until becoming a Principal in a few short years.  In these early stages of her career, she managed a staff of 10 to 15 consultants, supporting hotels and establishing a rapport with a diverse array of clients in the hospitality industry.
A time for change
At this point, PKF was one of the two giants in the hospitality consulting industry. Yet, given the global shifts brought about by the early 1990s and the economic turmoil of the area, which irreversibly impacted the hospitality industry, the tides soon changed. Witnessing several structural issues within the major firm, Roginsky believed that she could create something from the ground up that was more resistant to outside forces.
And thus, Pinnacle Advisory Group was formed. "It was time for a change. I was done working for a big company, and felt like I could do this on my own," Roginsky said. "It was probably one of the best decisions I've ever made."
Of course, it took time, and endless hours of hard work, to ensure that her idea came to fruition. These early stages of foundation-setting were challenging, but many of the consultants who flocked to Pinnacle, including her initial partner, were previously employed at Panel Kern Foster. "I wasn't the only one thinking about making a move," Roginsky noted. Many of her early clients were also those she had counseled at PKF.
Reputation for personal touch
As a boutique consulting firm, Pinnacle had a reputation to establish among clientele. They needed a name brand at a time when large-scale consulting groups were virtually all that people knew. "Now we've done 4000 projects and are known by clients and financial institutions across the country," Roginsky said. "But we had to prove ourselves when we didn't have a name behind our firm. We had Bank of America saying, "Who is Pinnacle Advisory Group?"
Roginsky's tireless spirit and commitment to her craft has made Pinnacle one of the leading consulting firms in the nation, recognized by business leaders and financial institutions alike. Clients were able to see something in Pinnacle they couldn't find in other firms, which came down to Pinnacle's top-tier service and the qualifications and expertise of its staff.
Roginsky affirms that Pinnacle's number one strength lies in being a medium-sized firm. Pinnacle grew large enough to take on multiple assignments but is still smaller than comparatively larger firms with fewer corporate regulations and obstacles for clients to face. This utility in size enables experienced providers to make decisions quickly in the best interest of their clients. Pinnacle has a partner dedicated to every single project, with clients being able to access principals and senior-level staff for their needs. This personalized nature of Pinnacle's service has, since its inception, brought the firm multiple repeat clients. "When you hire a company that has 25 offices, you don't know who you are going to be working with, you don't get that individualized attention," Roginsky said. "I should be able to answer the phone and answer a client's question, and each person gets that same amount of attention, a portion of my time when it's applicable."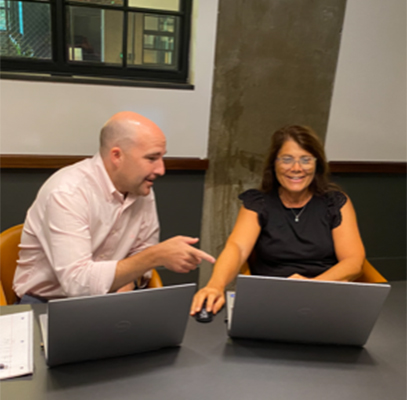 Roginsky also attributes Pinnacle's success to the strength and expertise of its staff. Many of Pinnacle's providers initially came from other leading firms, including Roginsky's previous firm, and thus had the industry experience necessary to make them efficient and effective consultants. In the thirty years since Pinnacle's founding, Roginsky has maintained this standard of excellence and has continued to hire experienced employees. Pinnacle's staff all have degrees from reputable top-tier hotel programs. They have worked in the industry for at least five years– a combination of stellar educational background and work experience that sets Pinnacle apart and establishes trust among clients.
"We look for people with work experience, communication skills, people who understand what it means to get up in the morning for a job– these are all things that I don't want to teach them, and things that give a level of credibility to the work that we do," Roginsky said. "If you're a client, a 21-year-old can't be telling you to build a hotel."
Giving back
Over the past 30 years, Roginsky has hired dozens of alumni from the Cornell Nolan School, paying forward the support and connections she received as a new graduate. In this
time, she's witnessed the growth of her business from a boutique firm in Boston to a nationally and internationally recognized leader in the hospitality consulting industry. Having invaluable experience as a woman in the industry, Roginsky noted the drastic changes the field has undergone over the past few years. "It's different today, but it's been
very slow to change," Roginsky noted. "These issues are more front and center today than they were ten years ago, and this isn't specific to the hotel industry– these are the changes that have been going on slowly in the world."
Equality and flexibility
As a principal, Roginsky maintains a commitment to creating an inclusive workspace. She incorporates standardized pay scales that are equal for all employees, "at my company, you are paid based on your work and not your gender", and increased flexibility in terms of hours. In part, these work policies stemmed from Roginsky's personal experiences as a woman and as a mother, understanding that many families may face challenges with childcare, and such challenges disproportionately impact women.
While many companies have implemented similar measures to reflect heightened social consciousness over the past few years, Pinnacle was truly ahead of the curve in this focus on equity. Roginsky attributed Pinnacle's high retention rates and consultant loyalty in part to this commitment and workplace flexibility. "We've always been like that, it was always a part of our culture, and there's a loyalty that comes with that," Roginsky said. "What drives a lot of women to work at Pinnacle is the fact that we were always very flexible in how they had to work."
The effects of this approach are apparent. While women only account for 17% of partners at consulting firms and 39% of the total consulting workforce, 11 of the 13 executives leading Pinnacle's branches are women. Many of them have been with Pinnacle for years, some over a decade.
Surviving a pandemic
While social and cultural changes have been underway in the industry for years, the shifts most apparent to Roginsky were those brought on by the COVID-19 -pandemic: a crisis of historical proportions for the hospitality sector. "In my 30 years in the industry, we have never experienced anything like COVID. It devastated the hotel industry in 2020, both from the industry and the consumer situation".
Roginsky noted that even two years after the start of the pandemic, the lack of uncertainty surrounding new variants has continued to shape the industry, impacting how consultants seek advice and look toward the future. At the same time, COVID's far-reaching effects on customer experience aspects of the industry have also forced providers to adapt to changing needs and demands. "It truly impacts everything– hotels, Airbnb, people's traveling, people's employees and whether they can still work, all aspects of lodging are impacted by the pandemic," Roginsky said. "It's the most challenging issue that the hotel industry faces today."
While still feeling the ramifications of the turmoil of 2020, Roginsky believes that the hospitality industry will continue to flourish through adaptability, versatility, and resilience.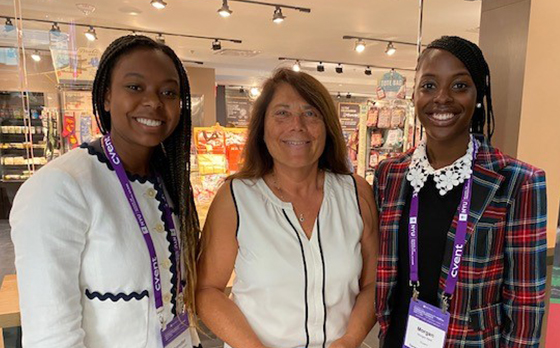 Roginsky's Advice for Students
Start somewhere, then start something.
Before launching Pinnacle, Roginsky had over ten years of work experience– 5 in operations and 5 in consulting, and had even been the Principal of a major consulting firm.
"There's a big difference between graduating Cornell when you're 22, versus having years of experience in your industry and starting something from scratch. I graduated Cornell, went to work at Disney to see how they operate, then went to working with a large firm and hiring my own staff. Understanding communication skills, understanding business – those things would be very difficult if I just graduated Cornell and said I wanted to start a consulting firm. The entrepreneurship piece will happen, but it's worthwhile to take the time to work for others – whether that's a  big company, a small company, your family, or anything."
Build your personal brand.
Roginsky has advised on hundreds of high-profile projects in her thirty years of experience; she's trusted by industry leaders across the nation and world. But this reputation took years of hard work– clients didn't hire her to consult on a 50 million dollar real estate plan when she was fresh out of school. 
"A student who graduates, a lot of them have high aspirations, they should take the time to learn, you learn from others, you see good things and bad things. The client doesn't want a 24-year-old graduate of Cornell to tell them what to do, they want advice from someone they feel has the background and experience. I know that from the work I do, that I will have some input– that's what the client is looking for."
Have a backup plan.
After leaving PKF to establish Pinnacle, Roginsky had her fair share of worries. Yet she always knew that she could fall back on her experience if needed. 
"Behind that worry was always the understanding that I could get a job doing what I do working for someone else. I had that 5 years of experience with consulting, I was a principal, and I knew a lot of people. The worst case was that I would just go and work for somebody else. "
Learn how to connect with people, whatever that looks like.
"If you don't jump to conclusions and you listen to others, you can do whatever you want. Where the industry is today is very different from what it was before the pandemic, when we got on the phone and not on zoom, when we talked to people in person– technology has certainly shifted the industry. Yet communication, verbal communication, has ALWAYS been key. Communication is so critical to being successful. You can't just work in a box, you've got to get out there and talk to people."
Get out into the world and never stop learning.
As much as Roginsky learned during her time at Cornell, she developed essential skills from her work in her first few years out of college– and soon, her experience managing other people. 
"Once you graduate, sure you have a great degree, but you have to really go out and learn from others. That learning you start at Cornell should continue. Get an entry level job, try new things, before you commit to what you want to do for the rest of your life. Get that time in. Now is the time to be learning. At school, you learn about what you read, you create models– but that isn't the real world, and it has nothing to do with real life. You've got to get out and get some real-world experience, and that would be my number one piece of advice."
Leverage your Cornell network.
Throughout Roginsky's career journey, Cornell has provided her with invaluable connections to people in her industry. Now, as Principal of Pinnacle, she pays it forward. 
"The network you can access through Cornell is amazing. It's how I got in the door at a lot of places. Networking is incredibly important, and Cornell is very good at that."