Cornell SC Johnson College of Business, Peking University announce dual-degree graduate hospitality business program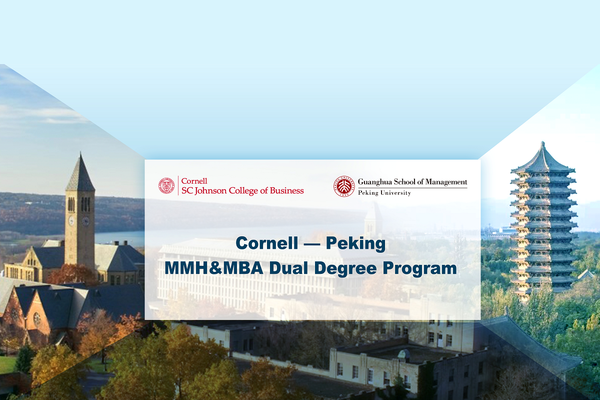 Cornell SC Johnson College of Business's School of Hotel Administration (SHA) and Peking University's Guanghua School of Management are pleased to announce the launch of an international dual-degree graduate program that strives to educate the next generation of leaders in the hospitality/service industry in China with global perspectives and capabilities.
Participants of The Cornell-Peking MMH/MBA—designed to balance life, work, and study through a part-time curriculum for executive professionals residing in China—would earn a master of management in hospitality (MMH) degree from SHA, and an MBA from the Guanghua School of Management.
"The Cornell SC Johnson College of Business equips business leaders to think responsibly about sustainable, shared prosperity," said Andrew Karolyi, dean of the Cornell SC Johnson College of Business. "Our graduates are community-minded, they are agile, tech-savvy, and entrepreneurial. And everything they do is with a global mindset."
"This dual-degree program with Peking University's Guanghua School will showcase how our graduates lead the way forward in the world's rapidly-changing hospitality business," Karolyi said.
The two-year dual-degree will be taught jointly by faculty at the two schools. Faculty at the Guanghua School will teach the MBA core courses; while Cornell SHA faculty will provide specialized hospitality management education—in areas such as real estate, service operations, analytics and human resource management.
"We provide the most relevant, groundbreaking hospitality business education in the world," said Kate Walsh, dean of Cornell's School of Hotel Administration. "We are the global thought leader for the hospitality industry and form partnerships that are premier in their own right. We are thrilled to partner with Peking University on what will be a global leading program in hospitality education preparing tomorrow's leaders."
According to Liu Qiao, dean of Peking University, Guanghua School of Management, this new program comes at a time when the service industry is gaining importance in the Chinese economy after decades of development.
"The rise of the digital economy and the 'carbon neutral' economy are quickly becoming an important engine for high-quality economic growth in China," Liu said. "Peking University and Cornell once again join hands, this time to launch a new dual-degree program in a bid to train internationalized senior management talent for the service industry, and to facilitate the growth of the global service economy," Liu added.
Zhao Longkai, director of the Guanghua MBA Program at Peking University, said that partnering with Cornell and SHA through this collaboration will further serve as a force in the school's vision to equip business talent with new knowledge, new thoughts, new visions, new opportunities and new concepts.
"The Guanghua MBA Program has always focused on nurturing senior management personnel and future business leaders with a sense of social responsibility and a global vision," Zhao said. "This collaborative program with Cornell will pool global wisdom and energy, emphasize professional development, leverage diverse practices and excellent alumni resources, and contribute to building outstanding executive talent in the Chinese hospitality sector."
The first class will begin their studies in the fall of 2022. For more information on the program, visit: sha.cornell.edu/admissions-programs/graduate/mmh-mba/