Preparing for the Return of Business Meetings, Conferences and Travel: Is High-Tech the New High-Touch?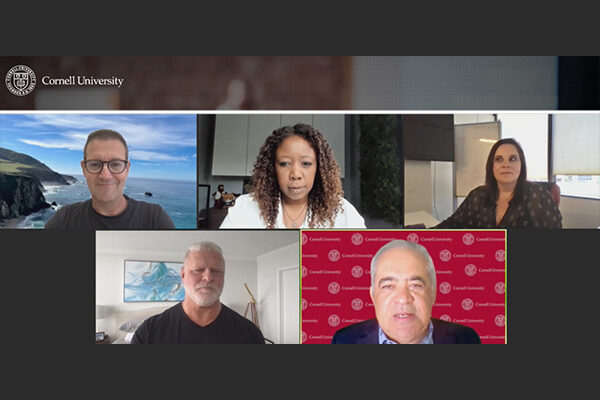 On June 15th, four hospitality and technology industry experts joined School of Hotel Administration (SHA) Professor Chekitan Dev to discuss the post-pandemic outlook for business travel in a keynote webinar titled Your Itinerary: Preparing for the Comeback of Business Meetings, Conferences, and Travel, presented by the Center for Hospitality Research (CHR) and eCornell. The panelists included Yaron Lipshitz, chief executive officer of Allseated; Jacqueline Nunley, senior industry advisor for travel and hospitality at Salesforce; Greg Land, global industry leader for aviation, hospitality, and travel-related services at IBM; and Kristi White, chief product officer at Knowland.
In sharing their perspectives, they revealed some key insights on the challenges and opportunities presented by the pandemic, and shared their ideas on how to best prepare for the return of group meetings and conferences.
Setting the stage
Kicking off the discussion, Singapore Tourism Distinguished Professor Chekitan Dev set the stage with a pair of slides, featuring data from CoStar's STR, to illustrate how luxury and upper upscale hotels—many of which rely on meetings and conferences—have been the slowest to recover, as well as the large disparity between the recovery of group and transient RevPAR (revenue per available room), a metric used to measure hotel performance.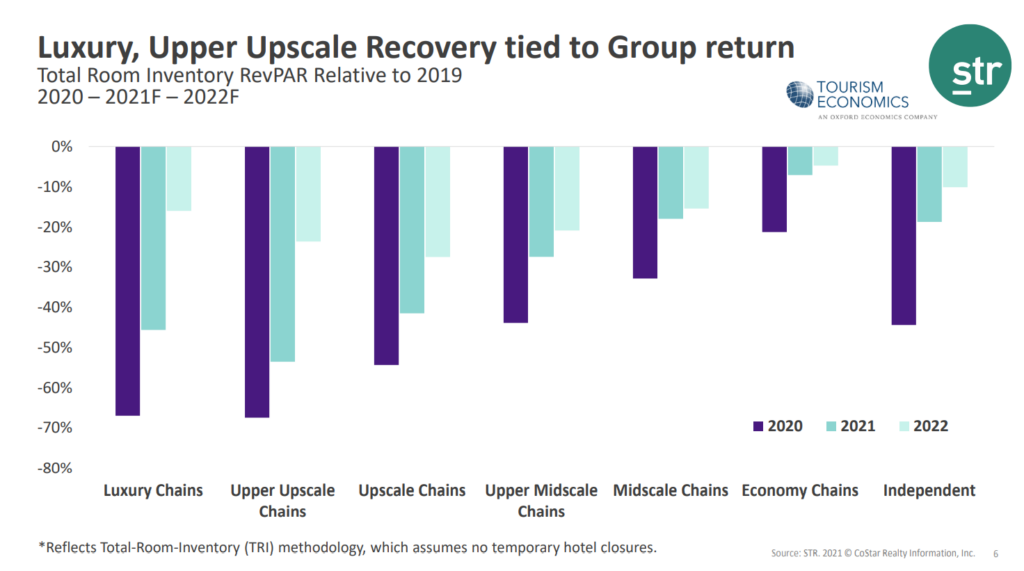 While transient RevPAR had recovered to approximately 75% of pre-pandemic levels by April 2021, noted Dev, group RevPAR was stuck at around 25%.
Sharing a quote from Chris Nassetta, CEO of Hilton, Dev evinced how industry leaders remain optimistic despite this data: "I would bet a lot that when you get to '23 and beyond that business travel and group travel in addition to the leisure business will be back where it was in 2019 and will be growing beyond that." (Source: CNBC).
Wrapping up his introduction, Dev concluded that the current industry picture is a tale of two market segments: it is the best of times for transient business (mostly driven by leisure travel), and it is the worst of times for group business (both business and leisure).
Pandemic takeaways and preparations for the return of group business
Recalling the past year, Professor Dev asked Greg Land and Kristi White to share some of the "most important lessons" they learned during the pandemic. Land emphasized the need for agility and resiliency, while White remarked that the worst is "much worse" than what they could have imagined, which "underpins the need for companies to be nimble" during the sudden transition from normal to pandemic conditions.
When asked about preparations for the return of group travel, White stressed the importance of proactively hunting for new business instead of passively waiting to respond.
Land chose to focus on rethinking data modeling. He explained that current hospitality models for revenue management and forecasting, for example, are based on historical data that are no longer relevant or useful coming out of the pandemic. During the industry's return to normal, Land noted that consumer trends will change very quickly. Taking too long to analyze and act on data insights will result in lost opportunities, and for some companies, be their demise. Incorporating AI (artificial intelligence) that can easily keep up with shifting trends into these new models will boost agility, enabling companies to turn on a dime.
In terms of health and safety, managing COVID testing for groups will be important and challenging, according to Land. He offered up his experience at a recent conference, where guests were tested on site, to emphasize the importance of finding local and reliable testing partners, as well as setting clear expectations for guests, so they know ahead of time what will be required of them when they arrive.
Risk of permanent loss of group business, and the high-tech, high-touch balance
On the risk of permanently losing a big chunk of group business to the potential trend of companies hosting their own, private gatherings at independent locations, the panelists were far from unanimous. White and Land seemed to agree that the market would be more bullish and come roaring back by the latter half of this year, due to the importance of face-to-face social interactions and the ability to grab a drink after meetings, as well as the anticipated return of events such as the GBTA Convention and the World Aviation Conference.
On the other hand, Yaron Lipshitz expressed more belief in the endurance of hybrid and virtual events, pointing out the appeal of being able to digitally record events for future use, and that these solutions allow some companies to slash their expenses by up to 50%.
Yet another issue was the importance of striking a balance between advanced technology and personal service, the so-called "high-tech" and "high-touch" elements of the industry. Lipshitz focused on the combination of automation and technology in hybrid solutions, such as using videoconferencing technologies to virtually host more people than an exclusively in-person event would allow.
Jacqueline Nunley also addressed this issue, focusing on the potential for automation to help give companies more time to develop the human touch for which the industry is well-known, as it is generally believed that automating routine tasks will free up staff for work that requires a personal touch unique to human service. She also addressed the need for companies to be able to "do more with less," citing the current labor shortage.
Successful strategies and potential improvements
When asked to name examples of practices that have been working to attract business, especially in the midst of COVID, White cited hotels that have been providing rooms to groups of first responders who wish to quarantine away from their families.
Lipshitz noted the flexibility of production companies and planners who embraced the "virtual side" of the Allseated platform and adopted their design, which he described as "not just Zoom" and more of an "experience." Land brought up the usefulness of mobile applications and self-service models to pull more "basic engagement" with guests into apps, while allowing staff to be assigned where "human contact is needed."
On upscaling, Land and Lipshitz agreed that modernizing applications and core systems is a necessity. Land stressed the need for "open" (or publicly accessible) standards as a path towards modernization in the travel industry, and a way to improve the efficiency of intra- and even inter-company communication. Dev also raised a question from an audience member on dealing with the uncertainty plaguing event planners right now, to which White replied that hotels and venues needed to be "more flexible" in considering cancellations and attrition policies.
Appealing to customers and the future of group travel
Finally, the panelists moved into predictions for the future of group travel and the industry. With an influx of customers looking for new room types to suit their needs, Land described a number of novel possibilities for rental, such as people who only want to rent rooms for a day to work somewhere away from home, and groups of colleagues looking to rent a conference room for a day.
Lipshitz reiterated the necessity of incorporating a "high-touch" element with new technologies, anticipating that companies will become better at this in the future—compared with current solutions such as Zoom.
Nunley predicted that while the demands of the pandemic have forever changed the industry's approach to meetings and conferences, it has also opened new avenues for innovations, including hybrid and asynchronous solutions. Finally, she teased Salesforce's Dreamforce event for 2021, announcing that whether in-person or virtual, the use of technology will make it great.
White ended by advising caution, offering 2018—instead of 2019—as a benchmark for "normal" and predicting that 2022 will be "big," 2023 will be about "growth," and that things will stabilize by 2024.
Professor Dev concluded by remarking that innovation was the "order of the day" for group business travel to revive and thrive in the months and years ahead. While high-tech and high-touch were previously thought of as two diametrically opposed and competing options, the pandemic has pushed hospitality firms to forge a third option, where high-tech and high-touch unite to create an entirely new group business landscape and experience with hybrid meetings, virtual reality, and other emerging technologies. With these and other challenges and opportunities discussed by the panelists, the future of group business travel is sure to be filled with new possibilities.
Watch the full recording to learn more about the return of business meetings, conferences, and travel.
The Center for Hospitality Research is a hub for students, faculty, hospitality industry leaders, and innovators to connect and drive cutting edge research and thought leadership.