New faculty introduction: Emily Garbinsky
Garbinsky is an associate professor of marketing and management communication at Johnson.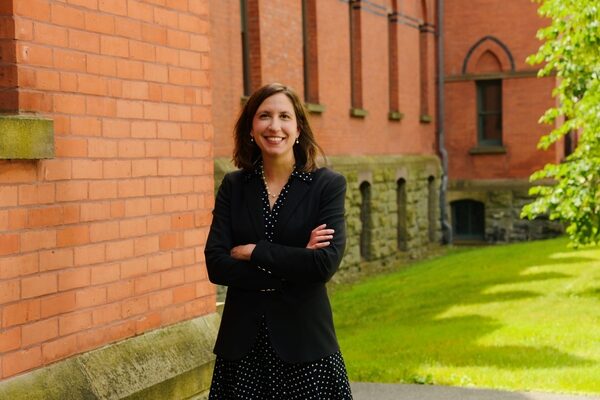 Meet the newest faculty from across the SC Johnson College of Business and learn about their academic focus, teaching, and interests.
Emily Garbinsky | Associate Professor | Johnson
What is your research/teaching focus?
I study consumer financial well-being, focusing on three streams of research: 1) understanding how couples make financial decisions, 2) motivating individual consumers to make more fiscally responsible financial decisions, and 3) illuminating how people can maximize the happiness and enjoyment they derive from various consumption experiences. I will be teaching Marketing Management—the required core marketing class—as well as Brand Management—an elective—in the residential MBA program.
What attracted you to the SC Johnson College of Business or specifically Johnson?
I was immediately drawn to the interdisciplinary research focus of the college and strong emphasis on behavioral research. I'm also very excited about the possibility of working with Ph.D. students, especially since my previous employer did not have a Ph.D. program in business.
What are you most looking forward to during your first year at Johnson?
I am very excited about getting back to live class and faculty interactions. I enjoy meeting new people—faculty, staff, and students. If you see me in the hall, please say hello!
What first sparked your interest in your research/area of study? When did you know you wanted to be a professor?
My father is a financial advisor, and I became interested in better understanding how people make various financial decisions while working in his office on breaks during my undergraduate studies. I received a bachelor's degree in decision science and psychology from Carnegie Mellon University, and was fortunate enough to be mentored by Dr. Carey Morewedge, now a full professor of marketing at Boston University, who encouraged me to pursue a career in academia. 
What do you see as some of the biggest challenges or areas of change in your research field moving into the future? Why is this exciting?
I am an experimentalist by training, so COVID greatly disrupted my ability to collect data since I could not bring participants into the lab. This forced me to become more creative with data collection opportunities (e.g., using secondary data sets or examining data from publicly available blogs). Overall, this could be viewed as a positive change because it enhances the external validity of my findings from the lab.
What do you like best about teaching?
Interacting with, and getting to know, the students. I also like to incorporate live case projects into my courses, and particularly enjoy working with local businesses and entrepreneurs.