New faculty introduction: Fridah Mubichi-Kut
Mubichi-Kut is a professor of practice of applied economics and policy at Dyson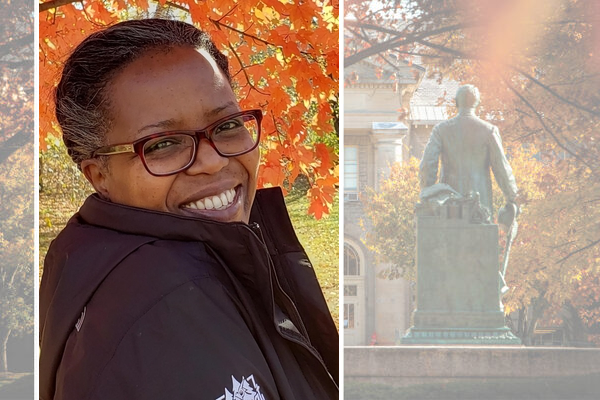 Meet the newest faculty from across the SC Johnson College of Business and learn about their academic focus, teaching, and interests.
Fridah Mubichi-Kut | Professor of Practice | Dyson
Area of research interests and teaching focus:
Diffusion of Innovations in emerging markets
Program monitoring, evaluation, and learning
Agriculture commodity research and promotion programs
What first sparked your interest in your research/area of study?
Having grown up in Eastern Kenya and worked in Mozambique, I have witnessed extensive malnutrition, poverty, and aid dependency among farming communities. Perplexed by the paradox of the hungry farmer and dependency on aid, I have remained curious and eager to better understand for example, the role agricultural interventions/innovations, market, and social networks play in promotion of socio-economic development.
What attracted you to Dyson?
In a nutshell – Dyson's vision statement: Our Business is a Better World! When I first saw it, I thought to myself, that's a rather unusual and "gutsy" statement for a college that deals with such complex global socioeconomic issues.
What are you most looking forward to during your first year at Dyson?
I am looking forward to learning about all the cool and wonderful research students and faculty are engaged in while making new connections.
When did you know you wanted to be a professor?
In my junior year of college when my father challenged me to translate a business plan I had developed into a real business. My father being a self-made entrepreneur was not only curious to see how the theoretical approach translated into the real world but more importantly, how this new knowledge might improve his business.
What do you see as some of the biggest challenges or areas of change in your research field moving into the future? Why is this exciting?
Lack of access to data has been one of the biggest challenges in research and development of sustainable agricultural technologies within emerging markets. Most recently, Covid-19 has not only changed the way we work and learn but no doubt worsened the existing data gap and access to resources.
Nonetheless, the lack of data and effect of a global pandemic provides us unique opportunities for conducting and learning from various cross-comparative policies. Likewise, the limited opportunity to travel and immerse ourselves in the diverse sociocultural, economic and technological environments requires we adopt new creative learning and working frameworks that might be adopted in diverse environments.
What do you like best about teaching?
Every student, class, and environment present a unique opportunity and adventure through which I get to learn and co-create knowledge.