New faculty introduction: Adam Dearing
Dearing is an assistant professor of strategy and business economics at Johnson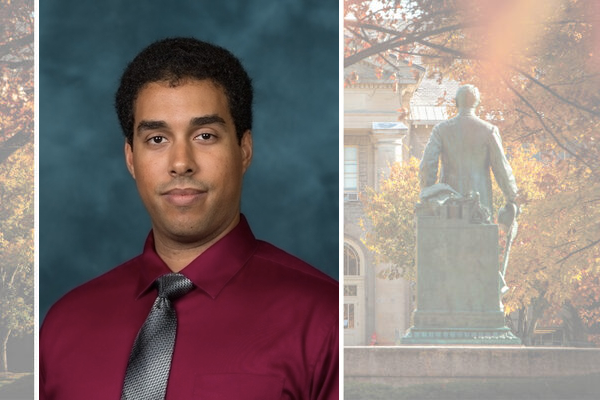 Meet the newest faculty from across the SC Johnson College of Business and learn about their academic focus, teaching, and interests.
Adam Dearing | Assistant Professor | Johnson
What is your research/teaching focus?
My research spans several subfields of economics, including industrial organization, public finance, econometrics, and their intersection, with contributions in theory, methodology, and empirical applications. My primary teaching focus will be on teaching microeconomics to MBA students.
What attracted you to the SC Johnson College of Business?

Joining the Strategy and Business Economics group, the main attractions for me are the opportunities to work with world-class faculty – both in the SBE group and across the college – and to teach and interact with our amazing students, who each bring their own unique perspective and insight to the classroom.
What are you most looking forward to during your fist year at Johnson?
I am most looking forward to getting to know my colleagues and Johnson's students. And to settling into the Cornell community more broadly.
What first sparked your interest in your research/area of study? When did you know you wanted to be a professor?
I was a mathematics major in undergrad, specializing in actuarial science. I came across economics partially by luck – introductory microeconomics was the most quant-focused class that would satisfy my social sciences distribution requirement. I really enjoyed the class and decided to continue pursuing studies, and my passion for the discipline grew as I went through the upper-level courses.
Eventually, I realized that I'd rather go into economics than actuarial science, and I took a job with an economic consulting firm upon graduation. Much of that job involved research related to employment discrimination litigation, and I eventually realized that I wanted to pursue research full time. I applied for PhD programs, and the rest is (ongoing) history.
What do you see as some of the biggest challenges or areas of change in your research field moving into the future? Why is this exciting?
Advances in data and computing technology are generating exciting new research avenues for economists. One example from industrial organization is algorithmic pricing, which is become more popular in the internet age. A growing body of research shows that algorithmic pricing can lead to unexpected outcomes with important antitrust implications: for instance, algorithms can learn to tacitly collude without ever actually communicating with each other.
More broadly, there are many interesting questions. Which new strategies are available to firms with new advances in information and technology? Which strategies should they adopt? What are the economic implications? What are the regulatory implications? The research opportunities here are endless. And complementarily, greater data availability and better technology allow us researchers to answer questions that were infeasible even just a few years ago.
What do you like best about teaching?
The best part about teaching is the that I reciprocally learn from the students. Throughout my career I have been fortunate to teach students with from broadly diverse backgrounds and experiences, and I have learned tremendously from our interactions in the classroom. This is one of the reasons I joined Cornell – as we say here, "Any person, any study."