Sustainability in the Hospitality Industry: Challenges and Opportunities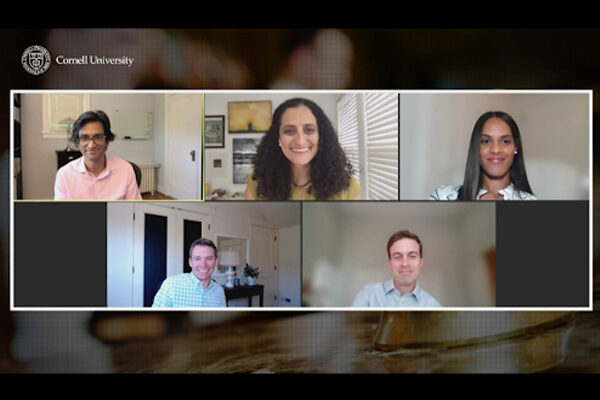 The hospitality industry has been shifting its focus and taking a robust approach when it comes to sustainability. From better managing energy and water consumption to eliminating single-use plastics and food waste, the industry is working toward championing responsible business and tourism. In an effort to accurately measure their impact and provide transparency to investors, customers, and employees, companies have begun scrutinizing their sustainability practices, moving from symbolic initiatives to those that actually combat climate change. With the help of technology companies are uncovering their true environmental impact, and quantifying less-tangible indirect emissions that are adversely affecting the planet.
On June 10th, the Cornell Nolan School of Hotel Administration's (SHA) Center for Hospitality Research (CHR) hosted a virtual keynote webinar to explore the challenges and opportunities of sustainability in the hospitality industry. The keynote was moderated by SHA Assistant Professor Aaron Adalja. He was joined by Patrick Flynn, global head of sustainability at Salesforce; Geraldine Guichardo '10, global head of research for the hotels & hospitality group, as well as director of Americas hotels research at JLL; Denise Naguib, vice president of sustainability and supplier diversity for global operations at Marriott International; and Jake Shirmer MBA '12 senior manager and sustainability specialist at Deloitte.
Here are the top takeaways from the discussion:
Emissions scopes and opportunities
Owing, in part, to scoping complexity and varying industry standards, Jake Shirmer explained the difficulties that companies have when attempting to understand their full and true environmental impact. Greenhouse gas (GHG) emissions, he said, are measured in terms of scope. Scope 1 is defined as direct emissions from sources owned or controlled by a company, think diesel burned in facilities or vehicles. Scope 2 is the electricity or steam purchased to keep the lights on in an operation. And lastly, Scope 3 includes essentially everything else, for example, upstream emissions from suppliers and downstream emissions from a company's consumers.
Reducing Scope 3 value chain emissions, the largest complexity, is about influencing vendors, suppliers, employees, and customers to change their sustainability practices. One way that companies are reducing Scope 3 emissions, for example, is adding climate breach and remediation fees to procurement contracts, binding suppliers and vendors into setting carbon neutral goals or paying the fees, and initiating a form of collective accountability that ensures sustainability is of utmost importance in business to business transactions. If vendors and suppliers don't buy in to their customers' sustainability initiatives, they could lose that business.
Greenhouse gas accounting, actionable insights, and standardization
After understanding and defining emissions scopes, companies can begin to quantify their impact. Patrick Flynn explained that there is a lack of skilled individuals who can standardize and fill in the gaps in the data and asked leaders to consider how many people in their organization conduct financial accounting compared to greenhouse gas accounting, suggesting that companies need to prioritize the latter as much as they do the former.
Salesforce has found ways to turn emissions data into actionable insights with their Sustainability Cloud, which Flynn described as "a comprehensive single source of truth for your full Scope 1, 2, and 3 greenhouse gas emissions picture, coupled with the data analytics and visualization you need to take…action."
Meanwhile, other industry tools are tackling standardization. Denise Naguib shared how, in 2012, the Sustainable Hospitality Alliance, the World Travel & Tourism Council, and 23 global hospitality companies co-created the Hotel Carbon Measurement Initiative (HCMI) and the Hotel Water Measurement Initiative (HWMI), consistent methodologies to help hotels measure guests' carbon footprint and water consumption.
Getting stakeholder buy-in
Conceptualizing and communicating the value of sustainability initiatives to guests, hotel owners, brand operators, and other stakeholders can be a challenge, but their collective buy-in is crucial to any initiative's success.
Hotels have a unique ownership and management structure, which, according to Geraldine Guichardo, means that stakeholder goals are not always aligned. Oftentimes, in order to align stakeholders, sustainability leaders must appeal to their wallets. Business leaders who have a tendency to focus on the bottom line might be surprised to learn, as Naguib elaborated, that there are real revenue implications and cost reductions associated with environmental practices. For example, a hotel owner may want to introduce a sustainability initiative that may not be in line with the brand standards of the management company operating the property. If the owner can demonstrate cost-savings to the brand, she might get the green light on her initiative.
Naguib also explained that matching service offerings to the needs of customers, who are increasingly interested in sustainable products and services, can reduce environmental impact and drive revenue, a practice that is critical for companies wanting to capture this demand and increase their market share. For example, organic or plant-based options at food and beverage outlets are popular, known to drive revenue, and reduce emissions associated with meat consumption and non-organic food. Similarly, replacing single-use plastic water bottles with reusable ones can encourage sustainable behavior among guests and, for the hotel, shift spending to more sustainable products.
Going green—from niche to mainstream
Today, companies that fail to take sustainability initiatives seriously risk going out of business as a result of rising conscious consumerism. Guichardo reminded viewers that Generation Z has $183 billion of buying power in the United States alone, and they are concerned about businesses' efforts to combat climate change. Corporate behavior is shifting too as institutional capital increasingly favors sustainable business practices, and governments offer incentives and tax benefits for going green.
Naguib challenged companies to reframe sustainability initiatives so that they're not always predicated on guests' willingness to pay more. "It's about [companies'] willingness to be competitive," she said, and sometimes, that means sustainability initiatives will be at parity with cost. The outcome though is a better product or service that is also better for the environment. Instead of branding sustainability initiatives as the "expensive avenue," Naguib suggested focusing on ways to "effectively compete…to drive the best value holistically" to truly make an impact.
To learn more about the opportunities and challenges of sustainability in hospitality, watch the keynote.