Cirona Labs creates cannabinoid ingredients for food, beverage, and cosmetics companies
Startup Snapshot: Hunter Friedland '19, CEO and founder of Cirona Labs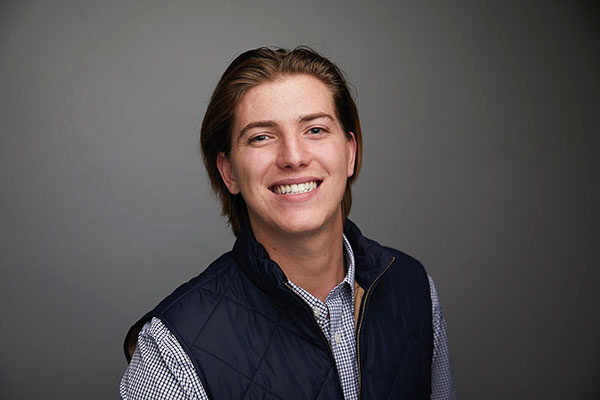 A graduate of the Cornell Peter and Stephanie Nolan School of Hotel Administration, Hunter Friedland '19, is the CEO and founder of Cirona Labs, designer and manufacturer of safe, consistent, and effective cannabinoid ingredients for food and beverage as well as cosmetics companies.
Friedland became interested in the fledgling cannabinoid industry while he was a student at Cornell, drawing on research and the expertise of researchers in the Cornell Hemp project, as scientists in the Food Science Department in the College of Agriculture and Sciences. He credits Cornell's robust entrepreneurship ecosystem for helping him to build and launch his startup and his company is based at the Cornell Agriculture and Food Technology Park, a shared innovation center for food and agricultural startups in Geneva, N.Y.
Learn more about Friedland and Cirona Labs in this Q&A. 
What does Cirona Labs do? What problem or opportunity does it address?
Cirona Labs is a biotechnology company in the hemp industry focused on creating ingredient solutions for food, beverage, confection, and cosmetic products. Cannabinoids by nature are oils, and as oil and water do not mix, and the majority of consumer packaged goods (CPGs) are water-based, this creates a major problem. Cirona Labs' technology solves this problem by creating nano-emulsions that are shelf-stable, clear, and have rapid onset and high bioavailability.
What inspired you to launch Cirona Labs?
I have a passion for the cannabis plant and I've seen firsthand how impactful the benefits can be, particularly for mental health. The emergence of the cannabis industry from prohibition is such a unique platform on which to build an equitable industry and create real opportunities for generational wealth for the people who have been most affected by the war on drugs.
During my time at Cornell University, I became involved with the Food Science Department in the College of Agriculture and Sciences (CALS), where I was able to work closely with emulsion science specialists and with people in some of the top programs on Cornell's campus, including the Cornell Hemp project. My interest and passion for the industry grew exponentially and it led me to establish a company, Hemp Hunter Labs (predecessor to Cirona Labs), and apply for a New York state hemp-processing license in December 2018. After winning the license in April 2019, I brought on food scientist Nick Jackowetz, PhD '11 (CALS), as co-founder and chief science officer; Alan Davis, a food and beverage operations expert, as co-founder and chief operating officer; and LJ Buffardi, a third-generation owner of a CPG confectionary brand, as chief innovation officer. They all share a common passion for the cannabis industry.
What are some of the most memorable moments in your startup journey?
The major milestones are always exciting and help drive the team to the next accomplishment.     Here are some of the most memorable moments in the journey so far:
Winning a New York state hemp-processing license
Bringing on my co-founders
Closing our seed round
Moving into our lab at Cornell Agriculture and Food Technology Park, a shared innovation center for food and agricultural startups in Geneva, N.Y.
Building out our R&D and production lab
Passing our Food and Drug Administration Current Good Manufacturing Practice (FDA cGMP) certification (a third-party compliance audit for manufacturing companies)
Filing our first patent
Signing up our first customer
What obstacles did you face and overcome in your startup journey?
Every startup journey has a lot of highs and lows. For me, one of the most difficult parts of the journey was closing on our initial seed capital. I had an amazing and experienced team, a license, a well-defined customer pipeline, and a well-thought-out vision and business plan, but no capital to kick-start the business. The company is in a capital-intensive industry that requires significant investment to obtain a real proof of concept, so we were in a chicken-and-egg scenario where investors wanted to see a real proof of concept, yet we needed capital to prove it out. Beyond the general strains of raising capital, we were further challenged by the impact of the pandemic, creating an uncertain time for investors. Through determination and grit, we worked for over half a year to raise the initial investment capital needed to get the business started.
Did you draw on any Cornell resources to help launch Cirona Labs?
We would not be where we are today without the enormous support of the Cornell ecosystem. We have been working closely with Cornell's College of Agriculture and Life Sciences Food Science program and a variety of Cornell's entrepreneurial resources, including Entrepreneurship at Cornell, the the Nolan School's Pillsbury Institute for Hospitality Entrepreneurship, the Entrepreneur in Residence at the Pillsbury Institute (then Marco Benvenuti, MMH '05), eLab, and eHub, among others.
Are there any particular faculty members who influenced you on your path to becoming an entrepreneur?
Many faculty members influenced my path to becoming an entrepreneur, particularly Ken Rother, visiting lecturer at the Samuel Curtis Johnson Graduate School of Management and the director of Rev: Ithaca Startup Works; P. Marius Weigert, senior extension associate, School of Integrative Plant Science at CALS; Larry Smart, professor of plant breeding and genetics, School of Integrative Plant Science; Alireza Abbaspourrad, the Yongkeun Joh Assistant Professor of Food Chemistry and Ingredient Technology in Food Science at CALS; Giuseppe Pezzotti, senior lecturer and food and beverage management expert at the Nolan School; Steven Gal '88 (Dyson), senior lecturer at Johnson, technology entrepreneur, and investor in and advisor to early stage companies; Felix Litvinsky, managing director of Blackstone LaunchPad at Cornell; Susan Fleming '08, PhD '10 (Johnson), entrepreneur in residence at Rev: Ithaca Startup Works; Zach Shulman '87, JD '90, director of Entrepreneurship at Cornell and managing partner at Cayuga Venture Fund; Michelle Ciaschi, program manager of the Pillsbury Institute; Debra Moesch, assistant director, Entrepreneurship at Cornell; Neil Tarrallo, senior lecturer of entrepreneurship at the Nolan School;  Adam Klausner, senior lecturer at the Nolan School and a practicing corporate and business lawyer; and Pam Silverstein, MBA '76, entrepreneur in residence at Life Changing Labs, a startup accelerator and mentorship program.
What are the most valuable things you learned at Cornell that helped in launching Cirona Labs? And what's most helpful now, in running your new business?
I learned so much from my time at Cornell that helped launch Cirona Labs—everything from hard skills in PowerPoint and Excel to public speaking and negotiation. More broadly speaking, the most valuable thing I learned at Cornell, as it relates to entrepreneurship, was to focus on identifying customer problems and the process of customer discovery. Going through the discovery process and understanding the pain points are the most important factors when starting a business, which incidentally led us to make a crucial pivot early on.
What advice do you have for other aspiring entrepreneurs?
Utilize all the resources at your disposal. Cornell has built an amazing entrepreneurial ecosystem and network that can help streamline the process of getting a business off the ground.