The Student Voice: Meet Kellie Graves '24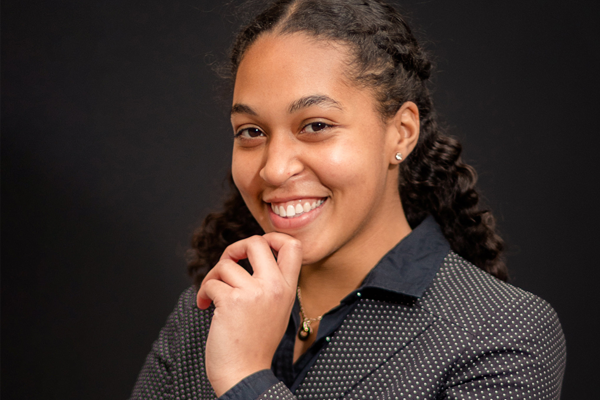 Kellie Graves '24, an undergraduate student pursuing a Bachelor of Science (BS) degree in applied economics and management at the Charles H. Dyson School of Applied Economics and Management, is concentrating her studies on finance and business analytics while also minoring in leadership.
"I often think of what I wrote about when applying to Cornell—how to live by Dyson's motto of 'Our Business is a Better World,'" says Graves on the Cornell University principle of doing the greatest good. "I let that guide me because I believe it is my social responsibility to not only use what I learn in classes to elevate my own career and development but to also give back to the greater world and to use what I have learned for positive social impact."
Learn more about Graves in this Student Voice Q&A.
Tell us about your life at Cornell.
I am presently exploring my various career interests and curiosities in many areas of business. I am particularly interested in entrepreneurship and finance as well as social-impact consulting. In addition to joining some of Cornell's clubs and communities—including, A Seat at the Table, BlackGen Capital, Cornell Marketing, and the Black Women's Support Network—I tremendously enjoy the cold weather and all activities that come with the winter season, making Ithaca the perfect place for me!
Is there something you're particularly excited to learn and experience this year?
One thing that I'm particularly excited to experience this year is serving as a teaching assistant for AEM 2200: Business Management and Organization. This course became my favorite class last year as it truly offered a breadth of topics about business, allowing me to learn more about a range of topics, such as marketing, ethics, finance, and human resources.

I am excited to be on the other side of this experience and to see my students learn and grow over the semester. I have also enjoyed meeting in person for class and experiencing this course as intended.
What meaningful experiences are you engaging in outside the classroom?
Two meaningful experiences I am engaging in outside the classroom are my leadership roles and general involvement in two clubs that are very special to me—A Seat at the Table and BlackGen Capital. They are meaningful to engage in because they are both truly groundbreaking in their own ways.

A Seat at the Table is Cornell's first undergraduate business club that focuses on the education and promotion of business ethics. I have the distinct honor of serving as founder and executive director for this organization. It has been an incredible experience to undergo the club approval process as a first-year student, as well as build an executive board that is collaborative, insightful, and constantly intrigued by what we learn from the work that we do.

BlackGen Capital is another meaningful experience that genuinely shaped my first year of college. It is the first club that I joined. Within those first few weeks of school, despite a completely online semester, I found a diverse community of talented and driven individuals. These individuals are working together to break down barriers to entering Wall Street. The organization accomplishes this by building financial literacy and establishing a culture where each individual supports every member in any way possible.

BlackGen Capital serves as Cornell's first minority-owned investment fund. It is always exciting for me to think about how I can play a part in this monumental contribution to our school's history—especially during the foundational semesters of this club. I joined as a first-year student who knew nearly nothing about finance. I then matriculated to the role of vice president of marketing after our fall elections in 2020. Now I am serving as co-president for the 2021-2022 school year.

It has been a tremendous privilege for me to get to personally know the Black and Latinx talent that BlackGen Capital has attracted. It is also a privilege to watch us all grow as individuals as well as a community over time. I could not imagine my Cornell experience without this group. I am always reminded of the tangible impact of the work we do. This is especially true when I see our members gain access to some of the most coveted Wall Street internships due to the skills and education they gained in a space that welcomed their growth.
Describe your favorite moment or memory at Cornell so far.
My favorite memory at Cornell so far was discussing a Motorola Case Study during Business Management and Organization. I would label this as my favorite memory because it was a "eureka" moment that made me realize that a group like A Seat at the Table needed to be founded.

The case presentation and discussion occurred over Zoom, and these Zoom classes included every first-year Dyson student in one class section. We were all assigned a variety of perspectives that had pre-written personas and desires to consider. This was different from how we typically read case studies in class—that is, forming our own opinions.

For the actual discussion, we were put into breakout rooms with the goal of having a variety or mix of the assigned perspectives represented in each room. I recall hearing and seeing everyone's persona come to life as students began arguing on behalf of a marketing executive, tech executive, and others involved in the team that was responsible for generating a new phone model.

I became so enthralled in the case that I wound up taking on my persona to quite an extreme level. I recall so clearly that the facilitator role of my group—Anna Haraka '24, a founding member and current director of membership of A Seat at the Table—matched my energy level throughout the discussion.

I realized then that there were so many students who shared similar interests with me. It also made me realize that we needed a space outside the classroom to explore topics like corporate social responsibility and environmental, social, and corporate governance.

That moment led to the development and approval of A Seat at the Table—making it my favorite memory at Cornell.
If you had one area you'd like to grow this year, what would it be? 
If I had one area that I'd like to grow in this year, it would be in the area of accounting. Financial accounting can be an intimidating class to enter, especially if you are not well-versed in it or have yet to be exposed to any of the terminology or concepts.

Additionally, when so many students in Dyson are dead-set on a career in finance and have taken the time to become knowledgeable about nearly everything in accounting, it can feel as though you're playing catch-up sometimes.

Although I am knowledgeable due to BlackGen Capital, I want to grow because I feel as though I can always learn more. It's also important to me to bolster a bit of self-confidence in this area when imposter syndrome can run so rampant at Cornell.

Finally, I'd like to grow in this area in terms of how I view accounting. In other words, I'd like to see it more as the language to business that is crucial to learn in order to communicate, rather than a bunch of terms and structures to memorize. I would ultimately like my knowledge of accounting to flow more naturally as though it is a language—one that I'll be fluent in, in the near future.