The Student Voice: Meet Nicole Shulman '23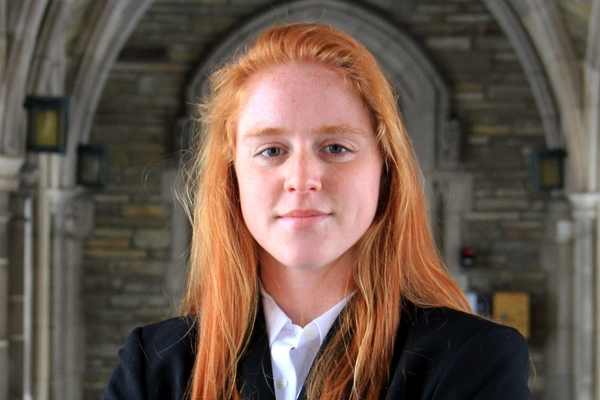 Nicole Shulman '23 is an undergraduate student pursuing a bachelor's degree in applied economics and management from the Charles H. Dyson School of Applied Economics and Management, concentrating in finance and business analytics, and minoring in real estate.
"If it's not challenging, it's not worth it," says Shulman who spent her summer interning with Bank of America Investment Banking. "I learned that being able to analyze [and] valuate a business is a key asset in the workplace," she said. Now into the fall semester of her junior year, she is excited to continue her Big Red career as a goalkeeper for Cornell's Women's Soccer team, as well as advance in her business analytics concentration. "As an upperclassman, I am excited to dive deeper into the mechanics of business valuation and become more confident in my analysis abilities."
Learn more about Shulman in this Student Voice Q&A.
Tell us about your life before Cornell.
I was born in Tel Aviv, Israel, and moved to San Francisco, California, when I was three years old. Ever since I could remember, my dad's dream has always been to establish himself in the United States, for he grew up in Russia and wanted a better life for his family. Throughout my childhood, I remember looking up to his work ethic and being so interested in how he was able to create his own success in Silicon Valley while coming from a poor village in Russia. He works in finance, so every dinner conversation revolved around what he did at work. I grew up learning about finance and knew from an early age that it was what I wanted to do when I got older.

Then, once I started to get recruited for soccer in high school, I was looking for schools that combined an amazing business education with solid soccer programs. Cornell was the perfect fit based on that criteria, so I committed. Now, as a junior, I can confidently say that coming to Cornell was the best decision I ever made because of the incredible Dyson curriculum, the great athletics program, and the amazing people I have met in my time here.
What meaningful experiences are you engaging in outside the classroom?
Outside of the classroom, I am a part of Cornell Women's Soccer. Being a part of Cornell Athletics is very meaningful to me because it is a community of highly driven people who prioritize both excelling in class and on the field, and who all share core values such as leadership, work ethic, and perseverance.

It is an honor to be surrounded by like-minded students and to learn from each one as we all tackle the challenge of being a dedicated athlete at a prestigious institution. Each athlete has a unique story and their own strengths that allow them to succeed in such a challenging environment, and I greatly value learning from my peers within Cornell Athletics.
Describe your favorite moment or memory at Cornell so far.
One of my favorite moments at Cornell so far was sledding on an air mattress with other Cornell athletes on the first snow day of my freshman year. This moment was most memorable to me because it took place during a stressful freshman fall that was filled with worrying about classes, balancing athletics and grades, and getting acclimated to college life. Having a blast sledding in the back of A-lot helped me realize that college is so much more than grades and job offers. Since then, I see college as an opportunity to develop in all aspects of life, not just content knowledge, and find others to share the experience with.
If you had one area you'd like to grow this year, what would it be?
This year, I strive to grow in balancing class content with taking advantage of all networking opportunities Cornell brings. A distinctly special part about attending a prestigious institution like Cornell is the fact that every new person you meet is an opportunity to learn more than the content from class. I want to take advantage of this aspect of attending Cornell and develop as many meaningful relationships as I can. Networking is a great contributor to success in the corporate world, and I am looking forward to emphasizing it more this year.
Describe your biggest failure and what you learned from it.
I try not to see anything as a failure, but as a change of direction instead. One of my most challenging life pivots was a recent back injury that affected almost every aspect of my life. I use sports as an outlet and my identity revolves around being an athlete, so once my trainer told me that I had to take at least several months off, I was devastated. My mental health completely deteriorated and I was tempted to give up soccer for good. The injury lasted over six grueling months, and it still continues to affect me today. Six long months of watching my team from the sideline, hours of rehab that seemed pointless at the time, finding my identity without sports, and digging deep down to find every bit of perseverance without seeing a light at the end of the tunnel.

Looking back, I believe this experience was monumental in forming my character and identifying my core values as a person. There were many dark days that lacked motivation, but the one thing keeping me going was the realization that the more challenging the process, the more I get out of it. Many of the greatest athletes had to endure possible career-ending injuries, but the character building that occurred during the rehab process has allowed them to be as great as they are today. On the other hand, there are so many more athletes that simply let the injury stop them from playing forever. I had a choice to either put in work every day and trust the long hard process, or give up. This injury taught me more about perseverance, positivity, and work ethic than anything in my life ever has. If the process didn't challenge me, I wouldn't have grown as much. Moving forward, I see every "failure" or "setback" as an opportunity for growth, and I believe this is the most valuable mindset I have taken on.