Mama Said Hand Pies empowers creative passion by adopting a business mindset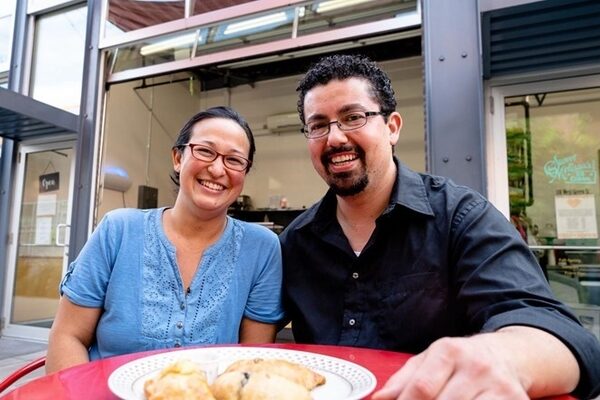 By Benjamin Goulet, MBA '22 and Devashish Sharma, MBA '21
Mama Said Hand Pies, an Ithaca-based bakery specializing in empanada-style handmade pies, approached Big Red Microenterprise (BRM) looking for coaching and guidance to support its business optimization efforts. Big Red Microenterprise is a student-run educational experience that partners with the Center for Sustainable Global Enterprise at the Samuel Curtis Johnson Graduate School of Management.
Conceptualized in 2015 and run by Hiroko Takashima and Gabe Flores, Mama Said has come a long way — from a stall at the Ithaca Farmers Market to a shopfront at Press Bay Alley (near the Ithaca Commons) with regular pop-up stalls at locations like the Argos Inn. The business has charted a strong year-on-year growth (even in 2020, despite COVID-driven challenges), but it continues to struggle to capture a bigger share of the quick-service food market in Ithaca. This struggle is a common rite of passage for growing new businesses. For Mama Said to succeed it is crucial that they smoothly transition from artisanal farmer's market vendor to full-blown business operation, and it became our mission to help enable Takashima and Flores to succeed in this transition.
Strong business strategies and fine-tuned operations are often born amid creative chaos
When we started this project, we were quick to note how passionate the two founders are about what they do. Their passion for treating customers to authentic, globally inspired handmade pies is contagious. For inspiration, they draw upon their global experiences, generational recipes, and artisanal cooking methods. Their creative recipes and exceptional customer service have created cult-like customer patronage among local Ithaca residents.
The creativity at the heart of their business was flourishing; however, the "business side" of the business was struggling to keep pace with their expanding operations and COVID constraints. They were operating their shop-based business in a similar fashion to how they had operated their smaller, farmers' market business.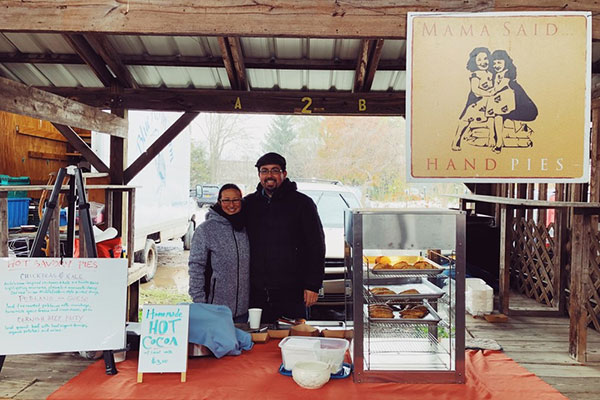 Key aspects of business management—including production processes, employee recruitment and retention policies, go-to-market strategy, menu selection—had been derived through impromptu decisions with little strategic planning. To scale as they hoped, they knew they had to rethink their operations. They sought tools, frameworks, and guidance to help them think about strategic decisions in a structured manner.
Leveraging data analytics, feedback from experts, and critical thinking to develop a business strategy
We got to work. After several discussions with Takashima, Flores and their team, we created an action plan to set Mama Said on a path toward business optimization by working on six focus areas: financial control, menu optimization, data-driven decision making, strategic recruitment, implementation of best practices, and operational optimization. We approached each focus area using a three-part methodology: observation, analysis, and empowerment.
For instance, the observation phase of our work relating to operational optimization involved several hours of shop/kitchen observation, timekeeping for various workflows, preparation of a process map, and photographing the existing setup. During the subsequent analysis phase, we reviewed our gathered data in collaboration with an operations management expert to identify process bottlenecks, inefficiencies, and opportunities for improving turn-around time and reducing work complexity. We created operational maps to help identify improvement opportunities and allow experts to analyze the setup. In the empowerment phase, we distilled our conclusion and additional recommendations from subject-matter experts into actionable measures for Takashima and Flores to consider. Both entrepreneurs remained engaged with us across each phase of this undertaking, learning the ropes so that they may carry out such analysis on their own in the future.
We charted a similar path for the other five focus areas: gathering information through interviews and data compilation, using our newly acquired MBA skills to analyze the information, and, finally, bringing in subject-matter experts to validate and add to our findings.
We covered a lot in our few months working with Takashima and Flores and they made significant progress across all six target focus areas. They gained basic financial analysis and Excel skills. The menu optimization is under way, focusing on best-selling products and leveraging products with common ingredients. They are exploring advanced capabilities of Square POS, such as incorporating employee standard operating procedures. Three subject-matter experts with skills ranging across small businesses, restaurant management, and operations have weighed in on Mama Said's current operation and provided guidance to help the team pursue strategic opportunities. And lastly, bottlenecks and inefficiencies in their workflows have been identified and optimization measures are being explored.
Reflections
Working with Takashima and Flores has been a very enriching experience. While the ongoing COVID epidemic continues to cast a shadow on the hospitality industry, we have utmost faith in the product, the positioning, and the promise that Mama Said offers. Takashima's and Flores's passion for authentic food helps tie it all together. We hope that the coaching, guidance, and insight that we offered them will help them better navigate future business decisions. In the meantime, we walked away with four invaluable lessons of our own:
Passion can carry you far, but passion combined with business skills can help you go all the way.
It is critically important to listen and understand the problem from the owner's perspective before setting out to solve the problem.
When working with others, "showing and telling" is a better way to teach than "just telling."
Small optimizations add up and can trigger a domino effect of major improvements in operations.
About Benjamin Goulet, MBA '22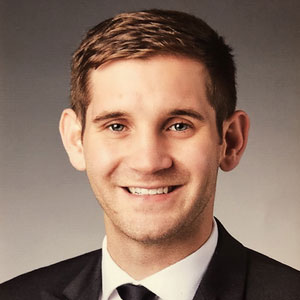 Benjamin Goulet worked as an industrial engineer, sales manager, and product manager for two industrial Fortune 500 companies before coming to Johnson. Immediately prior to Johnson, Goulet spent a year abroad in South America, volunteering in different capacities across different focus areas, including teaching as a volunteer and consulting as a business advisor. His parents own and operate a small business (dentistry) in Minnesota, and he has witnessed first-hand the challenges associated with running it. Goulet has a passion for strategy consulting, specifically within the environmental, social, governance (ESG) space. He is a full-time Two-Year MBA candidate at the Samuel Curtis Johnson Graduate School of Management, where he was also a Big Red Microenterprise coach. Goulet plans to focus on management consulting post-MBA.
About Devashish Sharma, MBA '21, MMH '22
Devashish Sharma is a hospitality investment professional. Prior to Johnson, he was the investment manager at a hospitality-focused private equity platform in India. Sharma managed acquisition and development of new hotel assets, looked after the firm's debt financing needs, and worked on special strategic projects, where he leveraged his prior experience in working on both buy and sell sides of equity, debt, and M&A transactions as a real estate investment associate and an M&A investment banker.
Sharma has a keen interest in the hospitality industry—especially the eco-tourism sub-segment. He is a sequential-degree candidate and a Big Red Microenterprise coach at the Cornell SC Johnson College of Business, Sharma earned his MBA in 2021 from the Samuel Curtis Johnson Graduate School of Management, where he was enrolled in the One-Year MBA program, and will complete his Master of Management in Hospitality from the Peter and Stephanie Nolan School of Hotel Administration in 2022.