The Alumni Voice: Meet Molly Enbysk MBA '21
Cornell Executive MBA Metro NY programs' "Unsinkable Molly" realizes her dream pivot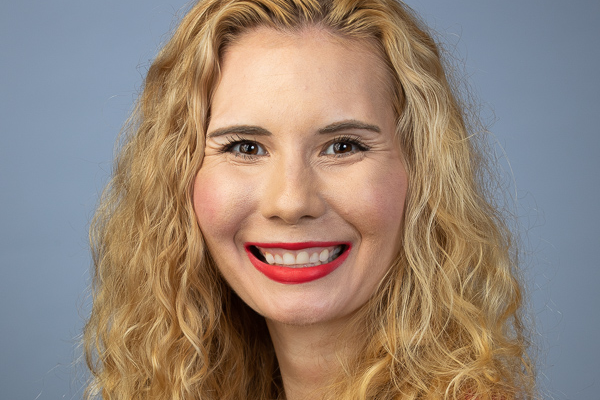 The story and career of Molly Enbysk MBA '21, a graduate of the Cornell Executive MBA (EMBA) Metro NY program, exemplifies how grit and determination are necessary for attaining a challenging goal. Her accomplishments inspire others who set their sights on making a significant career pivot. Her journey was not easy, but sheer willpower catapulted the "Unsinkable Molly" into her dream role as a consultant. She joined Deloitte in October 2021.
Tell us about your career before you entered the Cornell Executive MBA (EMBA) Metro NY program?
I worked in advertising, specifically in media planning and buying, and I specialized in the luxury fashion and retail category, supporting a high-profile global brand. I loved working with clients, the fast-paced setting, and the industry sector. My background was not quant—I had a Bachelor of Science degree in advertising and a Bachelor of Arts degree in English, with a music minor.
Why did you apply to the Cornell EMBA program at that point in your career?
I was ready for a new challenge, especially on an intellectual level, and wanted to gain exposure to the broader world of business. I also thought I could benefit from the team-based environment and wanted to enhance my soft skills in leadership, teamwork, and collaboration.
What elements of the EMBA Metro NY program did you enjoy the most, and which do you think were most relevant to your career pivot?
I loved the classes, especially those in finance, where I learned the underlying structure of the business world. Classes such as Microeconomics, Business Strategy, and Valuation taught me how to think in new ways. I also really liked being on two teams and appreciated the friendships that developed in my cohort.

Two things were fundamental for my career pivot: (1) gaining a broader perspective on the types of companies and work that exist, which led to my interest in consulting; and (2) gaining an appreciation for how my skill set and strengths were complementary to others on my teams. As a leader, I was able to recognize and leverage our differences as we executed assignments.
What attracted you to the consulting industry?
I first learned about consulting through the NY-based consulting club that was started by my friend and teammate, Emanuele De Biase. Consulting has many similarities to advertising agencies, particularly the client service focus, fast-paced and dynamic environment, and the goal of adding value by providing an outside perspective on a client's business.

The EMBA courses enhanced my appreciation for the myriad challenges a company can face, and the opportunity to work with clients across lots of different business situations was very compelling.
Please share your career journey and how you accomplished the pivot you set out to make.
In the summer of 2020, I began seriously thinking about a career pivot, and started working with Lisa Bonk, the EMBA coach for consulting, to do skill mapping, to translate my functional expertise into relevant roles on the consulting side, and then to compare specializations and offerings at firms to understand which ones would be the best fit. I learned that consulting interviews place much more emphasis on skillset versus deep industry expertise, so that was an adjustment.

I wasn't 100% sure that consulting was what I wanted to do until I received a very attractive offer to lead a luxury fashion account at an ad agency, and realized I wasn't terribly excited about it. That was a decisive moment, as it strengthened my resolve to move into consulting. At that point, I went full steam ahead to land a consulting role!

Throughout the process, I sought guidance from my career coaches, including Liz Colodny on the EMBA Career Development team, and EMBA alum, Lisa Bonk MBA '11, who supports EMBAs wanting a consulting pivot. I met with them regularly to report on my progress, and created a meticulous timeline for each stage of the career move, which involved networking, casing—83 of those—and interviewing.

Of course, there were times of frustration. It was often challenging to get responses from recruiters and hiring managers. Often, the bigger the firm, the harder to navigate their hiring process. Determined to keep going, I continued my relentless networking and talking to people until I got interviews. I internalized my coaches' mantras: "Don't take your foot off the gas pedal until you have an offer in hand," and "Anyone who thinks you can't do it, that it is too hard for you, doesn't know you!"

Ultimately, this achievement boiled down to my determined mindset and perseverance. I am relentless in pursuit of my goals and was determined to accomplish the goal I set for myself. I was also extremely fortunate to have champions in my family, friends, coaches, mentors, and classmates.
What resources at Cornell had the most valuable impact on your career journey?
Coaching was the single biggest source of help. I also used the consulting club resources and MBA Career Center consulting industry materials. Additionally, I made use of the consulting prep tools available through Cornell, including RocketBlocks.
Do you have any advice for others who are considering using their EMBA experience to pivot to another industry or function?
Expect a challenge and to bootstrap your own path. To navigate a pivot early/mid-career as an experienced hire into a new industry requires being clear about your skillset, understanding the value you are bringing to the new industry or function, and expecting an identity crisis. I am a different person with a different outlook on my career post-MBA. I never expected to leave the advertising or luxury world to chart a new path, but I am very confident that I've landed where I belong.