The Student Voice: Meet Camden Wiseman '23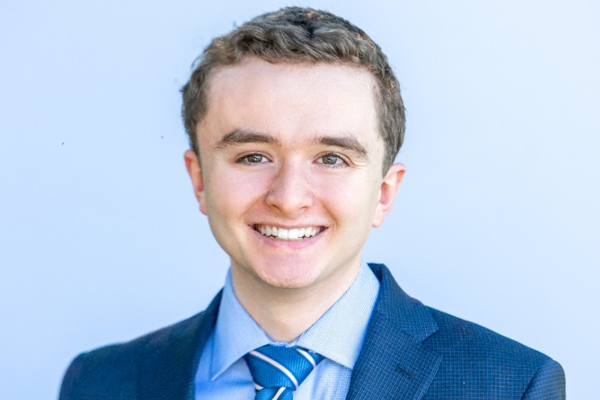 Camden Wiseman '23 is an undergraduate student pursuing a bachelor's degree in applied economics and management from the Charles H. Dyson School of Applied Economics and Management, with an information science double major, and minoring in leadership.
Wiseman's ethos is to strive to acquire a toolkit of technical and soft skills and surround himself with supportive teammates to help overcome any challenge and solve problems. He has leveraged this inside and outside of Cornell, in the past, present, and excitedly will do so into the future.
Learn more about Wiseman in this Student Voice Q&A.
Tell us about your life before Cornell. What are some of the significant moments and experiences that led you here?
I grew up in Northern Virginia, not far from Washington, DC. I discovered at an early age that I had a natural affinity for chess and began competing in tournaments in elementary school. The players in the DC-metro area are strong which provided me with both the motivation and resources to quickly improve. I won the Virginia scholastic championship for my grade level and earned top ten placements in several national scholastic events.

I carried this same determination to get better at chess into all other parts of my life. In middle school, I made the decision to apply to Thomas Jefferson High School for Science and Technology (TJHSST). While the admissions process was rigorous and the school's acceptance rate was low, I knew there was no better place for me to learn and to compete with a nationally renowned chess team. I was at Disney World when I found out that I had been accepted. A highlight of my high school experience was being elected as chess team Captain for two years in a row and winning back-to-back national high school team championships in 2018 and 2019.

Before starting high school, I always thought I would study accounting in college and enter that field. Both of my parents started their careers in public accounting and math was my best subject, so accounting seemed like a natural choice to me. While I still do like accounting, I am happy that I kept an open mind. As a STEM school, TJHSST didn't offer many courses related to business. I thought computer science seemed interesting and very applicable to business as a high school freshman, so I decided to advance along the computer science track, completing several computer science courses and conducting research in TJHSST's mobile and web app senior research lab. I also took AP Microeconomics and Macroeconomics and even competed with fellow students in a Virginia State economics championship. After taking these computer science and economics courses I knew I wanted to make these subjects part of my college education too.

These academic and chess experiences led me to Cornell. I'll always remember the moment I found out that I would be a Dyson student.
Why did you choose to attend Cornell?
Going into college I had four goals. First, I wanted to attend a university that would challenge me academically and help me begin a successful career. Second, I wanted to be able to pursue accounting, economics, and develop my coding skills because I found these subjects interesting. Third, I wanted to go to a school with a strong chess team. Finally, I wanted to make college a home where the students were friendly. Cornell more than satisfied all these.

I knew Cornell would challenge me because it is an elite Ivy League school. I was also thrilled by the prospect of being able to study both business and economics with Cornell's unique Applied Economics and Management major in Dyson while double majoring in Information Science to take coding and other classes that help me connect my Dyson degree with other fields to make me a more well-rounded scholar. Also, from corresponding with the school's chess club I knew that Cornell had a thriving chess community.

Finally, of all the schools I toured, the people at Cornell were my favorite. In Warren Hall, there were posters showcasing student spotlights and all the incredible research Dyson students had completed. Students were talking and laughing outside classrooms waiting for a class to end and theirs to begin. When I observed Professor Perez's "Business Management" and Professor Van Es's "Statistics" classes as a high school senior, students around me went out of their way to explain what was going on so I could follow the lectures. Professor Perez mentioned during his lecture that culture "self-selects" in organizations, and I knew then that I wanted to be part of Cornell's culture. I'll never forget the joy I felt when I was accepted to be a Dyson student.
Is there something you're particularly excited to learn and experience this year? Why are you excited about it?
I am excited about my upcoming internship with Royal Bank of Canada as an Investment Banking Summer Analyst. I am expecting that I will get to work in RBC's New York office this summer, which would make this my first in-person college internship. I can't wait to meet fellow interns and my team and work on impactful projects. During the school year I am looking forward to taking advanced accounting and finance classes to prepare me for this internship. I truly enjoyed Dyson's introductory accounting and finance classes so I am certain I will find the upper-level courses fun and interesting too.
What meaningful experiences are you engaging in outside the classroom? Why are they meaningful to you?
Outside of class I am the President of Cornell's Chess Club, Co-Head of Healthcare for Cornell Alpha Fund, and a member of Phi Chi Theta. These activities are meaningful to me because they allow me to develop critical finance and soft skills that will help me throughout my life. They also provide opportunities for me to share the experience I have gained throughout my life and at Cornell with others.
Describe your favorite moment or memory at Cornell so far. What were you doing? Who were you with? Why is this moment so memorable?
My favorite memory at Cornell occurred on October 16, 2020, when, under my leadership, the Cornell Chess Club hosted its first virtual chess lesson for Ithaca-area K-12 students. This was the first lesson the club had given to Ithaca students since the pandemic began and the first virtual lesson the club had ever given. This moment was memorable to me because of all the challenges that made me question at times whether I could successfully put the program together. Deciding lesson logistics, making sure the program received all the proper approvals and funding from Cornell, advertising the program and communicating with parents, and everything else that went into the program was a lot of work. Still, it was all worth it once we started teaching the students. Working with others in the Chess Club, who I had become friends with during my freshman year at Cornell, to create the program was a lot of fun and brought the club closer together.
Describe your biggest failure and what you learned from it.
My biggest failure was the robot I had to build in TJHSST's required "Design and Technology" course that all freshmen take. I built the robot using an Arduino board on a lightweight chassis with CDs for wheels. I was happy with my creation and thought it would be fast in a graded straight-line speed test. However, when the test began and I executed the code to make my robot move one of the wheels broke off. The robot began spinning in circles because it was off balance. The robot got negative distance by finishing farther away from the goal than where I had started. I'm pretty sure my robot did the worst in the class.

Even though my robot's race was a failure, I decided to work harder to catch up with my peers to prove to myself and them that I belonged at an elite STEM school. I also reflected on the different components of the robot to determine where I should focus my attention. I realized that although my construction wasn't great, the code I wrote to make the robot move was correct and came fairly easily to me. With this realization, I focused my energy into taking advantage of TJ's rigorous courses in computer science, which I enjoyed and performed well in.