"Bubble" wins annual competition with quiet space for a noisy world pitch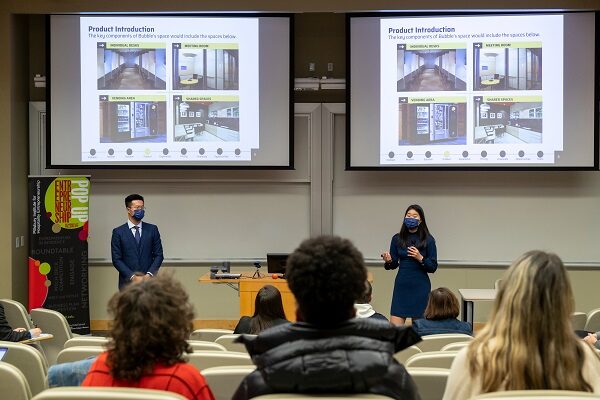 From students finding public libraries closing at six o'clock to remote workers hoping to separate their home from their workspace, the need for a quiet and comfortable space to study, work, and create at one's convenience is needed like never before.
The concept of Bubble provided a solution to this need, creating productive work and study solutions for anyone who needs a quiet, comfortable, and convenient place to work. "Bubble aims to use a digitalized, zero-labor model to create solutions for dense urban populations," says Angel Zhang '21, MMH '22. "Bubble isn't just a work and study environment, it is a space for you to do some independent work and do highly productive work as well."
Bubble won the $3,000 first place prize in the sixth annual Cornell Hospitality Pitch Deck competition hosted by the Cornell Peter and Stephanie Nolan School of Hotel Administration's Leland C. and Mary M. Pillsbury Institute for Hospitality Entrepreneurship, which seeks to provide students considering hospitality-based startups an opportunity to practice pitching skills and developing concepts.
Developed by Zhang and James Bai, MMH '22, Bubble competes at the intersection of open work options such as coffee shops, libraries, WeWork spaces, offices, and a customer's own home, sitting at the "perfect" combination of a low-cost work/study space option that is a comfortable and quiet option.
"Life will give you a neighbor whose noisy at the exact same time you want peace and quiet, why don't we create a productive space for everyone?" Bai asked. "We were so surprised to find out that today nearly all age groups have difficulty finding their own space to work and study."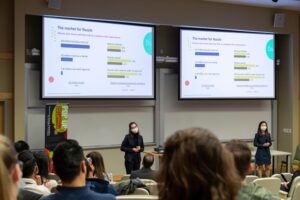 With spaces available 24hrs per day to work at one's own leisure, Zhang and Bai's Bubble concept provides options for individuals working a private cubicle desks, group team rooms, and open spaces for breaks. Available through an app, digital access, scheduling, check out options, and live chat functions to trouble shoot any technical difficulties that may arise, their idea won over three competing pitch teams.
Acting as an experiential learning opportunity for student entrepreneurs who are contemplating, starting, or operating an early stage hospitality-based venture, PIHE's pitch deck competition looks to improve their pitching skills, with the potential to earn seed funding for their venture.
"This is a competition that was established to really focus on communication," said Andrew Quagliata, a senior lecturer in the Nolan School and faculty director of the pitch deck competition. "So, what we're looking at is of course good ideas, but in addition to good ideas our judges will be looking at how the pitch is organized, how the pitch is delivered, and how strong the visuals are."
A total of 30 teams registered for the competition and 19 teams competed in the first round. Four teams successfully made it through as finalists. Each team presented in front of a live audience for 10 minutes referencing decks of up to 11 slides, then responded to five minutes of live questions from three industry judges: Meli James '00, Co-founder, Mana Up, President, Hawaii Venture Capital Associations, Richy Petrina '01, Founder, Ithaca Wine Ventures, and Ellen Yui, P '14 & P '16, Founding Principal, YUI+Company.
The judges awarded a $1,500 second place prize to Nuzzle, presented by Charlotte de Lastelle, MMH '22 and Youmei Xu, MMH '22, which creates an integrated online platform for families with kids (0-17 years old) which connects parents and local service providers to organize local experiences.
A third place $500 prize went to Irin Chitman's, MMH '22 proposal The Rice Gang, which envisions a fast-casual counter service restaurant that serves whole grain brown rice bowls with organic Thai entrees and side dishes to urban, health-conscious, busy adults looking for healthy Thai food on the go.
Rounding out the finalists, SleepWell, developed by Eric Chen, MPS-RE '22 and Andy Han, MPS-RE '22 showed a proptech-driven space that creates an elevated sleeping experience for sleep deprived professionals.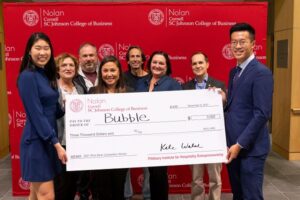 The Pillsbury Institute for Hospitality Entrepreneurship engages leading industry experts and faculty to educate students and provide them with experiential opportunities to learn all aspects of entrepreneurship. To support these critical goals, the Pillsbury Institute offers students, entrepreneurs, and faculty an expanding range of courses, programs, and activities focused on advancing students' entrepreneurship knowledge and mastery.
Other enriching experiential learning opportunity the institute provides includes the Hospitality Business Plan Competition, hackathons, as well as the Entrepreneurs in Residence program that enables students to learn through ongoing personal interaction with successful entrepreneurs.
Full details about the Hospitality Pitch Deck Competition can be found on the PIHE website.