Finding Sustainability in an Unexpected Role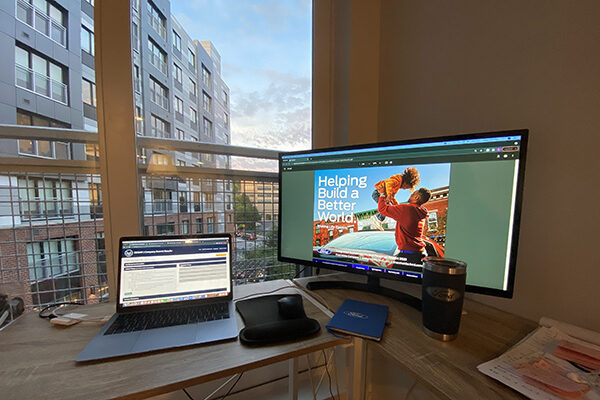 By Katie McGahan, Two-Year MBA '22
Last summer, I worked at Ford Motor Company in their treasury department. I found the opportunity through Johnson's on-campus recruiting and was excited to work at an automobile company that talked about producing electric vehicles. I had enrolled in the Sustainable Global Enterprise curriculum at Johnson, so I took the job hoping—but not expecting—to find a way to integrate sustainability into a capital markets-focused position. What I did not expect was to work on a project that focused on green debt financing while watching the company change from a traditional internal combustion engine vehicle producer to one wholeheartedly dedicated to leading the electric vehicle revolution.
Redefining Ford
Before coming to Johnson, if you had asked me what I thought about Ford Motor Company, I probably would have (1) yelled "Built Tough", or (2) pulled up a picture of an F-150 either driving through mud or perched on the side of the mountain.
My view of Ford was very one-sided before my recruiting process began. In some ways, my views of the company were only confirmed throughout the course of the internship: It was true that "Built Tough" was an important mantra at Ford (I got a beanie with the slogan as part of a swag bag for the interns!) and the F-150 was very much at the heart of the business. But there was so much more to Ford that made the internship such a positive experience.
What drew me to the auto industry throughout the recruiting process was the large disruptions that were occurring within the space. Just like the tech industry had experienced over the past few decades, OEMs and automobile manufacturers are going through a once-in-a-generation industry change with the arrival of electric vehicles.
Recently, it seems that electric vehicles are at the root of almost every news article, headline, or conversation about the auto industry. Not only are legacy auto companies such as Ford, GM, and Toyota being forced to change their entire business models; new additions to the industry are starting to firmly take hold. Tesla is now joined by numerous EV startups as well as massive tech firms (such as the Apples and Googles of the world) in the race towards electrification.
This innate focus on the future of the automobile industry was at the core of my internship, even in the treasury department. I was fully immersed in the world of green vehicle origination projections, ESG debt financing, and green bonds—a universe which I hoped to be a part of, but had not expected during my internship.
The world of green bonds
My summer project focused specifically on the world of green bonds—trying to figure out which competitors were already active in the space, how Ford could participate, and where the ESG debt market was going in the future. I started my summer diving headfirst into green bond prospectuses with the SEC's EDGAR database quickly becoming my home page on my laptop. As I started to understand the state of the industry in terms of green financing, I began to realize how big this market is and how fast it is growing.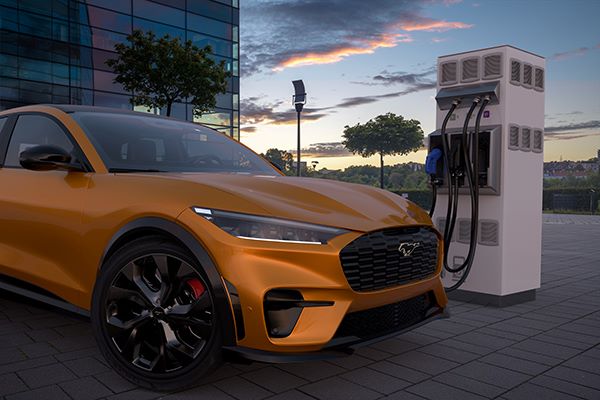 I knew that Ford was already beginning to be a major player in the electric vehicle space—rolling out EVs connected to legacy vehicles such as the Ford F-150 Lightning and the Mustang Mach-E, as well as announcing plans to create stand-alone EVs as part of the fleet. Although the U.S. green bond industry is years behind the EU or APAC, the fast-growing market being established in the U.S. for green debt is one that Ford is well-positioned to take advantage of, due to their existing involvement in the electric vehicle space.
Joining the electric vehicle revolution
In addition to spending my days immersed in Excel, I also got to be a fly on the wall in meetings announcing the new EVs that Ford was rolling out. The most exciting electric vehicle roll out for me, both as a general consumer and as an employee of Ford, was the F-150 Lightning. The F-series is one of the (if not the most) popular trucks in the U.S. Creating an entirely battery electric version of the F-150 that can not only hold its own against its traditional internal-combustion-engine counterpart, but also surpasses it in many ways, is quite the feat.
From a general consumer's point of view, I was ecstatic! This is a huge step towards complete electrification in the U.S. Not only did Ford prove that trucks could effectively be made electric; but they also surpassed expectations in terms of vehicle performance. Even Rachel Maddow had positive things to say about the new vehicle on The Rachel Maddow Show:
"Here's the thing. Whether or not you care about pickup trucks, whether or not you care about cars, whether or not you care about electric cars, even whether or not climate and energy are things that keep you up at night, or not, if the Ford F-150 becomes an electric vehicle, if Ford can transition that particular vehicle to electric, because as an electric vehicle it's better, good-bye gas cars in America."
As a Ford intern, seeing the intelligence, effort, and sheer engineering prowess that came together to make this vehicle was quite special. Getting to hear about the process behind the creation of the vehicle from the head engineer on the project was mind blowing, something I likely will remember for a long time.
Reflection
 I spent the summer reading through bond prospectuses, combing through sustainable debt databases, and searching SEC filings for mentions of "green" and "sustainability." I got to experience what sustainability and sustainable financing look like from one of the most established companies in the U.S., and here is my takeaway: Working in sustainability ensures you will be working in a space that is constantly changing, whether that be with new regulations, with new industry norms, or internally by company policy. It is a space that is not yet defined and will likely not be defined for some time. It is fast-changing and constantly evolving, but that is what makes it so interesting. There are aspects of sustainability that have penetrated each and every role at the company—whether you are working in product development, in marketing, or in treasury. Sustainability will be part of the job—now and in the foreseeable future.
About Katie McGahan, MBA '22 (Two-Year MBA)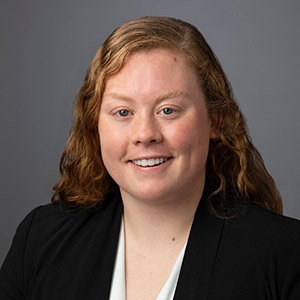 Katie McGahan is a class of 2022 Two-Year MBA candidate. At Johnson, Katie pursued the Sustainable Global Enterprise (SGE) curriculum and had an internship at Ford Motor Company in their treasury department. After graduation, Katie plans to return to Ford.