First Among Giants: Chuck Feeney '56
An Excerpt from the Hotelie Magazine Archives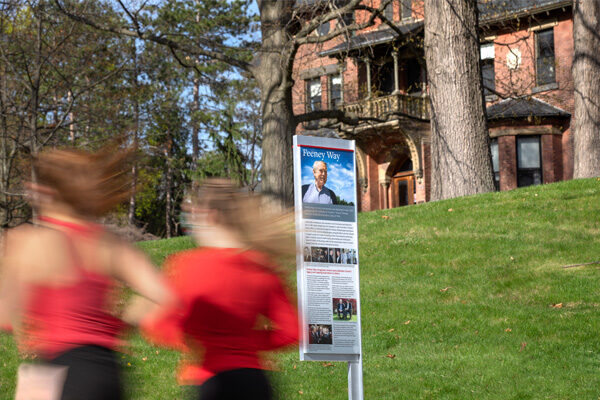 In 2012, Hotelie Magazine celebrated nine decades of hospitality education at Cornell University with a long and storied list of "90 Influential Hotelies." In addition to recognizing remarkable alumni influencers and business leaders, this article dedicated a full page to the life and legacy of Charles F. "Chuck" Feeney '56, the university's most generous donor and namesake of Cornell's Feeney Way.
While the excerpt below is a mere snapshot in time, Feeney's influence is not. Read more about his giving and work in "'Feeney Way' officially unveiled on donor's 90th birthday," an article published in Ezra Magazine in 2021.
Even in a list with no rankings, one Hotelie simply must be singled out for special mention. Chuck Feeney's colossal impact on Cornell, the tourism and retail industries, and, with no exaggeration, the world as a whole cannot be adequately represented in a one-paragraph bio. 

To Cornell alone, Feeney has so far given $950 million through his foundation, The Atlantic Philanthropies, his most recent gift being $350 million for the Cornell-Technion campus in New York City. The foundation's first major gift to the university, made in 1983, established the Cornell Tradition program, which has since become a model for similar work-and-service scholarship programs around the country. His giving has made it possible for Cornell to maintain its need-blind admissions policy, recruit and retain key faculty, create living-learning communities for undergraduates, and pursue world-changing initiatives, including the vital work of the Cornell International Institute for Food, Agriculture, and Development. 

David J. Kennedy, MPS '95, PhD '99 (ILR), Atlantic's director of philanthropic programs for Australia, wrote the following summary in nominating Feeney for a place on our list.

Chuck Feeney came from a working-class New Jersey family. After enlisting in the Air Force at 17, he utilized the GI Bill to help finance his way through Cornell. As cofounder with Bob Miller '55 of Duty-Free Shoppers, he was the driving force behind establishing the duty-free industry as a legitimate retail industry. He eventually co-owned the largest retail chain in the world—2,000-plus stores, employing thousands in the retail/tourism industry and promoting the multiple benefits of global travel.

In recognition of his contributions to the hospitality and tourism industries, as well as his philanthropy, the School of Hotel Administration named him the Cornell Icon of the Industry in 2010. After amassing a billion-dollar fortune, Chuck anonymously gave away 99.9 percent of it and formed a philanthropic foundation, now known as The Atlantic Philanthropies, which has to date given away some $5.5 billion across the world.

When this limited-life foundation gives itself out of business, it will have donated more than $8 billion. As part of this philanthropy, Chuck is the greatest benefactor of any single university in North America, that is, Cornell University, where he has given—or committed to give—approximately $1 billion.

Included in these grants were significant gifts to expand the School of Hotel Administration. He also worked closely with Cornell to ensure that the Cornell Club in New York City retired all of its long-term debt. The end result was a viable and sustainable operation and a hospitable and welcoming gathering place for all Cornellians in New York City. In virtually every geographic location where he has focused his giving, he has literally transformed the landscape. The record speaks for itself:

In the Republic of Ireland, he motivated massive government investments in higher education, which contributed greatly to the Irish Celtic Tiger economy and changed higher education there forever.
 He personally worked—and gave significant amounts of money—for 17 years to help bring peace to Northern Ireland. His foundation still gives significant funds to help keep the peace and help heal the wounds.
There are 20-plus health and medical research buildings in Australia that Chuck's foundation helped to fund with some AU$500 million in grants, resulting in buildings worth between AU$1.75 billion and AU$2 billion. As a result, Australia "fights far above its weight class" in global medical research.
For years, Atlantic has been the top charitable foundation in Vietnam, concentrating on health and medical practice and research. One good example: In 2007, after a ten-year campaign and millions invested in research and community action, Vietnam passed a national law mandating helmets for motorcycle drivers and passengers. Within days, the morbidity and mortality rates from motorcycle accidents dropped dramatically. This ten-year campaign, consisting of a number of philanthropic grants to various community stakeholders, coupled with persistent advocacy, is now a global role model for using the legal process to change national culture for the benefit of all.
Similarly to its work in Vietnam and Australia, Atlantic has been a major benefactor in South Africa, concentrating on the areas of health/medical practice and social justice/reconciliation.
In 2007, New Jersey outlawed capital punishment. Through years of philanthropic grants and advocacy, the Atlantic Philanthropies, along with many others, was instrumental in helping to pass this legislation.
In 2010, one of the largely unheralded stories behind the passage of President Obama's landmark health care legislation was the millions of dollars that Atlantic gave to health care community activist groups, which insiders admit ended up being pivotal in persuading Congress to pass the bill.

When he was runner-up for Time magazine's 1997 Man of the Year—along with Alan Greenspan, Ian Wilmut, Princess Diana, and the Man of the Year, Andrew Grove—Time acknowledged that "Feeney's beneficence already ranks among the grandest of any living American."

At a recent gathering of the Giving Pledge, which is founded by Bill and Melinda Gates and Warren Buffett, Mr. Buffett told reporters that Chuck Feeney was the "spiritual leader of the group."

During a recent visit to Australia, Professor Susan Desmond-Hellmann, Chancellor of the University of California, San Francisco, reflecting on Chuck's efforts to foster collaboration between medical researchers in Australia and the United States, said, "I predict millions of human beings are going to be better off as a direct result of his actions. I wish I could clone him."

He is, and will remain, an iconic role model for philanthropists and would-be philanthropists worldwide.
Celebrating 100 Years
To celebrate 100 years of hospitality education at Cornell University, the Cornell Peter and Stephanie Nolan School of Hotel Administration is publishing select Hotelie Magazine articles and excerpts online for the first time ever.
This excerpt was written by David J. Kennedy, MPS '95, PhD '99.