Intro to Wines: A Vintage Classic Turns 40
An Excerpt from the Hotelie Magazine Archives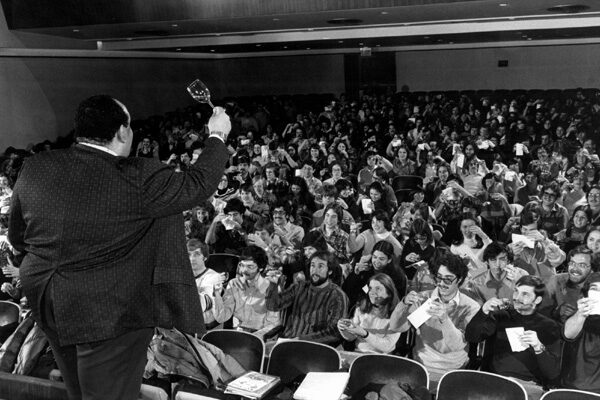 Described as "an essential Cornell experience" more than a decade ago, the Intro to Wines course has a long and storied history at the Cornell Peter and Stephanie Nolan School of Hotel Administration. As we celebrate 100 years of hospitality education at Cornell University—and 50 years of Intro to Wines—we invite you to take a moment to read a bit of history while raising a glass with us.
Every Wednesday afternoon, fall and spring, a cheerful horde of students jam their loaded backpacks through the doors of Alice Statler Auditorium and struggle down the aisles to their seats. At 2:55 p.m., Professor Stephen Mutkoski '67, PhD '76 walks onto the stage and bellows, "Good afternoon everyone!" and the animated throng comes to attention. These are the lucky 700 or so students from across the university who have won placement in Introduction to Wines, Cornell's most popular elective course, and no one wants to miss a drop of it.

The elements of wine

On this particular afternoon in January, the lesson is about the components of wine—not only flavor but features such as appearance, structure, texture, and impact. Students will begin by tasting not commercial wines, but a series of samples that Mutkoski has enhanced to bring out "certain organoleptic properties."

For this purpose, the students will use little plastic cups instead of one of the three full-sized wine glasses, emblazoned "Cornell Wine Expert," that have been issued to them in custom-molded carrying cases for use in tasting all finished wines. Each aspiring wine expert is responsible for washing his or her own glasses and bringing them to every class.

As Mutkoski makes his opening remarks, a phalanx of 24 teaching assistants dressed in white serving coats strides down the aisles. The first wave distributes tasting sheets and eight soufflé cups to each of the students. Next, come about 30 bottles of Sample No. 1. As the teaching assistants watch closely, these are passed down the rows from student to student, each of whom pours a pre-measured single ounce into one of the cups provided.

Students pass wine bottles during class in 1984.

Mutkoski tells the students that he wants them to learn how to evaluate a wine's aroma, not just its taste. "Everybody is walking around, looking down texting. You don't spend a lot of time smelling nature. But that's what we're going to focus on because that's what gives us 80 percent of our enjoyment of wine and food."

Many samples later, he asks about No. 7: "Do you pick up any particular characteristic?" One student yells out "Apple!" Another says "Pear!" When a third student shouts "Grapefruit!", Mutkoski's eyes light up. "You got it! Grapefruit! This is a sample of a Sauvignon Blanc that has that grapefruit essence to it."

An essential Cornell experience

This small kernel of understanding about a subject most college students know nothing about is what has drawn more than 41,000 undergraduate and graduate students to this iconic course since 1972 when it was first offered universitywide. In student numbers, the course ranks second only to Psych 101, the landmark course that Professor James Maas taught to more than 65,000 students during his 48-year career. If it were logistically possible to hold Intro to Wines in Bailey Hall, which can accommodate 1,300 students, its enrollment might easily match that.

A student breathes in the aroma of a wine during a tasting in 2015.

"I feel like I wouldn't be getting the full Cornell experience without taking Introduction to Wines," said Charlotte Fabiani, a senior majoring in policy analysis and management who enrolled in the course this semester. Sitting three seats to her right in the auditorium's front row, Michael Lee, a second-year student at the Johnson School, agreed: "This course came highly recommended as part of the essential Cornell experience," he said. "Pretty much everyone I know says this is one of the most unique courses you'll find."

While sipping wine one afternoon a week may seem to be the main attraction, many students said they enrolled in the course to learn how to evaluate wine, a skill they believe will prove useful in their future careers. "I think it's important to be able to understand wine, especially in the business world," said Ariel Frank, a senior in the School of Industrial and Labor Relations. "It's pretty intimidating to me. But I think as I understand it more, I will be able to talk about it."

Student studies multiple glasses of wine.

What allows the students to experience the many distinct qualities of wines from around the world is a clockwork-run logistical operation, managed by Beth Wilcox '96, the teaching support specialist who directs the team of teaching assistants. Each week, the class goes through an average of 180 bottles of wine as it samples up to seven varieties.

"It's kind of like doing a banquet each week because you have to have people to open bottles, switch pourers from the previous samples, get the new bottles for distribution, and then, after class, to clean up," Mutkoski said. "It's a continuous process—prepping the wines the day before, serving the class, breaking down the class, and then getting ready for next week's class."

An American original

With virtually every seat in the auditorium filled, Introduction to Wines is now seven times as large as the first Cornell wines course, which was started in 1953. That course, which was created for SHA students only, was the first accredited wines course offered at any American university. At the time, 106 juniors and seniors enrolled in the class to learn about the likes of Amontillado sherry, Beaujolais, and Champagne.

A teaching assistant pours wine for a tasting.

The original course was crafted by a group of five New York vintners and importers, including Julius Wile, who headed an import business in New York City—and who has an annual student prize named for him—and John Longwell of the Urbana Gold Seal Wine Company in Hammondsport. The wine industry representatives, who wanted to provide the hospitality students with a basic knowledge of wine, would travel to Ithaca on a rotating basis to guest-lecture for the course.

That course has carried through to this day as Beverage Management, a 400-level course that Mutkoski teaches for SHA students preparing for careers in food and beverage management or related positions in the beverage industry. The course teaches such skills as control of product and personnel, merchandising, pricing, development of wine, spirit, and beer lists, the legalities of managing licensed premises, and food and wine pairing.

Mutkoski took the earlier form of this course himself, as a junior at Cornell, with Matthew Bernatsky, the professor who took it over from the vintners in the early 1960s. "He was a trained chef, so he had a lot of culinary background, which certainly helped when matching wines with food," Mutkoski recalled.

Professor Stephen Mutkosk teaching a class in 1986.

The school also offers two other 400-level courses to students concentrating in food and beverage management, both of them taught by senior lecturer Giuseppe Pezzotti '84, MMH '96. Wine and Food Pairing Principals and Promotion focuses on the pairing and creative marketing of wine and food based on an understanding of regional and varietal wine styles, how food flavors can affect the perception of wine flavors, and the promotion of wine and food. Seminar in Quality Brewing and Fine Beer covers the brewing process, sensory aspects of beer, international beer types and styles, the marketing of malt products, purchasing and distribution, storage and service, beer and food pairings, staff training and education, cost controls, and third-party liability issues.

"These courses build on the knowledge students receive in the Intro to Wines class and take that to a higher level," explained Mutkoski. "Beverages account for a significant portion of the profits in foodservice operations, so having the skill set to manage beverage alcohol effectively gives our graduates a competitive edge."

The Vance Christian era

In 1971, Professor Vance A. Christian '61, MS '65 was asked to organize his class reunion. Tired of the "milk punch, greasy hors d'oeuvres, and bourbon and scotch" typically served at such events, Christian proposed something different: a wine tasting.

Vance Christian teaching a course on wine.

Attending Reunion that year was Robert A. Plane, then Cornell's provost and a longtime local oenologist, who suggested to Christian that all Cornell students should have a chance to learn about wine. That chance came a year later when Bernatsky retired and Christian became the wines professor. In addition to taking over Bernatsky's wines class for SHA students, Christian immediately launched the first accredited wine appreciation course open to any student at Cornell. While he expected an enrollment of 25 to 50, the course drew 97 students.

That year, 1972, Christian also hired Mutkoski, then a Long Island restaurateur, to take over the teaching of Meat Science for Commercial Food Service Managers following the death of Jeremiah Wanderstock, who had taught the course for 19 years. Based on his experience with the course, Mutkoski published a textbook, Meat and Fish Management, in 1981 with former graduate student Marcia Schurer, MPS '78.

Vance Christian examines wine.

Christian, who enjoyed a devoted following among SHA students and international renown as a hospitality management consultant, was named in 1978 to the newly created Banfi Vintners Professorship in Wine Education and Management, a chair that Mutkoski now holds. Under his direction, enrollment in Intro to Wines continued to climb, reaching 260 in 1982. But the momentum came to a tragic halt for Christian a year later, when he learned that he had advanced cancer. This time, he asked Mutkoski to take over his own class.

Mutkoski already had a strong personal and professional interest in wine, having spent his years as a restaurateur writing wine lists and educating his servers and customers. But he had visited the international wine regions only in books. As luck would have it, he was stationed in Paris on sabbatical when Christian learned of his illness. "Before returning home, I visited six or seven of the major wine-producing regions in Europe for the first time in my life," he said. "When I came back, I started to look at the other areas I needed to study and explore." Over the next several years, he visited other wine-producing areas around the world while traveling to teach executive-education seminars.

A world of wines

Following in the footsteps of his mentor Christian, who died in 1984, Mutkoski shaped Intro to Wines as a consumer-oriented course that taught the culture and history of the world's wine regions, how to select wine in a restaurant or retail shop, and the pairing of wines with different cuisines. The two-credit course was structured around the world's twelve major wine-producing countries and the various regions within each. Italy, for example, has 20 wine regions; while Mutkoski presents an overview of all of them, he can only focus in-depth on five of them during a two-hour lecture.

A glass of champagne.

"This is a broadening kind of cultural-enrichment course where people get to learn something about other countries that they haven't been to," Mutkoski explained. "In order to know something about the topic of wine, you have to be able to read and decode a wine label to know what's in the bottle. In the case of an Italian wine, you have to understand some aspects of the Italian language, culture, and wine laws and requirements. When you go to Spain, you have to do that for Spanish wines. They're all different, so you become a little bit broader culturally and you understand it a bit more."

For the United States, the course focuses on the four largest wine-producing states: California, Oregon, Washington, and New York. Vintners from these regions discuss their wines with the class via telephone, and Mutkoski hopes to soon add videoconferencing to the course.

Teaching the same course for 28 years can be a challenge for even the most gifted teacher. But Mutkoski has kept the course fresh by adding material from the trips he has taken to visit wine regions around the world every summer during the past two decades. The wine industry is constantly changing, he notes, as new producers come on the market.

When Mutkoski started teaching the course in 1984, there were 50 wineries in New York, 676 in California, and 1,246 in the United States. As of 2010, there were 296 wineries in New York, 3,364 in California, and 7,626 across the country.

"Not only did the number of wineries increase, but new regions were established producing different styles of wine," Mutkoski noted, adding that China is one of the latest to start developing wines. "So as the industry evolves, the content of the course needs to change."

A bottle of Chateau Lafite – Rothschild Bordeaux 1947 red wine.

Paul Fiala, MMH '97, divisional director of food and beverage for North America for Starwood Hotels in Stamford, Conn., served as a graduate assistant to Mutkoski and oversaw the teaching assistants for Intro to Wines during both years of his master's degree program. In his last year at Cornell, Fiala remembers that Mutkoski flew to South Africa to learn more about the country's developing wine industry. When he returned, he incorporated the information from the trip into the course and brought in South African wines for the students to sample.

"He came back with hundreds of pictures of the vineyards, and it was spectacular how well developed that wine area was," Fiala recalled. "It was just being introduced to the American market."

An education with legs

As a developer of food and beverage menus for hotels, Fiala said that the course taught him how to develop an appropriate vocabulary to use in describing wine to consumers. "It gave me the ability to talk about wines at a different level. What Steve does is boil down a pretty complex curriculum into a very easy-to-understand, approachable way to describe the wines. When you're in the food and beverage industry, you need that ability to talk, almost in laymen's terms, about the product."

A student studies wine during class.

For Alison Napjus '99, now a wine reviewer and writer for The Wine Spectator, the organization of the course helped her learn to approach the study of wines from the standpoint of the classic regions. Napjus credits what she learned from the course in helping her land her current job.

"The director who hired me said I was the only one who had ever aced his wine quiz," recalled Napjus, who first worked at the Tribeca Grill in New York after graduating. "I went into the interview without any studying. It was two years after I had taken that class. That class prepped me for this interview, and I was able to get this job."

Peter Karpinksi '99, founder of the ten-unit Sage Restaurant Group in Denver, also believes that the course has played a significant role in his career advancement. "One of the reasons I've been so successful in the world of food and beverage is not only what I learned at Cornell in general, but what I learned in the wines class that Professor Mutkoski taught," he said. "He was the best."

While Karpinksi recalled that many students took the course because they thought "it was going to be a walk in the park," he said they were often not prepared for the amount of work it required. Introduction to Wines is reputed to be the most failed course at Cornell.

Cheryl Stanley, lecturer in food and beverage management, and Professor Stephen Mutkoski teaching a class in 2014.

For his part, Mutkoski does nothing to dispel that rumor. "I always tell the students during the first class that if you are accepted to Cornell you have the brainpower to master the subject and to pass the course. But you have to understand you're getting two credits toward your graduation requirement, and this course is going to take that amount of effort to do well enough on the exams and get a grade of satisfactory."

A voice for moderation

During the course, Mutkoski devotes one lecture to the risks and benefits of consumption and invites Tim Marchell, a clinical psychologist and director of mental health initiatives at Cornell's Gannett Health Services, to discuss the need for a balanced view toward alcohol. A campus police officer also visits the class and conducts a field sobriety test on two teaching assistants who have imbibed a prescribed amount of alcohol.

"I'm convinced that the entire class is really a voice for moderation," Mutkoski said. "Our hope is that we can make students more aware of their own consumption behaviors and encourage them to be more vigilant when their friends become at risk."

By the end of the semester, he expects the students will have learned a skill they will value whether they become professionals who entertain clients or simply want to dine out with friends and order off a restaurant's wine list. "In 14 weeks, we try to give them as much of a start as possible on a process that could take a lifetime to complete. The joy for me is that I teach a subject that people can continue to learn about, appreciate, and use for the rest of their lives."
Celebrating 100 Years
To celebrate 100 years of hospitality education at Cornell University, the Cornell Peter and Stephanie Nolan School of Hotel Administration is publishing select Hotelie Magazine articles and excerpts online for the first time ever.
"Intro to Wines: A Vintage Classic Turns 40" was written by Sherrie Negrea for the 90th Anniversary edition of Hotelie Magazine, which was published in print in the Spring of 2012.