India's Commitment to Infrastructure Development: The Next Great Growth Driver

By Valmik Karam, MBA '22
Throughout my career, I've worked on leveraging new technologies and infrastructure to improve the quality of life for people around the world. My experiences have made me eager to do the same in India, where, based on my frequent travels to visit my family at a young age, I saw first-hand the issues that the country faces. I've also seen the opportunity for future growth India has if it invests in infrastructure to support the continued urbanization of its population. All of this has shaped my career path, from my decision to pursue an MBA at Cornell to becoming an Emerging Markets Institute Fellow and an Infrastructure Policy Management and Finance (IPMF) certificate candidate.
Effects of the pandemic
The global pandemic exacerbated problems of inequality, exposing the prominence of the informal employment sector and the lack of expansionist economic development in India. The pandemic additionally brought to light the fragile nature of India's supply chain, putting a renewed focus on sustainable, inclusive growth. A new movement was formed for self-sufficiency: 'Atmanirbhar Bharat,' which translates to "self-reliant India."
At the center of the problems India is facing are aging and antiquated infrastructure, corruption, and a historical inability to execute projects in a timely fashion. As a result, in its latest budget, India has committed to spending $1.4tn in infrastructure development over the next 25 years.
Historical issues with the speed and scale of infrastructure development
Infrastructure projects in India are some of the slowest in the world. Minimalistic planning often leads to infrastructure being outdated and congested by the time it's finally completed, and India is full of examples of projects delayed or abandoned for years due to a lack of financing, environmental clearance issues, inept contractors, or contractors that bid too low.
India's recovery from the pandemic has been seen as swift; however, private consumption has been hampered by a lack of jobs, depleted household balance sheets, and wider income inequalities. India's economy contracted in the face of the pandemic, and the government's response included funding through several initiatives that aimed to boost infrastructure development and drive sustainable economic growth for years to come.
A new direction
With this increased funding came guidelines that aimed to increase the speed along with the scale that India had planned for with the new initiatives. The need for infrastructure in India is broad—roads, bridges, mass transportation, power, telecom, health, sanitation, and education—making the ability to execute projects efficiently very important. The guidelines have made what was once a daunting task into a science by breaking departmental silos and bringing in more holistic and integrated planning and execution of projects with a view to address the issues of multi-modal and last-mile connectivity. The results of these efforts have been pronounced and immediate: In a matter of months, India was able to attain a pace of road construction that is at an all-time high for the nation.
India is hoping that focusing on infrastructure spending will trigger multiplier effects and put GDP year-over-year growth back above 8 percent and on a firmer footing. Other related initiatives include India's Net-Zero greenhouse gas emissions by 2070 pledge, which is estimated to have an economic impact of over $1 trillion by 2030 and around $15 trillion by 2070.
Infrastructure spending is expected to make India more competitive in manufacturing, a goal that has been around since the 2014 "Made in India" initiative. India has historically ranked low in manufacturing in the World Economic Forum's study on Global Competitiveness in comparison to its Asian peers, despite low labor costs. A major hindrance is transportation infrastructure; India's congested road transport, inordinate delays in railway freight movement, and more all result in significant capacity constraints.
The Emerging Markets Institute
Being a part of the Emerging Market institute has afforded me the opportunities to meet like-minded students and interact with key leaders in emerging markets such as India, allowing me to formulate a career plan to realize the goals I set out when I choose to do my MBA. EMI classes such as "Leaders in Emerging Markets" and being a part of the annual EMI conference this past November have been defining moments in my MBA journey. It is opportunities like these, and experiences I have had as an EMI fellow, that I will look back at with fondness when reminiscing about my MBA journey.
About Valmik Karam, MBA '22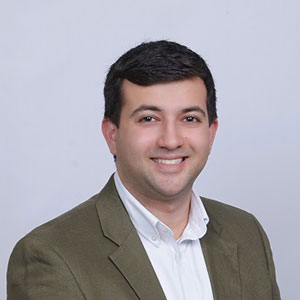 Valmik Karam, a One-Year MBA class of 2022 graduate of the Samuel Curtis Johnson Graduate School of Management, hails from Sacramento, CA. Karam is interested in applying innovative solutions to solve challenging global issues—specifically in technology and infrastructure—to support the continued urbanization of populations in countries such as India, where most of his family lives. He is an Infrastructure Project Management and Finance (IPMF) certificate candidate, an Emerging Markets Institute (EMI) fellow, and a member of the Big Red Microenterprise group at Cornell. Karam enjoys playing and watching basketball, cooking, and exploring and making the most of his one year in Ithaca.