A Vlogger's Journey from Ithaca to Istanbul
Doug Barnard '18 uses his YouTube travel channel to do the greatest good on the global stage.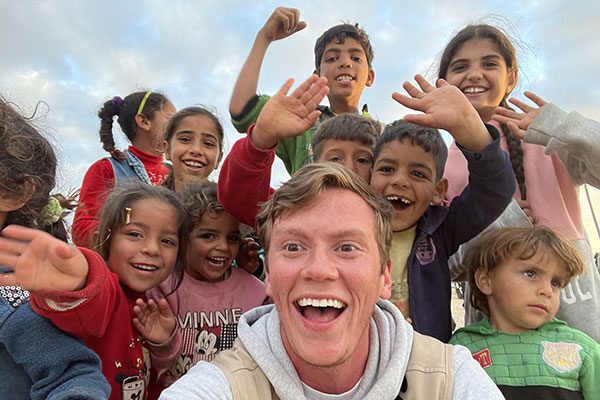 Doug Barnard '18 is Zooming from a Cube Suites hotel room in Istanbul, his laptop perched atop his suitcase. On a typical day, he will go to a café, grab a coffee, and sit and edit his popular travel vlogs. In 2021, Barnard, a graduate of the Cornell Peter and Stephanie Nolan School of Hotel Administration, spent about three weeks in the United States.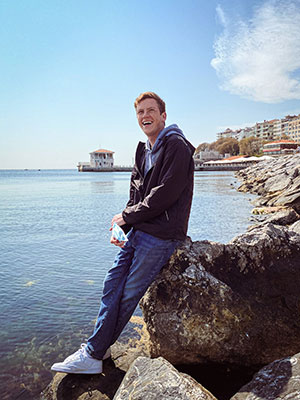 It's a far cry from the world of e-commerce, where Barnard spent more than two years as a category specialist in charge of cat (and later dog) flea and tick medications for Walmart.com in New York City. In August 2020, he was among the hundreds laid off when the retail giant drastically restructured a number of divisions, including merchandising.
The move left him at a crossroads. "I had this YouTube thing that I had started in February 2020 and I could see how, if I had more time to dedicate to it, I could turn it into something that could sustain me," Barnard says.
Over the last 18 months, since he devoted himself to travel vlogging full time, Barnard has grown his social media presence to 430,000 subscribers on YouTube—collectively, his videos have nearly 29 million views—as well as 66,600 followers on Instagram and 217,400 followers on TikTok (which he joined just last year)."The way people really make it big on YouTube is from brand sponsorships," he explains, "so you get a little bit of money every month from the advertisements that show automatically."
Fundraising for Human Appeal
After a year or so of trying to figure out if he could turn vlogging into a full-time vocation, Barnard started thinking about "doing something that can help people beyond providing entertainment or travel advice." Then a nonprofit called Human Appeal, one of the largest humanitarian organizations in the U.K., contacted him about documenting their work in Lebanon to support Syrian refugee families and orphans.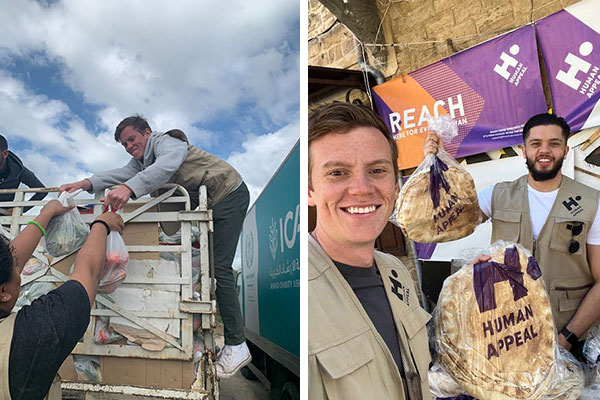 Barnard spent five days in Lebanon, directly raising nearly £11,996 (about $14,600) for Human Appeal toward a goal of £15,000 through GoFundMe. "I'd like to make more next time," he says. Human Appeal gave him "the push I needed to go for it," he says. "And it was an affirming experience, because it showed me that I actually can use my platform to do this."
Vlogging essentials:  performing arts and presentation skills
How did he build this platform? Barnard grew up 20 minutes from Hartford in Simsbury, Connecticut—"very upper-middle-class, pretty homogenous, small town," he says. "It was eye-opening to be exposed to different mindsets and nationalities at Cornell. The Hotel School really got me excited about exploring all these different cultures."
During his junior year at Cornell, Barnard went to study abroad in Spain and convinced his mom to go to India with him right before the semester started. "India was unlike anything I'd ever done before," he recalls. "I had become interested in it from watching YouTube videos, kind of like the ones I make now. That was pretty much when I got hooked."
He started his YouTube channel following a trip to Saudi Arabia in January 2020, just before COVID shut much of the world down. "They had opened for tourism for the first time ever in September 2019," he explains, "and I figured that it would be a good place to go to as my first country making videos."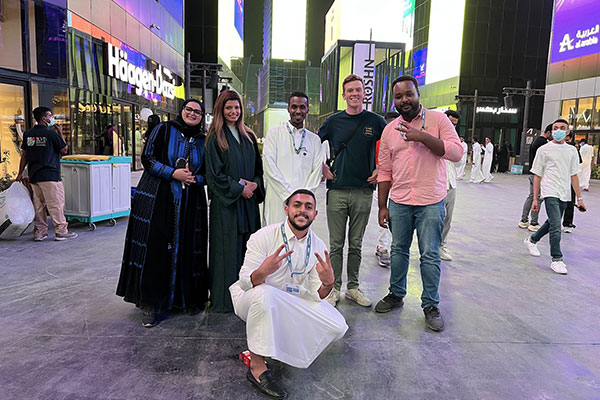 Barnard remembers that first day on the dusty streets of Riyadh, pacing back and forth and summoning the courage to start vlogging for the first time. "I used to do a lot of performing arts stuff in high school," he says. "I was in an acapella group at Cornell called the Men of Last Call, so that probably helped." He also gives a shout-out to Nolan Hotel School senior lecturer Andrew Quagliata, whose Management Communication class improved his public speaking and presentation skills.
Overnight sensation
That same day, Barnard had a chance meeting in a market with a Saudi who invited him to dinner at his house with his family. He later found out he was dining with an internet celebrity—Sultan Al-Harthi, who has millions of followers on Instagram and Snapchat. "That night, he posted me on his Snapchat story and tagged me. And for the next 24 hours, my phone was buzzing and dinging nonstop."
Barnard had 20,000 Saudis following him on Snapchat overnight, and he built on that initial momentum as he visited additional countries (more than a dozen to date, including Iraq, Egypt, Sudan, Bangladesh, Turkey, Azerbaijan, Ukraine, and Serbia). Following his first trip to Korea in June, he's going to Mongolia for a festival in July, and then back to the United States for a summer visit with family and friends.
Barnard hopes to inspire his viewers "to travel more broadly, open-mindedly, and spontaneously, and to open themselves up to meeting and spending time with people of diverse backgrounds drastically different from their own." he says.
"Coming from my Hotel School background," he adds, "the hospitality I found in the Arab world is unbelievable. They will drop everything for you."