Emerging Markets Program hosts celebration of SMART experiential research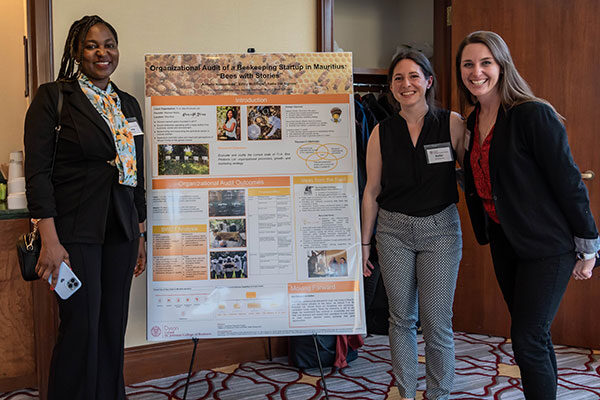 The Student Multidisciplinary Applied Research Teams(SMART) Program hosted a dinner to honor Professor Iwan J. Azis with the Wharton Award and celebrate a student poster presentation at the Statler Hotel on the Cornell University campus in April. The SMART program offers students unique, global service-learning opportunities through the Emerging Markets Program at the Charles H. Dyson School of Applied Economics and Management. Azis is a professor of applied economics and policy at Dyson.
The Wharton Award celebrates the work of pioneering Black economist Clifton R. Wharton, who made enduring contributions to human capital development in Southeast Asia through his work with the Rockefeller Foundation, as president of Michigan State University, as CEO of TIAA-CREF, and as Deputy Secretary of State under President Bill Clinton.
"The Wharton Award dinner acquaints students in the SMART program with those whose shoulders they stand upon," said SMART founder Ralph Christy. "This year's awardee, Dyson Emerging Markets Professor Iwan J. Azis, is well-known for his contributions to the economic integration of Asia and human capital development in Indonesia."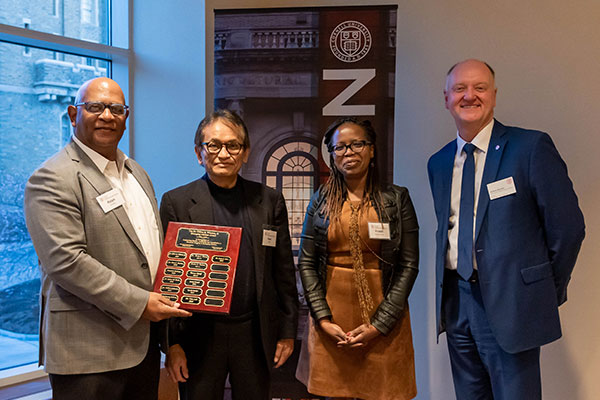 In his after-dinner reflections, Azis emphasized that listening to local input is "especially important when serving as an economic development professional."
The SMART program matches Cornell students and faculty with communities and organizations in emerging economies that are facing applied economic and business management challenges. This year, SMART faculty director Fridah Mubichi-Kut, professor of practice at Dyson, conducted a hybrid program model for the 20-student cohort, pursuing four multi-year research initiatives in the U.S. and Africa.
Meet the SMART 2022 student teams and their research projects
Organizational Audit of a Beekeeping Startup in Mauritius. The "Bee Team" included Kellie Del Signore, MPS '22, Emily McGinnis, MPS '22, both students in the College of Agriculture and Life Sciences (CALS), and Annette Nantumbwe, a 2021-2022Humphrey Fellow in CALS. They pursued a SWOT analysis of Bees With Stories, a honey-product enterprise providing sustainable economic opportunities for women and vulnerable communities. In their audit, they proposed business, social, and environmental key performance indicators, value chain assessments, and growth proposals.
U.S. Cities Tourism Competitiveness Index. This student team included Dyson students Jasmin Higo, MPA '23, Shayna Krasnoff, MS '22, Jong Min Jung, MS '22, and Umran Mustafa '22, and Nolan student Vinh Le, MS '23. Noting the absence of a city-level index measuring domestic U.S. tourism competitiveness, the group explored two cities from each state and included nationally relevant indicators not previously used, including COVID-19 numbers and diversity data.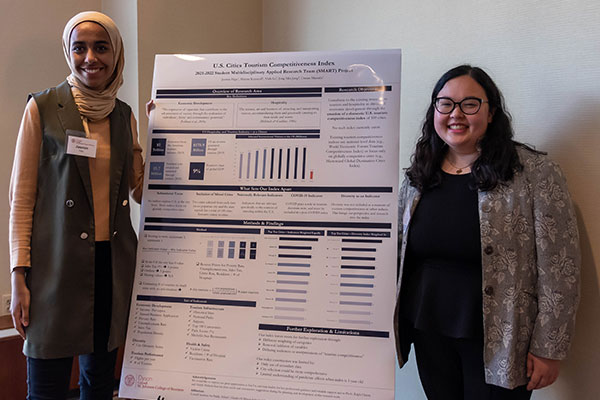 The Impact of Digital Platforms on SMEs in New Orleans. Student team members included Dyson students Arin Sheehan '22, Annabel Li '22, and Jasmine Chi, MPS '22, and Nolan student Emily Wu '22. Exploring the relationships and dynamics between digital platforms and small and medium-sized enterprises (SMEs), this group selected Magazine Street in New Orleans, a shopping destination with over six miles of SMEs, as its study site.
An Evaluation of Villgro Africa, an Early–Stage Healthcare Incubator seeking intermediary funding. Student team members included Dyson student Derick Cheung '22; CALS students Gabriella Gabel '22, Jackson Hart '22, Joyce Kabui, MPS '22, and Cody Kugler, MPS '22; Xufeng Amelia He, MPA '23, and Tiffany Vu, MPA '23, students in the Cornell Jeb E. Brooks School of Public Policy; and Jeff Kangacha '24, a student in the Cornell Institute for Digital Agriculture. This team conducted a financing analysis of an incubator supporting African-owned, small-scale health and biotechnology enterprises addressing diseases of poverty and issues of healthcare access for vulnerable populations in Africa.
Mubichi-Kut vouched that the Villgro study "was the most complex organization and project … a journey." In order to test its hypothesis of insufficient VC investment in Kenya, the team revised its data analysis continually, identifying and removing outliers with the help of finance faculty, MBA students, and the Cornell Life Sciences incubator. Mubichi-Kut will continue work in Kenya this summer with undergrad team member Jeff Kangacha "to find and define the specific, tangible touch points and narrative" required to communicate with clients. "We learn and grow, and contribute something useful," said Mubichi-Kut. "This is exactly why SMART was founded." She was especially pleased that Kangacha wanted to continue with the research.
Christy commended the cohort of international students and community partners for their collaborations at real-world problem solving. "There will be many fruitful benefits that can come from this. Let's see this as a start!"