Wonders of the Johnson Colombia Trek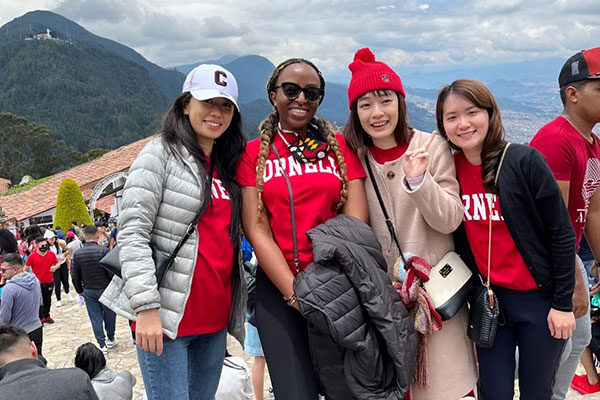 By Ivy Ochieng, MBA '22, EMI Fellow
Colombian culture is both vibrant and dynamic. As the second most-biodiverse country in the world, Colombia is full of diverse landscapes, vegetation, produce and cultures. To learn firsthand about the dynamics that shape the country, I and my MBA classmates from the Two-Year MBA, Johnson Cornell Tech MBA, Executive MBA Metro NY, and One-Year MBA programs spent our spring break in the country. Our Colombia trek was led by Lourdes Casanova, senior lecturer and Gail and Rob Cañizares Director of the Emerging Markets Institute at Cornell University. The trip was split into two portions, with the first half spent in Bogotá, the capital of Colombia, and the second half spent in Cartagena.
Food and Exports
The Colombian landscape is a wonder itself: With Bogotá juxtaposed in the mountains, and Cartagena carved from the ocean, its contrast in geography greatly benefits the country's agricultural output. In Bogotá, this was best seen at the popular Plaza de Mercado de Paloquemao, an indoor market featuring fruit, flowers, and spices. At the market, the MBA students saw and sampled various kinds of fruit that most of us have never seen or tasted before. Colombia is one of the world's largest exporters of roses and a section of the market featured a range of tropical, locally grown flowers.
We also experienced Colombian cuisine and culture at many authentic venues both in Bogotá and in Cartagena. For fine dining, we dined at Harry Sasson, a restaurant named for a top chef in Bogotá. At Gaira Café Cumbia House, we sampled a seafood selection over live performances from artists, listening to famous Latin American artists such as Carlos Vives, Colombian legend and Gaira Cumbia's owner. Besides the lively music and delicious food, the venue was also covered with vibrant artwork celebrating Latin American music, which is a blend of Indigenous, European, and African elements.
In Cartagena, we were able to see the influence and diversity of all these cultures. In Cartagena, we dined at Juan del Mar, a local favorite located in the heart of the walled city. The neighborhood was vibrant with musicians playing the street, people dancing, and vendors selling local artwork. The menu at the restaurant was a blend of Caribbean and Mediterranean cuisine.
Culture
Besides, the food scene, we experienced Colombian culture through various activities, starting with the traditional game of Tejo. The game involves throwing a disk (your 'tejo') at a clay court from over 70 feet away. After proudly scoring twice, I figured I might have future as a professional Tejo player if my post-MBA plans do not pan out.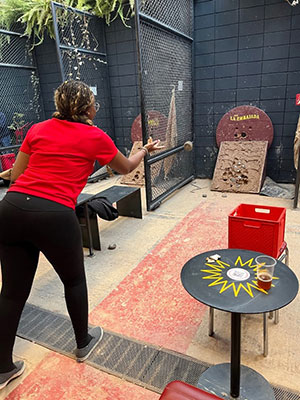 The best way to explore a city is by wandering around small alleys and sampling local cuisine. In Bogotá, we took a stroll through Barrio La Candelaria. There, we took pictures with llamas at the famous Plaza de Bolívar and drank espressos at Colombia's most acclaimed coffee shop, San Alberto. While walking through the city, we learned about the local art scene, including the works of famous graffiti muralists such as Guahce. In the evening we reveled at the famous Andrés Carne de Res. Defined as a restaurant, the venue goes beyond this description and features eclectic décor in an expansive venue designed for dancing the night away.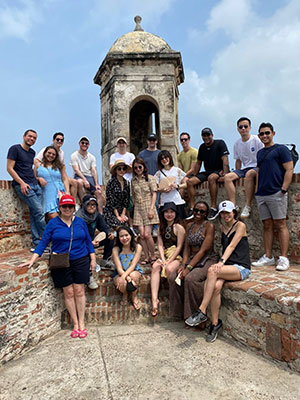 To learn about the colonial history of Colombia, we headed to Cartagena. There, we strolled through the walled city and visited the Rosario islands. Starting with the walled-city tour, we stopped by the Castillo de San Felipe de Barajas, a fortress on the coast, and learned about the Spanish conquerors and their fight to control the region.
As we continued on our walking tour through the walled city, we learned about local art and food culture. To learn about the African heritage in Colombia, we spent an afternoon in a historical community outside of Cartagena, Palenque. Founded by escaped slaves, Palenque was the first free territory in the Americas. While there, we learned about the deep history of the community, sampled their local cuisine, and even learned a few dance moves from a local dance group.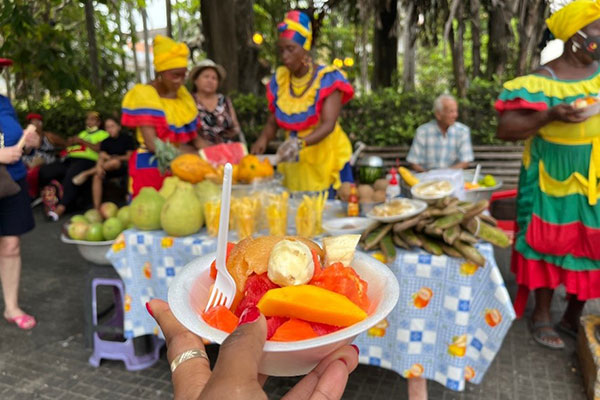 Art and Architecture
Beyond food and lots of coffee, we also had the opportunity to experience Colombian culture through museums and excursions. In Bogotá, we visited the Botero Museum, a collection of art donated by the famous Colombian painter and sculptor Fernando Botero. Botero is known for his famous "fat subjects"—fat forms created using perspectives and proportions.
The salt cathedral of Zipaquirá, an intriguing architectural masterpiece, is located close to Bogotá. Colombia is a mostly Catholic state, and the cathedral is a modern, artistic rendition of a church. At its high elevation, Zipaquirá, was a center for the salt trade and, fittingly, the hometown of Colombian cyclist Egan Bernal, who won the Tour de France in 2019.
Another architectural site of importance in Bogotá is Monserrate, a mountain in the city center with a shrine and church at the top. It is a popular pilgrimage site where people pay homage to El Señor Caído (the Fallen Lord). Access to the top of the mountain is provided by an impressive tramway system that also provides magnificent views of the city.
Economics and Policy
Besides cultural excursions, we also gained perspectives on the political and economic climate in Colombia from industry experts. We heard from government officials and lecturers, who spoke on a panel about China-Colombia relations and the emerging partnerships between the countries. China has been expanding its economic involvement globally, especially in emerging markets. While the panelists detailed the benefits of the relationship, audience members raised concerns about China's involvement in various emerging economies and the impact on local businesses and talent.
We also attended a panel on U.S.-Colombia relations, where representatives from the U.S. embassy explained the growth and impact of the relationship between the two countries. From the panelists, we learned that while the U.S. is Colombia's biggest trade partner, over the years China has emerged as a leading trade partner for various products, both imports and exports.
From a business perspective, we met with a recent Johnson alumnus, Luis Carlos Sarmiento III, MBA '20, whose family operates Grupo Aval, the biggest financial group in Colombia. The company is also one of the biggest banking conglomerates in Central America, covering both retail and corporate banking as well as managing Colombia's largest private pension fund. Educated in the U.S., Sarmiento detailed the importance of cultural understanding, especially in transitioning from working abroad to adapting to the corporate culture in Colombia.
In a panel hosted by the National Federation of Coffee Growers of Colombia, we learned how Colombia has maintained its standing as a leading coffee producer. More commonly known as Fedecafé, the company has been operating for decades and, most recently, is focused on innovations and technology to optimize their coffee-production process.
Lastly, the most enriching experience in learning about the business environment in Colombia came during our team projects with Universidad de los Andes (Uniandes) MBA students. In teams of four, we each worked with a small business in Bogotá to help them solve a specific business problem. Through the experience, we were able to visit the company's offices and warehouses and learn firsthand about the economics of operating a business in the country. Most impactful was creating an allyship with Uniandes students that enriched our cultural experience and will last beyond our trip to Colombia.
Conclusion
Colombia's cultural and geographic diversity has proven to be a great asset in developing its economy. From its growing tourism sector to the thriving coffee and produce industries, Colombia, like most emerging markets, is staking its claim among global economies. As I transition to my post-MBA career in the financial sector, it is important to gain these firsthand cultural experiences in order to make sound decisions that positively impact communities.
In summary, the Colombia trek was an enriching and enlightening experience. As we struggle to leave the COVID crisis behind us, it was heartening to have the opportunity to partake in a traditional MBA experience that had been on hold during the pandemic. During this trip, I developed professionally by working with small business owners, socially by collaborating with fellow MBA students from Cornell and Uniandes, and personally from the insights and perspectives gained throughout the experience.
About Ivy Ochieng, MBA '22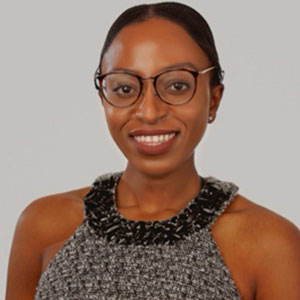 Ivy Ochieng is a class of 2022 Two-Year MBA graduate of the Samuel Curtis Johnson Graduate School of Management who was an Emerging Markets Institute Fellow as a student. Prior to earning her MBA, Ochieng worked in the architecture industry. She is transitioning to the finance industry post-MBA.