Cornell SC Johnson College of Business Taps Leaders for Corporate Engagement and Impact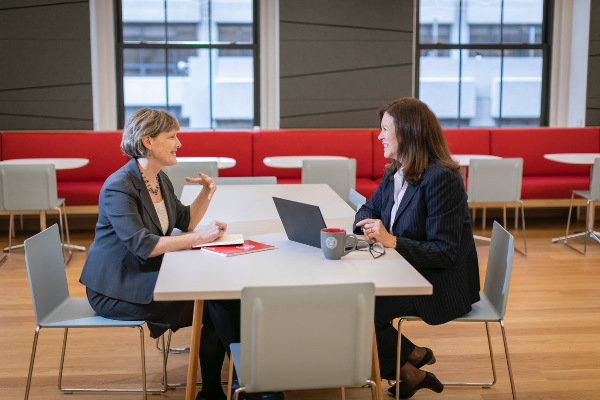 Two recent appointments at the Cornell SC Johnson College of Business will serve to expand the College's commitment to developing leaders with a sustainability and global-impact mindset, while strengthening corporate partnerships collegewide.
Linda Barrington, who joined the SC Johnson College in July 2019 as associate dean for external relations and engagement, was named associate dean for strategy and societal impact in February.
Renée Miller-Mizia has joined Barrington's staff this fall as executive director for corporate relations.
Working closely with Andrew Karolyi, the Charles Field Knight Dean of the SC Johnson College, Barrington oversees strategic priorities for societal impact and will retain her focus on external relations and engagement. She advises faculty and administration on various initiatives, including the college's engaged learning initiative and its AACSB and UN-PRME continuous improvement review processes.
"In her expanded role, Barrington will be responsible for one of our most critical priorities: connecting strategy with our societal impact — at home and around the world," said Dean Karolyi.
Prior to joining the SC Johnson College, Barrington was associate dean for outreach and sponsored research in Cornell's School of Industrial and Labor Relations. She began her career on the economics faculty at Barnard College of Columbia University, and spent a decade in leadership at The Conference Board. Barrington also continues serves as the executive director of the Institute for Compensation Studies, a joint institute with Cornell's ILR School.
Miller-Mizia will collaborate across the university on fundraising and corporate partnerships for the SC Johnson College and its three schools — the Charles H. Dyson School of Applied Economics and Management; the Cornell Peter and Stephanie Nolan School of Hotel Administration; and the Samuel Curtis Johnson Graduate School of Management — aligning corporate engagement with the College's centers, institutes, themes and initiatives. Miller-Mizia will also manage operations in the Office of External Relations and Engagement.
A Cornell engineering graduate, Miller-Mizia has a law degree from Western New England University. She has worked in strategy, business development, marketing, and quality management roles, including chief marketing officer at the global law firm Dechert and 16 years at General Electric Company.