Students Envision New Programs for "Workcation" Guests at Hospitality Hackathon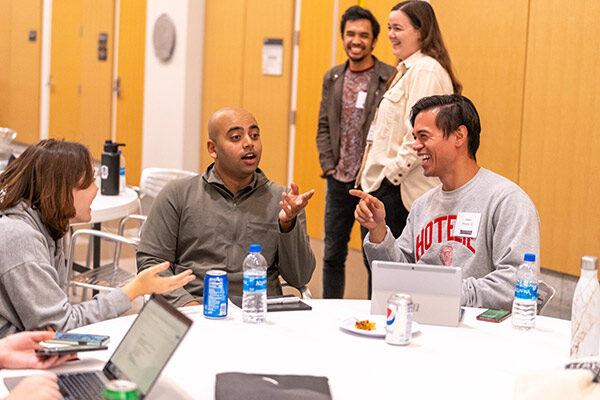 You're someone who loves having a job that doesn't require you to be at the office every day but working from home has become a little monotonous; yours is more the "work from anywhere" mindset. So you book "workcations" to enjoy a change of scene and extend business trips in various locations, including cities, resorts, and even smaller towns you're curious about. You want to build new sights and experiences and fresh air into your workdays, which might include discretionary time between virtual meetings that can run early and late. The problem: finding, selecting, and organizing interesting activities that fit seamlessly into your workdays.
What if you could access and upload your cloud-based work calendar into a free, smart itinerary built into the Hilton Honors app to simplify activity scheduling for things like golf and restaurant reservations? That's what students on team "Consonants" proposed in their grand prize-winning solution, "Work-cation with Less Work," at the 2022 Hospitality Hackathon. An annual event, this year's hackathon was hosted by the Leland C. and Mary M. Pillsbury Institute for Hospitality Entrepreneurship at the Cornell Peter and Stephanie Nolan School of Hotel Administration in collaboration with Hilton Hotels and Salesforce Tableau and held November 4-6 on Cornell University's Ithaca campus.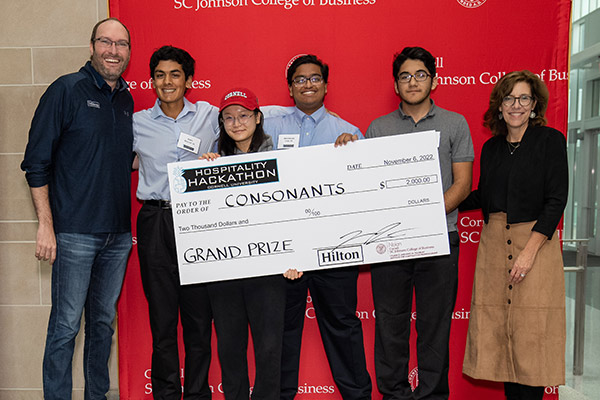 By making it easier for hotel guests to find off-property recommendations, team Consonants claimed their proposed smart itinerary would help to drive revenue to more outlets on a hotel's property. "The Hilton smart itineraries app will increase the number of room nights, the revenue per room, and customer satisfaction," said team member and College of Engineering student Zubin Bhaumik '26, during his team's four-minute presentation. Teammates included fellow engineering student Mohammad Khan; Pablo Raigoza '25, a student in the College of Arts and Sciences; Rui "Grace" Chen, a graduate student in the Cornell Baker Program in Real Estate at the Nolan School; and Nolan School student Yingtong Li '23. Together, the team won a grand prize award of $2,000.
The power of interdisciplinary teams
Seventeen teams made up of nearly 80 students from across six schools at Cornell—the Nolan Hotel School, Charles H. Dyson School of Applied Economics and Management, Samuel Curtis Johnson Graduate School of Management, College of Agriculture and Life Sciences, College of Arts and Sciences and the College of Engineering—participated in this year's event. Because they place a high value on interdisciplinary collaboration, hackathon organizers made a point of attracting students from across Cornell to participate.
"Usually, the teams with the best ideas and who learn the most consist of students from across the disciplines," said event chair Linda Canina, Georges C. and Marian St. Laurent Professor in Applied Business Management and academic co-director of the Pillsbury Institute at the Nolan School. "And why is that? It's because the solution to business problems are typically interdisciplinary and require collaboration across groups. Typically, more creative ideas are a result of differences across various ways of thinking and differences of opinions. The students question each other's ideas and base assumptions taken as common knowledge in their disciplines. These discussions induce compromise, collaboration, creative group dynamics, and great ideas."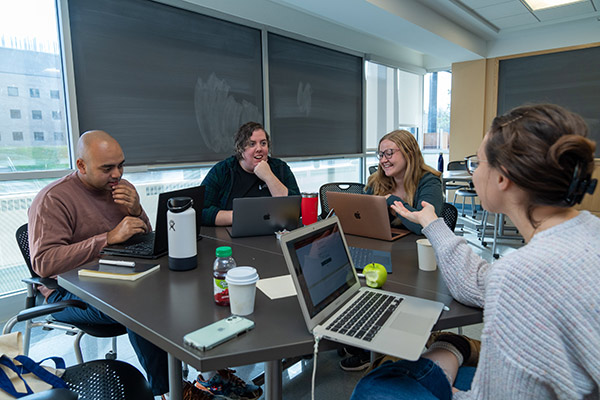 Students devoted the entire weekend to the hackathon, beginning with workshops and team formation on Friday afternoon, analyzing data and developing ideas with input from mentors all day Saturday—and for many, going late into Saturday night—and culminating with the submission of slide decks followed by each team's four-minute presentations to the judges and to fellow participants on Sunday morning.
"It's not an easy decision to give up a weekend – particularly a rare sunny and 75-degree day in Ithaca," said Jess Petitt '05, senior vice president of commercial strategy, insights, and analytics at Hilton and a Nolan Hotel School grad. "It's so cool to see how deeply engaged the participants are and how diverse their perspectives are, driven by participation from across the Hotel School, Engineering, Dyson, and other Cornell schools."
Pettit has played a key role in sponsoring and setting the theme, challenge, and coaching for this data-centric hackathon since 2018. "It's a great opportunity to get fresh perspectives on opportunities we face daily and it's energizing for me and the team to engage with students from across the university in cross-functional teams," he said. Hilton benefits, too, from "getting fresh perspectives and the opportunity to think creatively and engage with potential future team members. Plus it's just fun to be on campus," he added.
When Kate Walsh, dean of the Nolan Hotel School, opened Sunday's awards presentation she addressed participants by saying: "We're so excited that you gave up your weekend and participated in this event. And we're excited for the partnership with Hilton Hotels and Salesforce Tableau."
Catering to a new category of hotel guests
The theme for this year's Hospitality Hackathon was "Delivering Exceptional Experiences for the Hotel Guest of the Future." According to information Hilton provided to students, "Over the past five years, the motivation for travel has shifted. Gone are the days of all trips being classified as 'business' or 'leisure' as more guests are opting for a hybrid experience—now referred to as 'workcation.'" Hilton also provided teams with data from 2019 through present day and challenged them to extrapolate signals Hilton can use to "distinguish the guest's motivation for travel and to develop innovative ways Hilton can enhance both the on-property and digital customer experience to better cater to evolving guest needs." For their presentations, teams were also challenged to analyze and optimize data visualization using Salesforce Tableau.
Student team presentations were judged partly on their ability to analyze and optimize data visualization using Tableau, Pettit said, because "the challenges of the future rely on the ability to leverage data effectively, and within that it's critical to have the storytelling skills to articulate what the data is telling you. We think leveraging a data visualization tool as part of this experience is critical in showing how this is done in the real world."
Second place and a prize of $1,000 went "The Boys are Hack in Town," a team that proposed enhancing the on-property experience for new business travelers such as separating work and living zones in guest rooms, providing conference rooms to accommodate group work, and offering wellness rooms equipped with Pelotons.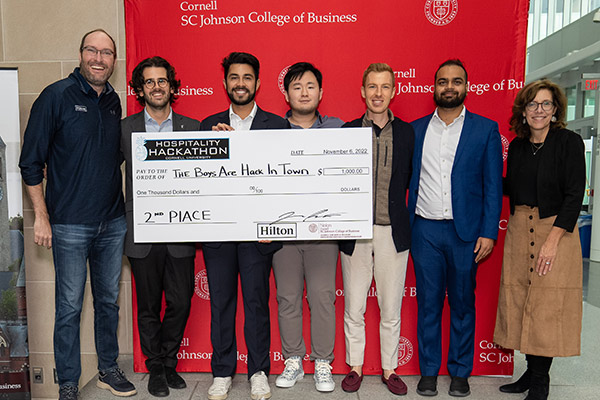 Third place and a prize of $600 went to "Hiltelies," a team that proposed solutions for workcation guests at resort properties, including using dividers and furniture to convert existing meeting space into individual workspaces that guests could book through a button in the Hilton Honors app.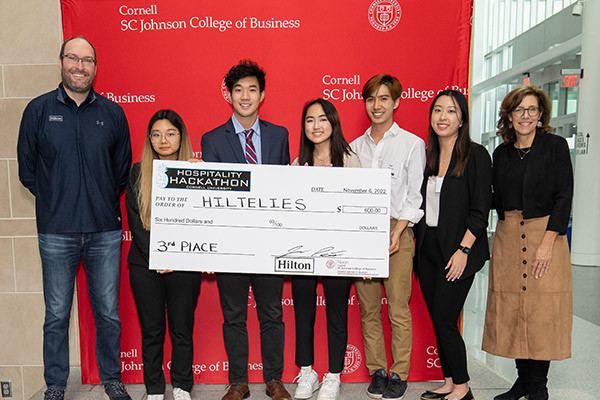 Three additional teams each won $500 prizes for best visualization, most innovative, and best presentation.
"I was very impressed by the students," Canina said of this year's participants. "Each and every group really developed and substantiated their solution with data—either with the data that was provided or with other evidence that they found on their own. And the amount that they were able to accomplish in such a short period of time was remarkable."