First Career Trek to JP Morgan and Blackstone NYC Offices for Diversity and Inclusion in Real Estate (DAIRE)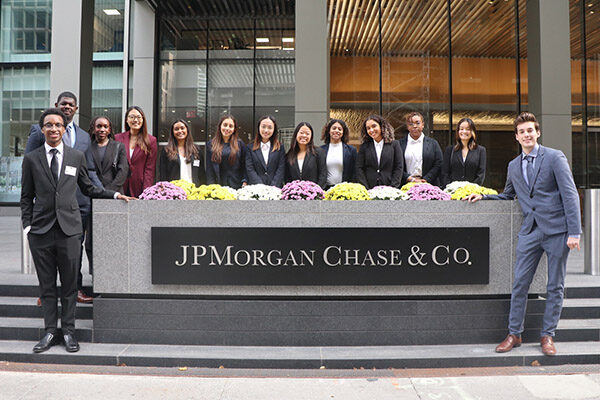 By Jalen Miranda '23 (Dyson), Founder & Co-President DAIRE
On October 28th, 2022 Diversity and Inclusion in Real Estate (DAIRE) brought 13 club members to New York City for the organization's first career trek with the help of the Center for Real Estate and  Finance (CREF). The group visited the headquarters of Blackstone and JP Morgan Chase & Co. DAIRE is dedicated to advancing career and investment opportunities in real estate for undergraduate students of underrepresented backgrounds. This trek undoubtedly brought the organization closer to its mission.
DAIRE members heard from HR professionals at Blackstone about opportunities for students of different years and recruitment processes. Members then engaged with a panel of Blackstone professionals, all Cornell University alumni at different stages of their careers, to learn about career segments in real estate and gain insight into the firm's culture. Later in the JP Morgan office, members met with a recent Cornell Peter and Stephanie Nolan School of Hotel Administration graduate and two high-level executives who also attended Cornell. Here the focus was on how a career in real estate looks in the banking industry as well as the acquisition and due diligence process. Not only did our students gain exposure to career pathways and firms in real estate, but they also expanded their professional networks. This trek has brought our DAIRE community even closer and provided members with an unforgettable experience.
Feedback from attendees
"I thoroughly enjoyed having the opportunity to go on a career trek with DAIRE to Blackstone and JP Morgan's NYC offices! It was a fantastic opportunity to meet with junior and senior members alike of corporate America within the real estate finance realm and it was a great opportunity for our younger club members to get a feel for what a career within a big financial institution could look like. I hope this was the first of many DAIRE career treks!" -Liam Dunne '23 (Dyson), Co-Vice President of New Member Education
"This experience was great. Throughout my weeks at DAIRE, I have really strengthened my understanding of real estate terminology and concepts. During this fantastic trek, I could see how that all comes to life through real-world learning. The trek also exposed me to various career segments in real estate, some of which I never knew of but am now interested in pursuing. Moreover, I connected with many Hotel alums, who I am still in touch with; this truly has been an exceptional experience for me to grow my network. DAIRE has had an extraordinary impact on my first semester at Cornell. It constantly encourages me to grow professionally and socially. Thank you for the opportunity." -Sherely Drent '26 (Nolan School)

"DAIRE's first trek to NYC was an incredibly eye-opening experience. It helped me get a fuller picture of the world of commercial real estate and exposed me to more career options that I previously haven't considered before, such as asset management and portfolio management. Additionally, getting to meet and hear from so many accomplished Cornell alum was really inspiring. They were all very open and helpful in sharing their experiences and advice. It was incredible to see how far they've come and the impact that they are making in their companies, real estate, and the communities their work impacts." -Joane Kim '24 (ILR), Co-Vice President of New Member Education
"Before going on this trek, I knew I wanted to learn more about real estate, specifically real estate development. However, if there is one thing I noticed about myself during this trip is that now I am not too sure what I want to pursue in the real estate industry, and that is a good thing. Visiting both Blackstone and J.P. Morgan, seeing their offices and hearing from the professionals (some of whom are high-ranking officials) about the positions they hold made me open my eyes to many more opportunities and roles in the field. There was definitely some reevaluation of myself and my career goals, but again, that is a good thing." -Tyler Brown '26 (AAP)

"DAIRE's career trek was an extremely beneficial and impactful experience to me personally and professionally. The opportunity to experience corporate America first-hand and hear from the perspectives of industry leaders about their day-to-day working in real estate was invaluable. From a professional perspective, this experience allowed me to gain a better understanding of what a future career in real estate looks like and achieve a better understanding of my own career aspirations. Additionally, this opportunity allowed me to form relationships with industry professionals, and even my fellow DAIRE members, on a deeper level which has already been extremely beneficial." -Shaylyn Nair '25 (Nolan School)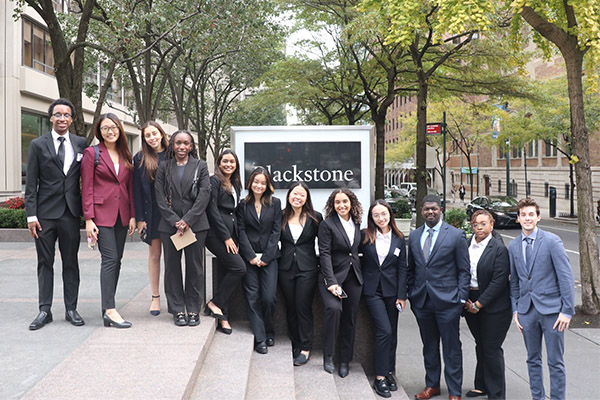 A worthwhile experience
DAIRE's first career trek to JP Morgan and Blackstone was an invaluable experience for our members navigating their professional goals and searching for opportunities. Our members have widened their networks in the real estate industry while expanding their knowledge of available career pathways. They have gained insight into the daily life of real estate professionals and informed their ambitions. It is amazing to see our members inspired and empowered after this trek to continue growing their networks, tailoring their goals and making space for themselves in professional settings. All of this professional development was accompanied by a great bonding experience for our members that I know will continue to positively impact our organization's culture. Just a year ago, myself and the rest of the founding Executive Board team were laying the foundations for DAIRE by building our club structure, education series, professional development workshops and more. Today, we are almost 30 members with amazing resources available to us thanks to CREF. Even after my time as President, I know DAIRE looks forward to continuing to work with CREF to host career treks and more events in semesters to come. Thank you CREF, from DAIRE!
About Jalen Miranda '23 (Dyson)
A senior at Cornell University, Jalen is majoring in Applied Economics and Management with a Finance concentration and a minor in Real Estate at the The Charles H. Dyson School of Applied Economics and Management. In 2021, Jalen co-founded Diversity and Inclusion in Real Estate (DAIRE) as the first undergraduate organization at Cornell dedicated to advancing career and investment opportunities in real estate for underrepresented students. She has served as DAIRE's President for the Spring 2022 and Fall 2022 semesters. During her time at Cornell, Jalen has worked as a General Manager for Student Agencies Tutoring and an Analyst for Cornell Consulting Club. She is also a tour guide on campus. In her free time, Jalen enjoys swimming, reading and thrifting. After graduation, Jalen will join Boston Consulting Group as an Associate in their New Jersey office.