Dual Threat: Cornell Big Red Quarterback Jameson Wang's Balancing Act
Starting quarterback Jameson Wang '25 has found a home at Schoellkopf Field and at the Nolan School. Here's how he stays in the zone.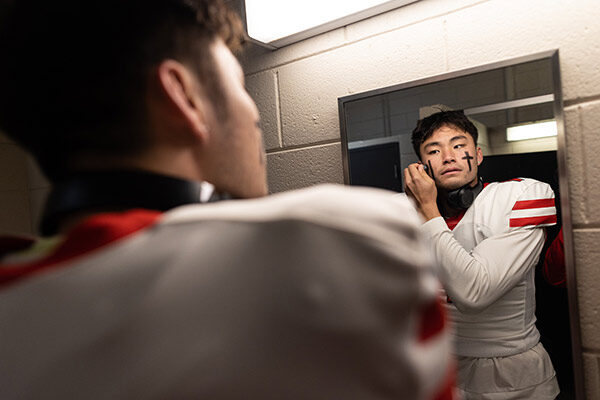 Jameson Wang '25, Cornell's star sophomore quarterback, says his greatest asset is he can extend the play—side-stepping a rushing linebacker to throw a pass, slithering through a tackle to gain a few invaluable yards. This skill is not found in the lines and arrows of a playbook. It is a flash of ingenuity that separates the winners from the runners-up.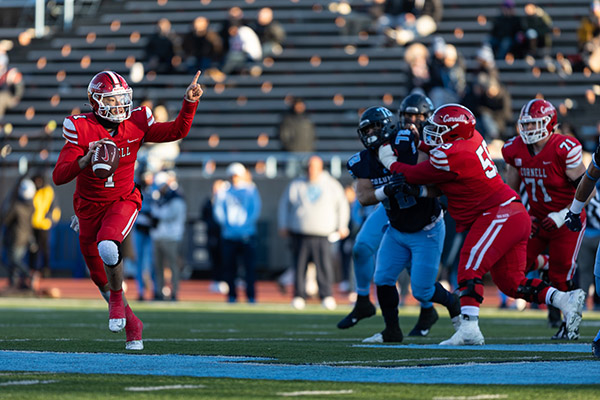 For his life after football, whenever that starts, Wang is building his own playbook of sorts. He isn't thinking about a four-year plan, but the Ivy League 40-year plan. It is why the Cornell Peter and Stephanie Nolan School of Hotel Administration feels like a well-protected pocket. The school's curriculum—real estate, marketing, finance, hospitality, technology—will prepare him for a wide array of jobs. The school's alumni network is outstanding.
With that preparation, Wang can extend the play indefinitely. "That degree," he says, "weighs so much in the real world."
Football, hospitality, and finding the right fit
Football and the hospitality industry were part of Wang's life before he set foot on campus. Wang's Gourmet in Rochester, NY, was the family restaurant where Jameson's dad, Joe, waited and bussed tables as a kid; Jenny, Jameson's grandmother, was the chef. "Hearing the stories when I was growing up, it did really appeal to me," says Jameson, who loves to cook. (Dumplings and pot stickers, he claims, are his specialties.) Born in Taiwan, Joe had emigrated to the United States at age 5 and found football. Because of him, Jameson started playing at 4 years old. Joe was Jameson's coach until eighth grade and "pushed me to be the person I am today."
While Joe pushed Jameson to be his best on the field, his mom, Heidi, pushed him academically, showing "endless support of my dreams and aspirations," says Jameson. His younger sister, Herason, is his biggest fan, he adds; she chose Syracuse University partly to be close enough to attend all his games.
A college experience embracing the hospitality industry was not part of Wang's original plan. Upon completing high school at California's Oaks Christian School, he chose the U.S. Air Force, a major college football program, and attended the U.S. Air Force Academy Preparatory School. It was a football decision, Wang says, but the experience did not resonate at all. "The military wasn't for me," he explains. "The environment wasn't for me. The football wasn't for me." He knew where he wanted to go. "When I was leaving Air Force, I was like, 'I can't pass up on the Ivy League again.'" Cornell, which had recruited him in high school, welcomed Wang without reservation.
"It's just been awesome," he says.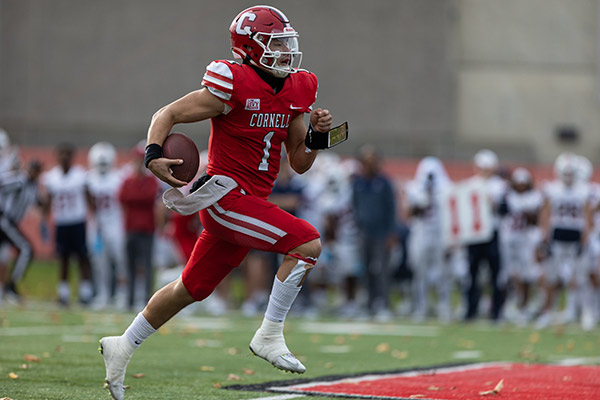 Dual goals: a Big Red Ivy League championship and a Nolan School degree
Balancing football and academics requires discipline. Cornell's football season is a blur: 10 games over 10 straight weeks. Innate ability goes just so far. Each week, Wang and his teammates prepare intensely for a high-impact, adrenaline-coursing test. Their days start early and end well after the final whistle. "We're waking up at 5 a.m. in the spring to go lift," Wang says, without a trace of self-pity. As the quarterback, he cannot afford to lag. Cramming spells disaster.
"I try to grind out during the day during my free periods and then class," he says of balancing course work and football. Taking a test is similar to game day, Wang says. Even though he is prepared to attack, some nerves and uncertainty persist. But once he is immersed, he's good.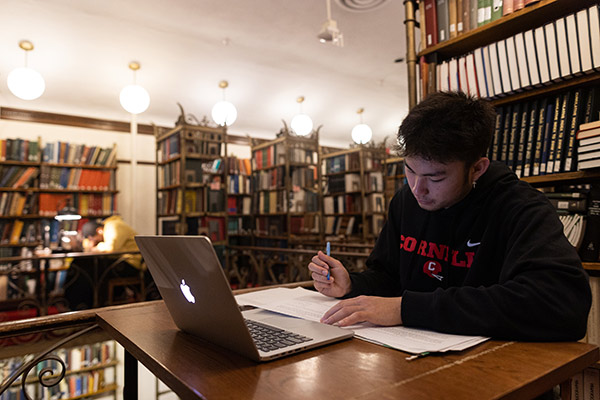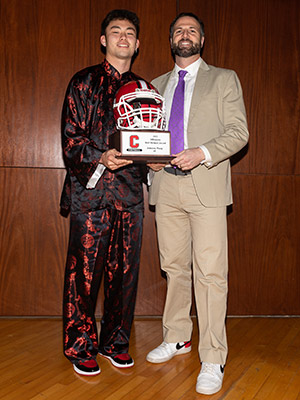 Wang wants to soak up everything so he can achieve his goals: an Ivy League championship and earning that degree. The first goal is realistic. The Big Red finished 5-5 for the first time since 2011; Wang was named Ivy League Offensive Player of the Week in October and honored with Cornell Big Red's Offensive Red Helmet Award in December.
The second goal is perhaps too modest. "Jameson is a very insightful and personable young man," says Dave Roberts, Nolan School lecturer and Wang's advisor. "He has a bright future in front of him. If he pursues a career in hospitality, I know he will achieve great things. He clearly has incredible discipline and leadership (obvious to anyone who has watched a Cornell football game), and he has a combination of intellect and maturity that will serve him well."
Dealing with setbacks and collaborating to achieve goals
Nothing equals the high of playing football, Wang says, but the sport has unbeatable value in the outside world. It is a classroom that dishes out life lessons. You learn how to deal with setbacks and failures that make you stronger. You learn to collaborate with 10 other people to achieve a goal; the same skill defines success at any workplace. If Wang pursues coaching, a desired next step, he believes a background in the hospitality industry will prove invaluable in recruiting players.
"I'm so thankful and so blessed to be in the position that I'm in today," he says. "I feel like I'm going to be so prepared for the real world when I leave Cornell."
Before that day arrives, Wang is enjoying his time here leading a resurgent football team and is looking forward to his spring semester classes—especially Food Service Management, Theory and Practice, which includes a weekly, three-hour cooking lab, and Introduction to Wines.
Legendary football coach Vince Lombardi couldn't have drawn this up any better. "I'm extremely happy," Wang said a week before fall-semester finals. "I think everything played out—obviously not the way that I thought, but everything is going just the way it was supposed to happen."