The Making of a Community Space
By Claire Seizovic and Diana Fahning, both MBA '23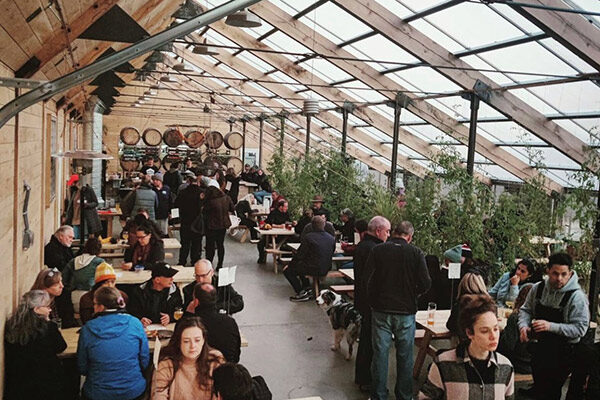 Founded in 2021 by Terry Bloom, Stone Bend Farm, located 15 minutes south of Ithaca in Newfield, serves as a community gathering space with special events featuring local musicians. Stone Bend features locally grown or sourced food as well as beer and cider from producers in the Finger Lakes region. We collaborated with Stone Bend on their growth, operations, and marketing strategies as project leaders for Big Red Microenterprise (BRM), through the Samuel Curtis Johnson Graduate School of Management and the Center for Sustainable Global Enterprise.
Throughout the semester we got to know Terry Bloom, his business vision, and Stone Bend Farm thoroughly by visiting several times and meeting every other week. Bloom participated in BRM with the goal of creating reliable sources of revenue that are in line with Stone Bend's ideologies. He also identified working capital, organization, and a strategic marketing approach as a few of his main challenges.
Throughout our first few BRM meetings, we focused on specific priorities that would lay the groundwork for Bloom's big-picture vision, including:
Streamlining operations
Gathering information
Leveraging the numbers
Updating marketing and social media strategy
Building a strategic plan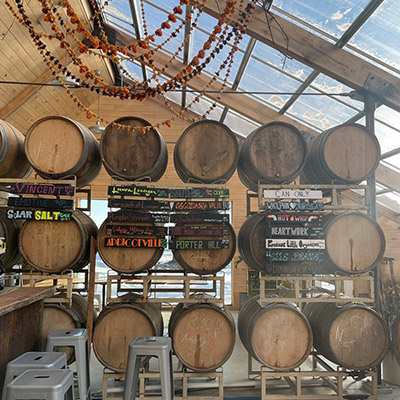 1. Streamlining operations
During busy times, Bloom noticed that there would be backups for food orders and long beverage lines. His focus was split in too many directions during these times, leaving little time for big-picture thinking and entrepreneurial solutions.
We had several site visits during our time working together. First, we conducted an initial operational site visit at Stone Bend Farm before opening hours to learn Bloom's methodologies and to observe how the property is set up. A few weeks later, we made a second site visit during operating hours and gathered feedback from peers that would later inform our operational streamlining recommendations. Next, we worked with Stone Bend to identify how and where Bloom can improve service to optimize customer experience and brainstormed ways to create more availability for big-picture tasks.
2. Gathering information
Stone Bend has various customer segments and Bloom wanted to gain a clearer understanding of customer experience/needs and how best to serve his customers. To address this issue, first we had discussions with Stone Bend about what they want to provide customers in an ideal world. Next, we strategized offerings for different customer segments, including locals, Ithaca students/professionals, and tourists. In addition, we recommended that during the summer they survey customers about their experience to gain a better understanding of how to optimize the space.
3. Leveraging the numbers
As a young business, profitability was one of the top priorities for Stone Bend to ensure their continued growth and success. Bloom also touched on the importance of gaining a better understanding of Stone Bend's numbers to achieve that profitability. To explore this, we obtained data from Stone Bend's mobile payment transaction history and reviewed the transaction data to see the trends and develop additional recommendations.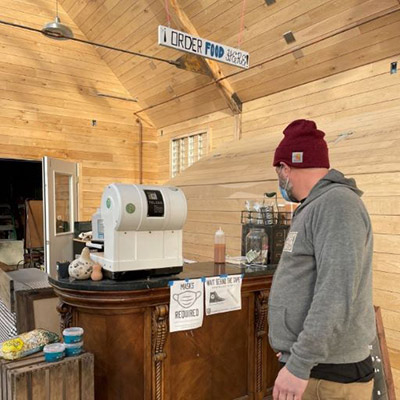 4. Updating marketing strategy
Bloom felt Stone Bend has a less consistent presence on social media and no formal system to promote the farm or events hosted there. We discussed strategies about the easiest ways to integrate social media seamlessly into existing operations such as using Instagram as the primary social media platform and delegating the posting of regular announcements to another staff member.
5.  Building a strategic plan
We set out to help Bloom define a strategic plan for Stone Bend; determine what the ideal end state for Stone Bend is; and develop a process for reaching this ideal state. We worked with Stone Bend on envisioning what this looks like and the steps it will take to reach his desired end goal.
Reflection
The entirety of the Big Red Microenterprise (BRM) experience allowed us to gain a better understanding of how to support and coach small businesses so they can gain the skills needed to run a successful business. We also enjoyed connecting Bloom with the Johnson community through organizing a Park Fellowship community service day at Stone Bend Farm. Over the course of the semester, we truly learned what it takes to bring big entrepreneurial ideas to life and the importance of having clearly defined goals so you can take steps to reach the goals.
We enjoyed getting to know Bloom and collaborating to form smart goals and a framework for building out Stone Bend's Strategic Plan. We are excited to stay in touch and visit Stone Bend Farm as it continues to grow!
About the Authors
Claire Seizovic, MBA '23 (Two-Year MBA)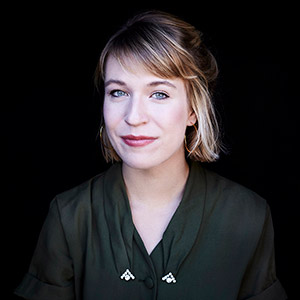 Claire Seizovic is a second-year MBA student at Johnson. She previously ran her own brand and website design studio and worked with over 125 small businesses. She also founded a pop-up market that highlighted local businesses and partnered with urban developers to adapt unused spaces and reinvigorate neighborhoods. Over the years, Seizovic realized these businesses needed a more sustained platform for growth. After graduation, she looks forward to pursuing a career in community-focused urban development and to innovate on how permanent spaces support small business growth. In her free time, she plays violin, loves to swim, and enjoys exploring local markets and coffee shops.
Diana Fahning, MBA '23 (Two-Year MBA)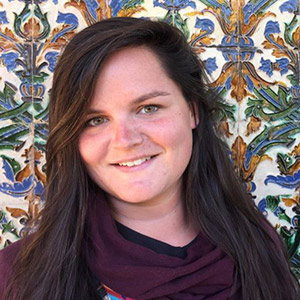 Diana Fahning is a second-year MBA student at Johnson. She has spent much of her career working in the public sector, including stints as an English educator with the Peace Corps in Madagascar, in global nutrition at USAID, and in chemical regulation at the Environmental Protection Agency. Fahning is enthusiastic about small business growth and local food and participated in the farmers' market circuit in Washington, D.C., before enrolling at Johnson. In her free time, she loves to be outside and is an avid skier and hiker.