Financing the Energy Transition through Sustainable Investment Banking
By Ben Roberts, MBA '23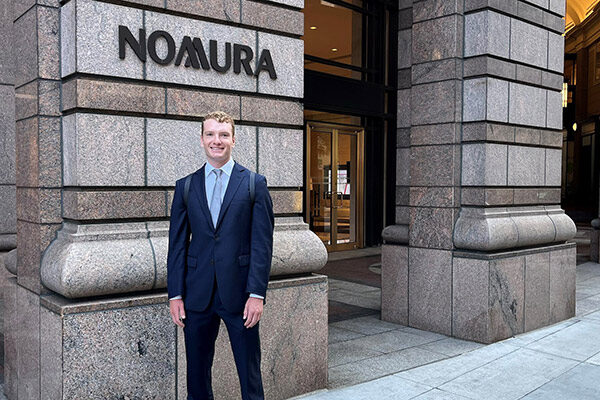 Coming into my MBA degree at the Samuel Curtis Johnson Graduate School of Management, I knew that I wanted to continue the climate finance work that I had been doing in my prior role at the New Zealand Treasury Department. I was given an opportunity to do this through a summer associate role at Nomura Greentech, an investment bank dedicated to sustainable technology and infrastructure, where I covered renewable energy, battery and energy storage, and infrastructure private equity funds.
Johnson set me up to succeed in my internship by providing opportunities to gain practical experience in both renewable energy and investment banking over the course of my first year. The Cornell Energy Club and the Environment Finance and Impact Investing Fellowship (EFII) gave me exposure to market dynamics in wind, solar, and energy storage through speakers from companies such as Cypress Creek Renewables and GE Renewable Energy. On the other hand, the Investment Banking Immersion (IBI) in my spring semester provided an understanding of the different types of investment banking presentations and skills required to excel as an associate.
Diverse exposure to sustainability
As I found out early on in my internship, sustainable investment banking at Nomura Greentech is a distinct experience to what you might find in a power and utilities or renewable energy coverage group at another bank on Wall Street. This is due to Greentech having a generalist structure, where junior bankers can work across the different sustainability sub-verticals that the bank is organized by:
Low-Carbon Infrastructure (renewable energy)
Advanced Transportation (electric vehicles)
Renewable Energy Value Chain
Water and Environmental Services
AgTech and Sustainable Food
Energy and Industrial Technology
Next-Gen Ocean and Air (decarbonizing marine shipping and aviation)
By the end of the summer, this was something that I had benefitted from due to the variety of projects and coverage areas that I was able to touch. I was staffed on multiple renewable energy platform sell-side transactions, a sell-side pitch for a sustainable chemicals company, a buy-side pitch for an AgTech company, and battery and energy storage coverage. The latter was an area that I spent most of my summer working within, as this was a sector coverage area that Nomura Greentech was building out.
Experience in low-carbon infrastructure
At the core of my summer experience was my work within the low-carbon infrastructure (LCI) coverage group. LCI, which focuses on facilitating the buying and selling of renewable energy companies, is Nomura Greentech's most successful franchise.
I had the opportunity to work on two significant projects within LCI. One was a multi-technology, renewable-energy platform sell-side deal and the other a multibillion-dollar solar platform sell-side pitch. I helped with slide deck preparation and narrative development. This experience gave me insight into how Greentech thinks about positioning renewable energy companies, the buyer universe interested in renewables, and the execution of cross-border transactions.
Separately, I was allocated an LCI company (TransAlta Renewables) as the focus of my summer project, where I was tasked with developing a presentation modeled closely off what Nomura Greentech would produce when pitching to a client. This included a company overview, industry overview, investment highlights, potential acquisition targets and valuation. I really enjoyed the opportunity to develop an entire pitch book and bring together renewable energy markets knowledge, renewables-specific strategic rationale, and general investment banking skills that I had gained over the course of the internship.
Battery and energy storage value chain
I also had the opportunity to work within the battery and energy storage sub-sector, which is one of the fastest growing areas within sustainability and spans lithium mining, battery and energy storage systems (BESS), and electric vehicle batteries. The accelerating growth in renewable energy capacity and electric vehicle demand has created opportunities for companies across the value chain to raise hundreds of millions in financing.
Nomura Greentech sees a clear opportunity to advise early-stage companies on private fundraising rounds, acquisitions, and potential future IPOs or sale processes. The bank had previously advised significant deals within the space, including Group14, a manufacturer of advanced silicon-carbon technology for lithium-silicon batteries; its $400 million capital raise led by Porsche; and, more recently, Generate Capital's acquisition of EsVolta, a utility-scale battery storage developer. I helped to build out renewed coverage of this space by mapping out the different companies as well as identifying the companies that have recently raised significant financing and those that might require financing soon.
Concurrently, I was staffed on a buy-side pitch to a battery storage provider that was interested in expanding its product offering into other areas of the energy storage value chain. I worked alongside a summer analyst to prepare the final slide deck that was presented to the CFO of the company. These were opportunities to dive deep into a micro-industry and understand the M&A strategy of private companies that are aiming to build comprehensive energy-transition platforms while positioning themselves to go public in the future.
Reflection
Jeff McDermott, founder of Greentech and co-head of investment banking at Nomura, said something at a coffee chat hosted for summer associates that stuck with me:
"The transition to a low-carbon and sustainable economy will require trillions of new investments across nearly every sector within the global economy for the next 30-plus years, including a significant amount in Asia. … There will be a role for investment bankers to strategically advise companies and help them execute transactions to achieve their transition."
It truly is an exciting time to enter the industry as innovators and incumbents are starting to spend the billions needed to position themselves for a sustainable future. If you want a unique experience at the intersection of sustainability, renewable energy, and finance, investment banking at a sustainability-focused bank such as Nomura Greentech or within a renewables coverage group at another bank is a wonderful place to start your post-MBA career. I am certainly excited to return to Nomura Greentech following graduation.
Ben Roberts, MBA '23 (Two-Year MBA)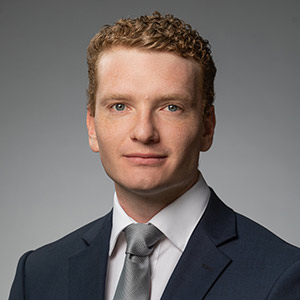 Ben Roberts is a second-year MBA candidate in the Two-Year MBA program at the Samuel Curtis Johnson Graduate School of Management. He is a portfolio manager for the Cayuga Fund and sat on the boards of the Cornell Energy Club and Johnson Private Equity and Credit Club. Prior to attending Johnson, Roberts was an analyst at the New Zealand Treasury. He holds a master's and bachelor's degree in finance from the University of Auckland and is a CFA charterholder.