NGO Connecting Young Adults to Philanthropy Wins Business Plan Competition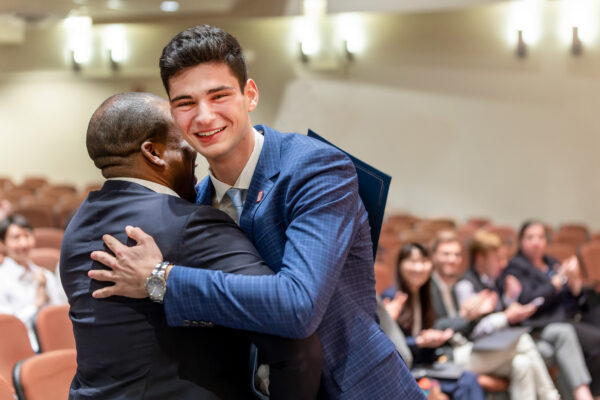 Cheers erupted in Statler auditorium when the winner of the 13th annual Cornell Hospitality Business Plan Competition was announced on April 21. "Citizens of the World," a concept developed and pitched by Lucas Suero '26, received this year's $25,000 first place prize. Hosted by the Pillsbury Institute for Hospitality Entrepreneurship (PIHE) at the Cornell Peter and Stephanie Nolan School of Hotel Administration, the annual competition is open to all Cornell students and involves several elimination rounds.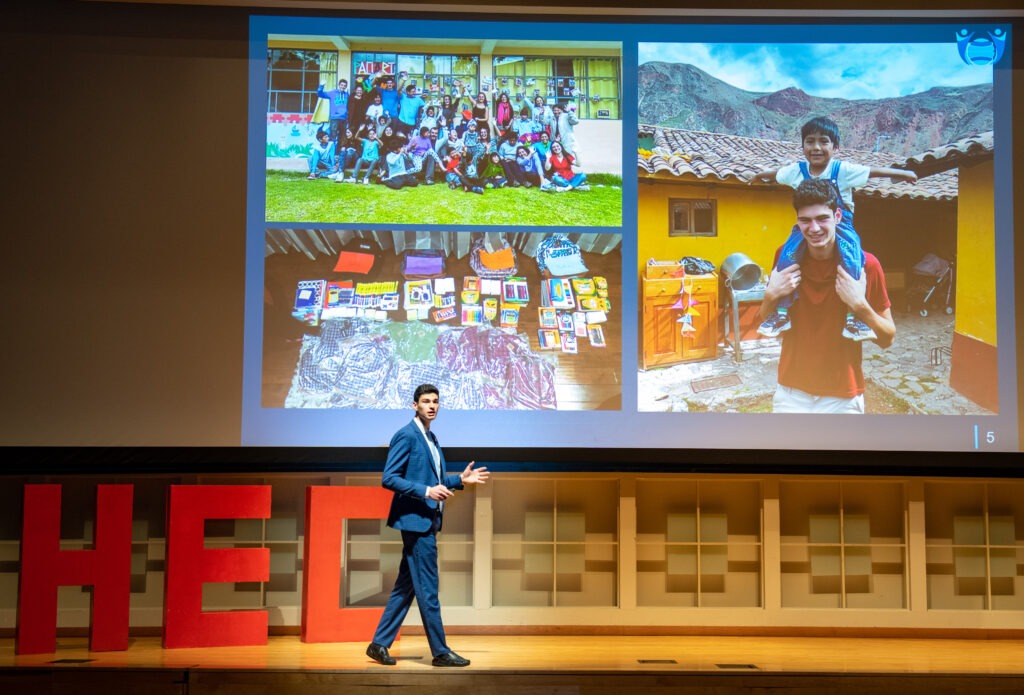 "Our mission is to make a difference, one young adult at a time," Suero said during his final presentation to judges and attendees of Hotel Ezra Cornell 98. "Citizens of the World is a nonprofit designed to introduce young adults to a life of philanthropy. We sponsor travel to communities worldwide, allowing individuals to find their passion and create real, lasting change."
Many American young adults struggle to find their passion and are not aware of real world issues around the globe, Suero said. Existing community service models often provide temporary relief based on outsiders' misconceptions. By facilitating meaningful travel experiences, Citizens of the World aims to address these issues.
Suero's idea was inspired by his travels to Peru as a teenager and working with a local school and community home there. "The school and home give an opportunity for safety and education to over 250 young kids who would otherwise never have the chance of an education," he said. "Meeting the founder and visiting her community presented what good can happen when you put making money second, and you put making a difference in the world first."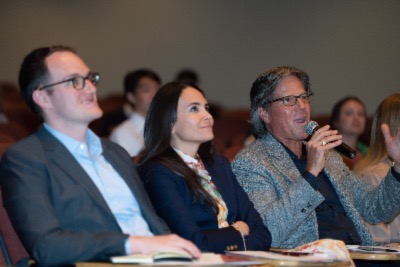 When selecting this year's winner, the final judges prioritized impact and viability, according to Gilda Perez-Alvarado '02, member of the Dean's Advisory Board and CEO of JLL Hotels & Hospitality, who judged the contest with Chris Hemmeter '86, entrepreneur in residence at PIHE and managing director at Thayer Ventures, and Zach Demuth, MMH '16, entrepreneur in residence at PIHE, global head of hotels research at JLL Hotels & Hospitality and winner of this competition in 2016.
Suero's win is doubly unusual because he is a freshman who entered the competition solo. "I had three incredible mentors," he said, naming his high school mentor, Meg Auerbach, along with Nolan School senior lecturer and assurance of learning director Andrew Quagliata and lecturer Dave Roberts.
"I honestly don't even believe it yet," Suero said after the event, standing next to his proud parents. "Twenty five thousand dollars is a lot of money, and now that I'm standing here with the check, it's phenomenal. It'll go towards making real change in the world."
A team of five students who pitched an upstate New York luxury hotel concept featuring traditional Japanese hospitality, Ryokan Ikigai, won second place and $7,500. The $5,000 third place prize was awarded to students who pitched Stage, a platform that facilitates last-minute hospitality hiring by allowing job seekers to bid on available positions. Two additional projects—a customizable, virtual reality training solution for hospitality businesses and a platform addressing social isolation by connecting people seeking authentic experiences with hosts who can provide them—received honorable mentions.
Students began working on their plans at the beginning of the academic year and created video pitches. Selected teams then submitted detailed written business plans. Of the nearly 40 teams that entered the contest last fall, only five were invited to participate in the final, live-pitch competition.
Linda Canina, academic codirector of PIHE and Georges C. and Marian St. Laurent Professor in Applied Business Management, said that the competition offers students a chance for experiential learning with strong support from university and industry leaders. Since the pandemic, she has seen changes in the types of business plans submitted. "Previously, there were a lot of pitches for new restaurants or hotels. Now we're seeing more ideas aimed at solving issues affecting the industry and the world."
The competition was sponsored by Sandy Solmon, PIHE advisory board member and CEO of Sweet Street Desserts, in addition to Stanley Sun '00, MBA '05, Elizabeth Shingleton Glomsrud '00, and Barbara Foote Shingleton '75. Full details about the competition and a link to the presentations recording can be found online.