Robert Gregor Named Executive Director of the Pillsbury Institute

Robert Gregor '00, JD '07, a practicing attorney and the founder and owner of Gregor Hotels, has been named the inaugural executive director of the Leland C. and Mary M. Pillsbury Institute for Hospitality Entrepreneurship (PIHE).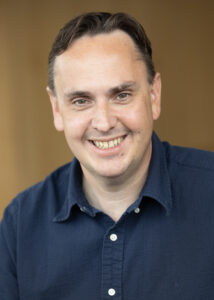 "This position is the opportunity of a lifetime," said Gregor, who started on June 1, 2023. "It blends my lifelong passion for entrepreneurship and education with my love of everything Cornell. It bestows upon me the chance to design and build a world-renowned center of hospitality entrepreneurship worthy of the Pillsbury and Nolan names."
In collaboration with the Peter and Stephanie Nolan School of Hotel Administration at the Cornell SC Johnson College of Business, the Pillsbury Institute engages industry experts and faculty to provide students with experiential and classroom opportunities to learn all aspects of entrepreneurship. PIHE hosts business plan competitions, hackathons, industry roundtables, networking events, classes, and other programs to advance students' entrepreneurship mastery.
"Mary and I founded the Pillsbury Institute 16 years ago to help bring the energy, dynamism, and creativity of the entrepreneurial spirit to the forefront of the hotel industry," said Leland Pillsbury '69, managing director of Thayer Ventures and a longtime patron and benefactor of the Nolan Hotel School and Cornell University. "We did so in the conviction that the qualities and skills of an entrepreneur are part of every business and can be taught and nurtured in young people as an integral part of their secondary education. We are proud of PHIE's impact to date."
Pillsbury added, "Rob Gregor is the ideal candidate to lead the Pillsbury Institute into the future. He brings a breadth of vision and experience which will help guide the Pillsbury Institute to new heights, to the benefit of Cornell hospitality students and the entire community."
"Rob is a perfect fit for this position," said Linda Canina, academic co-director of PIHE. "He's an intelligent, creative, confident, articulate, hard working entrepreneur, with strong connections across Cornell who has been extremely generous with his time. Now, with Rob at the institute full time as the executive director, the future of the institute is limitless."
Gregor's experience spans hospitality, law, and academia. In 2009, he founded Gregor Hotels, a company that manages properties Lake George, New York and Montreal, Canada. His concept fuses the "mom and pop" hotel model with the short-term rental trend by repositioning standard motel rooms as suites, studios, and apartments with a regional feel.
In 2022, he joined a boutique law firm in Ithaca, New York to provide legal counsel to independently owned hospitality enterprises regarding transactional, regulatory, and litigation matters including employment claims, shareholder derivative actions, breach of contract matters, and corporate governance issues.
Gregor has also published original research on tipping with Michael Lynn, Michael D. Johnson and Family Professor of Services Marketing in the Nolan School, and he served as a teaching fellow in labor law at the School of Industrial and Labor Relations.
Since 2019, Gregor has participated in PIHE's Entrepreneurs in Residence Program, where he coached students on business development, networking, and career planning.
"The students who engage with PIHE are the next generation of hospitality innovators that will take our industry into the future," said Gregor. "It is our duty to recruit, educate, and motivate these students through mentoring programs, alumni and industry outreach, roundtable events, student competitions, academic research, and collaborative conferences. My goal is to transform the Pillsbury Institute into the hospitality industry's premier entrepreneurship institute."