Exploring Colombia: An MBA Student's Perspective
By Ganesh Venkatakrishan, MBA '23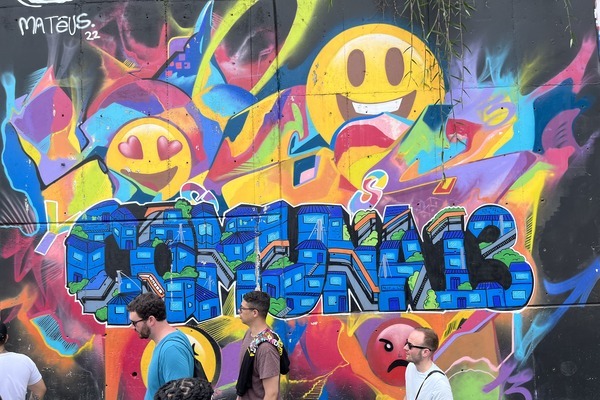 A trip like no other
As an MBA student coming from one of the largest emerging markets in the world, it was a no-brainer for me to sign up for the Colombia trek. And boy, was it an enlightening experience! Together with a group of 40 brilliant students from Cornell SC Johnson College of Business, we set off on an epic nine-day trek to Bogota, Medellin, and Cartagena. For me, this trek was not just about visiting a new country, but also about gaining a deeper understanding of the Colombian economy, business landscape, and culture. As someone who foresees himself making an impact in emerging markets, I found this trip an incredible opportunity to know the workings of one.
The welcome dinner hosted by students and faculty members from Universidad de los Andes (Uniandes) was the perfect way to kick off our journey. We were treated to delicious local cuisine and were blown away by the warmth and hospitality of our Colombian friends. The after party was pure magic with live music and dancing.
But the real magic happened over the next week and a half. From visiting historical sites to exploring picturesque neighborhoods, we got a true taste of what Colombia has to offer. Through it all, I was constantly reflecting on how my education at Cornell has prepared me for my future endeavors in the business world.
This blog is an attempt to walk you through my highlights from the trip and the invaluable insights I gained along the way.
Exploring Colombia's economic landscape and startup ecosystem
I still can't believe it— one day, I was just an MBA student, and the next, I was being hosted by the US embassy in Bogota! We were given an informative briefing on the Colombian economy and the challenges it faces. As a large exporter of oil and carbon products, Colombia has experienced remarkable growth, outpacing its Latin American counterparts for the past two years. With the third-largest consumer base in Latin America after Brazil and Mexico, Colombia is considered one of the most promising emerging economies for foreign investment. Of course, there are challenges to be addressed, such as inflation and access to clean water and affordable housing. Over lunch with Catalina Velasco, the minister of housing, we discussed these issues and listened to her ideas on progress and nation-building, and her candor was truly inspiring as she patiently answered our questions.
Colombia is also emerging as a startup hub in Latin America, and we were fortunate to hear from some of the talented founders and business professionals. Esteban Villegas, cofounder of Zulu, a fast-growing payments platform, emphasized the importance of enabling a digital economy worldwide. Joaquin Morales, cofounder of Sumer, discussed how Colombian tech startups face the challenge of transforming consumer behavior to adopt digital. The session was a truly enriching experience, especially for budding entrepreneurs on the trek.
Creating real impact
One of the most rewarding moments was meeting our client, Eliana, and helping her overcome her business challenges. The collaboration between Cornell's Emerging Markets Institute (EMI) and Uniandes involves selecting small and medium-sized businesses and assigning a team of students to each firm to assist with growth opportunities. Our team had been communicating with Eliana for a month, and finally meeting her in person was a delightful experience. Eliana's clothing manufacturing and retail business, located in Mosquera, an hour's drive from Bogota, served as a reminder to me of the essential role small businesses play in the growth of emerging markets. Thanks to our Uniandes colleague, Andres Felipe, we were able to communicate effectively and brainstorm solutions with Eliana. It was a humbling experience to be a part of a program that helps businesses like Eliana's thrive.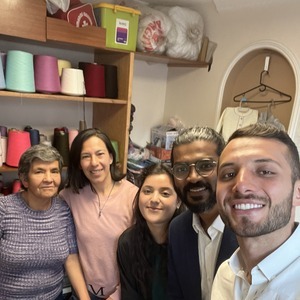 On the following day, different teams discussed the solutions they proposed for their respective clients. The clients' verbal expressions of appreciation were touching and reaffirmed the importance of the collaboration between EMI and its partners in delivering on-the-ground impact.
Credit goes to Lourdes Casanova, the director of EMI at Cornell, for conceptualizing this initiative and building partnerships with organizations such as the Inter-American Development Bank to make it possible. It was a privilege to be a part of a program that makes a tangible difference in small and medium-sized businesses.
Immersing into the Colombian culture: exploring history, coffee, and music
You might be under the impression that MBA students are all work and no play, but that was definitely not the case for us. While we were certainly focused on learning the business and economic landscape during our trip, we also had the opportunity to immerse ourselves in the local culture. We were treated to stunning views, delicious food, and warm hospitality.
During our bus ride to Monserrate, a popular Bogota tourist attraction at an altitude of approximately 12,000 feet, our guide, Andres, shared the history of Colombia and how the current social structure and government came into being. It was humbling to hear about the Colombian people's resilience in rebuilding their nation after years of social and economic distress that only recently ended in the 2010s. I was amazed by the beautiful graffiti on the streets, which expressed social sentiments. Fun fact: The government refreshes the walls every three years by painting them white to provide a blank canvas for artists to create new artwork.
We also visited Sáenz Fety farms, which gave us insight into agricultural practices in the country and how the enterprise supports the community through educational programs. The remainder of our four-day stay in Bogota was dedicated to getting to know the Colombian culture and history better. We visited the Gold Museum (Museo del Oro) and walked along the streets of Bogota, which were not only calming, but also debunked certain popular myths: El Dorado is a lake, not a city; Pablo Escobar is no Robin Hood; and it's "Colombia," not "Columbia."
There's more to Medellin than "you know who"
Of all the cities we explored, Medellin stood out to me the most due to its rich and captivating history. Our two-day stay there included a tour of the city and a visit to D'Arrieros, a coffee farm. Colombia is renowned for its coffee; each bean is meticulously nurtured and processed, carefully ground, and brewed into a beverage that much of the world wakes up with. As we toured the impressive farm, the coffee aficionados in our group couldn't hide their excitement.
Medellin is regrettably known globally as the birthplace of Pablo Escobar. His criminal activities had a devastating impact on the city and the country, which we learned about in detail during our visit to a memorial dedicated to the heroes of that time. The violence and suffering endured during his time is unimaginable. Yet the unwavering determination of the people of Medellin helped lead the city out of crisis and contributed to Colombia's emergence as one of the fastest-growing economies in Latin America.
The visit to Comuna 13, a violence-stricken district until the early 2010s, had a profound impact on me. The district was once plagued by guerrilla forces. Children born during that era only knew a life of fear and violence. However, hip-hop music played a role in transforming the community. It became a source of connection and healing, leading to a powerful story. Today, Comuna 13 attracts tourists who visit to witness and experience the positive impact of music in a community with a traumatic past. As a musician myself, I saw the immense impact of music; it was truly an indescribable experience.
The final leg:  Sun and sand
During the last three days of our trip, we stayed in Cartagena, which was a great place to soak up the sun and enjoy the beach. Colombia has a diverse geography, and we experienced it firsthand as we descended from 8,000 feet in Bogota to 4,000 feet in Medellin, and finally to sea level in Cartagena. We spent our time there visiting forts, swimming the bluest seas, shopping for souvenirs, and enjoying the nightlife of the coastal city. It was a great way to relax and unwind after a week of intense work and learning.
Reflections
Looking back now makes me realize the kind of impact the trek had on me. In every aspect, it exceeded my expectations, from applying the knowledge I acquired at Cornell to building lifelong friendships. I also developed a newfound love for reggaeton music, which combines rap with Caribbean rhythms; improved my salsa dance moves; and learned some Spanish. I have nothing but gratitude toward EMI, Uniandes, and the lovely group of people I met along the way for this experience of a lifetime. I would surely return with a feeling of oneness with the Colombian people and with the hope to see tremendous progress.
About Ganesh Venkatakrishan, MBA '23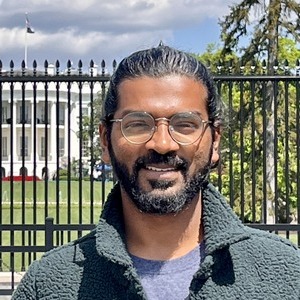 Ganesh Venkatakrishan hails from India and is an MBA student in the Samuel Curtis Johnson Graduate School of Management. He is a passionate musician and sports enthusiast and has worked at the Tata group, a prestigious Indian conglomerate, for the past seven years. He envisions creating an impact in emerging markets across the globe leveraging his past experiences and the things he's learned at Cornell.