AficaPure: Where Beauty Meets Nature
By Shivani Mulji, MBA '24, and Femi Olonilua, MBA '24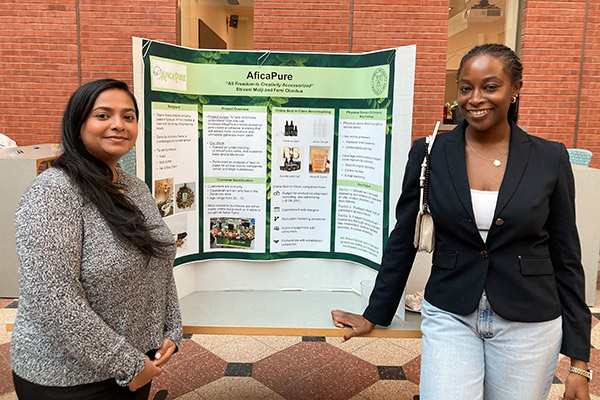 AficaPure, a Syracuse-based, female, Black-owned company specializing in natural beauty products, approached Johnson's student-run Big Red Microenterprise (BRM) team looking for ways to improve branding and marketing strategies. Through its BRM program, the Center for Sustainable Global Enterprise at the Samuel Curtis Johnson Graduate School of Management pairs teams of MBA students with small businesses in the surrounding communities to address business challenges they may face.
With a mission to create a clean and natural way of expressing beauty, AficaPure started making products in 2006 and was incorporated in 2012. The company, with over 48 products, mainly generates sales through word of mouth. Our BRM team partnered with AficaPure to assess how it could increase brand presence, both online and in stores, and create a cohesive brand that attracts more customers and generates more sales.
Small business challenges
Antonisha Owens, AficaPure's founder and owner, wanted to understand how she could improve her company's consumer awareness. While we worked with her from February to May 2023, AficaPure products were available for sale via three channels: Owens's in-home storefront, a Syracuse retail shop called Natur-Thyme, and online. Surprisingly the majority of sales were made in-person at the Natur-Thyme storefront rather than online.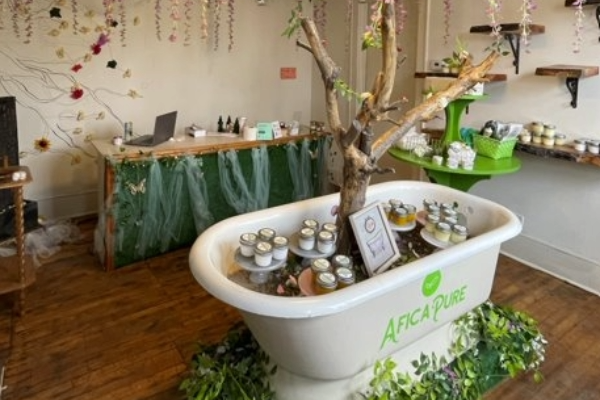 As a small business, branding and maintaining an effective online presence can be difficult. We quickly realized that the AficaPure online presence lacked a cohesive and consistent brand identity across its digital platforms, including the official website, social media channels, and third-party e-commerce platforms. Also, in the age of social media, limited interaction on the website and inadequate customer reviews and testimonials can hinder the establishment of trust and credibility among potential customers. Moreover, lack of valuable and engaging content—such as tutorials, product demonstrations, and beauty tips—can diminish a brand's ability to attract and retain customers.
The story of sales numbers
Our goal was to gain an understanding of AficaPure's customer base, so we conducted a best-in-class analysis of marketing and branding, online presence and strategic positioning, and cost structure for similar-sized beauty companies (small businesses). This analysis enabled us to provide detailed recommendations on a strategy to increase brand awareness and increase customer sales, both organically and through marketing.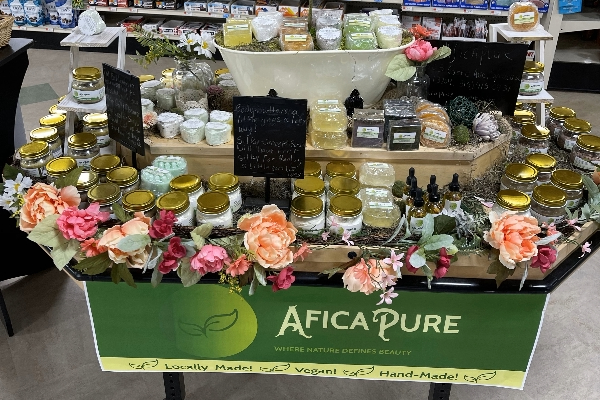 After analyzing AficaPure's sales, we found that in 2022 only a small percentage was earned through the website. It turned out that most customers live in Syracuse, NY, and the majority pick up orders in-store. Moreover, new customer acquisition came from the Natur-Thyme storefront rather than online or Owens's  in-home storefront, which serviced primarily family and friends.
Given the branding challenges we pinpointed and Owens's goal of increasing sales, we identified several recommendations for improvements for AficaPure's digital brand, including:
Using the full-service features and analytics of the website platform to build customer loyalty
Making products and the website aesthetically cohesive and the website easy to navigate
Keeping packaging and branding consistent across all products
Getting to know existing customers by building relationships and creating frequent touchpoints through newsletters, email coupons, and feedback surveys as well as conducting in-person workshops.
Reflections
It has been an absolute pleasure working with Owens! We had the unique opportunity to apply our newly acquired MBA business knowledge and frameworks to her challenging business problems, and we hope that she can leverage the insights we've collected to further AficaPure's business strategy and future plans.
Our key takeaways from the experience are:
There is an incredible amount of tenacity, passion and grit required to operate small businesses. We were humbled by the complexities involved in AficaPure's decision-making and planning process. Owens is the only person working on AficaPure initiatives and she has to keep track of everything from marketing to accounting. In addition to that, the business is continuously affected by macroeconomic factors, such as COVID-19 and economic downturns.
Data-driven decision-making is paramount for any business. When we first started working with AficaPure, we immediately turned to data collected over the years to help us identify trends. Numbers tell important stories.
Small steps and building blocks are essential in chasing big goals. We quickly realized that in order to achieve AficaPure's larger vision of expansion across the U.S., Owens must start small by identifying the basic building blocks and putting those in place first.
It is better to be specific and focused. Working as a consultant often means working on an ambiguous, ill-defined problem. It can be difficult not only to do a root cause analysis but also to ensure the work that is being done actually addresses the root cause. There were many times when we had to revisit the project scope and make sure our work was in alignment with the task at hand.
On-site visits are crucial in understanding the business environment. AficaPure is based in Syracuse, which meant we could not meet the client in person as often as we wanted. However, when we did visit in person, the information we gathered was unparalleled to the information we collected with the client over Zoom. We had a much better understanding of the business and its challenges after visiting the client in person.
Leveraging available resources is critical for small business success. AficaPure does a fantastic job of tapping into resources to aid business efforts. Aside from partnering with Big Red Microenterprise (BRM), AficaPure worked with Northeast Hawley Development Association (NEHDA) to receive small business support. The partnership has had an extremely positive impact on AficaPure.
We found this opportunity to work with AficaPure to be a rewarding and fulfilling experience and we are excited to see AficaPure's progress in the future.
About Shivani Mulji, MBA '24 (Two-Year MBA)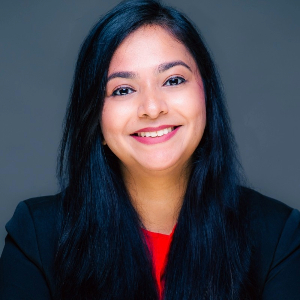 Shivani Mulji is a second-year student in the Johnson School's Two-Year MBA program who participated in Big Red Microenterprise during her first year. She has experience in nonprofit financial management and has worked across the U.S., Malawi, Rwanda, Uganda, and Zambia to help manage organizational finances and optimize efficiency. Specifically, she has analyzed financial trends and developed forecasts to inform key decisions, monitored budgets, conducted cost-savings analyses, and designed and implemented solutions to streamline processes. Over the summer she was a summer associate consultant at Deloitte. At the Johnson School, she is the president of Johnson Board Fellows, VP of early recruiting and admitted students in the Consulting Club, and VP of faculty relations on the Student Council. She earned her B.A. in economics from New York University.
About Femi Olonilua, MBA '24 (Two-Year MBA)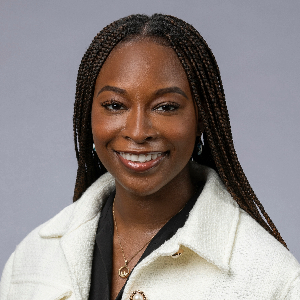 Femi Olonilua is an MBA student at the Johnson School and an MPA student at Harvard Kennedy School who participated in Big Red Microenterprise as a first-year MBA student. Prior to business school, she worked as a consultant at PwC and Deloitte, where she helped clients across the financial services and technology industries. In this role, she helped clients find operational efficiencies with the use of technology tools. She is also a CPA with experience helping clients analyze the accuracy and completeness of their financial statements. Over the summer, she interned at Bain and Company in their Washington, D.C., office. At the Johnson School, she is the president of the Johnson Africa Business Society and an Emerging Markets Institute Fellow. Outside of the Johnson School, she is a founding member of the World Economic Forum Global Shapers Community NYC–Queens Hub.