An Interview: Tina Jabeen and the Fast-Evolving Bangladesh Entrepreneurship Scene
By Rohini Manyam Seshasayee, MBA '23

Tina Jabeen is a leader in Bangladesh's technology and startup space who has been instrumental in the government's Digital Bangladesh and Startup Bangladesh initiatives, helping to transform the landscape for entrepreneurs. After spending more than three decades building her career abroad in the financial sector, Jabeen returned to her home country in 2016 to help cultivate the nascent startup ecosystem.
In an interview, Jabeen traced the origins of Bangladesh's startup success story. She explained that the Digital Bangladesh campaign launched around 2010 with four key pillars: infrastructure development, human resource development, technology advancement, and internet connectivity expansion. This laid the groundwork for growth.
"In the last 12 years, as part of the Digital Bangladesh campaign, the internet penetration in Bangladesh [reached] more than 99 percent," Jabeen said. In 2016, a few years after launching Digital Bangladesh, the government introduced Startup Bangladesh to spur entrepreneurship and develop the technology industry. Jabeen was brought on to spearhead the effort as founding managing director.
"We started off with a grants platform called IDEA (Innovation Design and Entrepreneurship Academy) to provide up to $12,000 in grants to early-stage startups," Jabeen recalled. "Since then, about 200+ startups have received grants—and it's ongoing."
Developing an entrepreneurial ecosystem
Jabeen emphasized that Startup Bangladesh goes far beyond just handing out funding. "It's not just the money that's being transferred," she said. "It's actually developing the whole ecosystem – corporate governance, legal, financial, everything."
Jabeen and her team looked to global best practices as they developed project guidelines and set up the first government-backed VC fund, Startup Bangladesh Limited. "I had some idea about what type of due diligence needs to be done, what type of valuations, what criteria affect valuations," she explained. "We were setting up benchmarks."
These efforts have paid dividends: In the last five years, Bangladesh has seen growing momentum with more international VCs looking to invest and new angel networks emerging, Jabeen said. "But we need to bring together the public policies, incentives for angel investors, tax breaks for angel investors, incentives for private companies," she added.
Government involvement has been crucial, according to Jabeen. "Government became the ambassadors and that is the success," she stated. "That is the story of the startup ecosystem."
Taking the startup ecosystem from seed stage to growth stage
While it has seen some healthy growth, Jabeen cautioned that Bangladesh's startup ecosystem is still young and needs nurturing. "The startup ecosystem is a teenager now," she said. "In order for us to take it from seed stage to growth stage, there needs to be more happening in the private and public arenas."
Jabeen wants to see more participation from angel investors, VC funds, accelerators, successful startup founders-turned-investors, private companies (through incentives), and the government (through policies and campaigns).
She also highlighted the need to focus on woman founders and entrepreneurs and for women to support one another. Some programs, like the Bangladesh Women Angel Network, are starting to make inroads. But Jabeen stressed that "We must include the woman entrepreneurs in general, not just woman founders and startups."
Jabeen pointed to the early involvement of development partners as a catalyst. Agencies like the United Nations Economic and Social Commission for Asia and the Pacific (UNESCAP), United Nations Development Programme (UNDP), and International Finance Corporation (IFC) implemented programs targeting women-led startups, which helped validate Bangladesh as an emerging ecosystem.
Keep the dream of making a difference alive
For students and young people looking to drive change in emerging economies, Jabeen had some philosophical advice. "If you are in a university, that means you are privileged; privileged to make a difference. This is your opportunity," she said. She encouraged excelling in your field while keeping the dream of giving back in mind. "Never give up that dream and don't settle for a job," Jabeen urged.
Jabeen herself has lived that motto. After a successful 30-year career in the financial sector in the U.S., she returned to Bangladesh in 2016 to help build up the startup ecosystem.
"I wanted to be financially comfortable enough that I can come back and—at some point in my life where I can still breathe and walk and live and do something—make a difference, contribute," she explained. Jabeen told students: "Go back to your community. Do something. And I think at the end of the day, to make a difference in someone else's life, [yields] more contentment."
She encouraged finding a balance—fulfilling your ambitions while being ready to serve a greater purpose. "You serve, you become excellent in whatever you do. And for these young folks, this is just a prep for what you are supposed to do as a human being," Jabeen said.
Jabeen also offered some practical advice for startups. Noting that women do the majority of purchasing, whether it's groceries in rural villages or coffee drinks in city cafes, she emphasized that founders should think about women not only as company leaders but also as a client base. "And not just the lower income, but also the expanding middle income professional women, single women," she said. "This is about knowing your customers."
Reflecting on her own career and life lessons, Jabeen stressed there are no shortcuts to success. "If you really want to succeed, if you want to make that big job, big career, big bonus—work hard," she said. "Simple."
Jabeen also cautioned about getting complacent. "For me, that's not living. We are here for a purpose," she said. She stressed the need for continual growth.
Purpose and service are important, but you must still pursue your ambitions and dreams, she said. "If you want to be a high school teacher or a primary school teacher or become the CEO of a big multinational company—really work hard, do whatever you need to do to get there. [If] that's your dream, follow it," Jabeen said.
Next steps in growing the startup ecosystem
Jabeen wants to see momentum continue to grow in the startup ecosystem with collaboration between the public and private sectors. And she believes capturing insights from failures, not just successes, will be key for growth.
She also highlighted financial inclusion as an area of opportunity enabled by the new interoperable digital payments platform launched by the central bank. Jabeen said it is going to "massively, positively impact the global value chain" by enabling cheaper and faster digital transactions.
In closing, Jabeen reiterated the importance of regional cooperation and knowledge sharing. "Regionally, we can learn from each other. We can learn from what happened in India, what worked in India. Any of the MNCs [multinational corporations] can come into Bangladesh and say that it's not as large as India, but it's a big enough homogeneous market."
Jabeen wants students to find purpose, not just personal success, and to recognize the privilege of education as an opportunity to make a difference. She closed with a simple but powerful message: "I think, at the end of the day, to make a difference in someone else's life [brings] more contentment."
About Rohini Manyam Seshasayee, MBA '23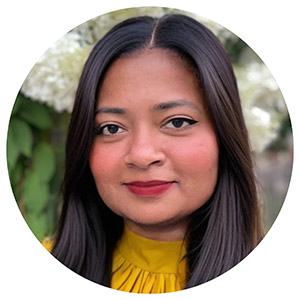 Rohini Manyam Seshasayee is a class of 2023 graduate of the Two-Year MBA program at the Samuel Curtis Johnson Graduate School of Management and an Emerging Markets Institute fellow. She has extensive experience in direct investing and climate research. She has worked for Mindshift Capital and Sweater Ventures, identifying and managing investment opportunities across sectors. She led the management and evaluation of climate and agriculture programs at Azim Premji Foundation and Abdul Latif Jameel Poverty Action Lab. An electrical engineer by undergraduate training, she began her career in a hybrid and EV transportation company. Seshasayee's deep-seated interest in the intersection of economic development and climate resilience motivates her professional pursuits.