Identifying Ways to Revive Tren Urbano, Puerto Rico's Foremost Rail Transit Project
By Surbhi Vijay Bhavsar, MBA '23

In the final semester of my Two-Year MBA program at the Samuel Curtis Johnson Graduate School of Management, I registered for the Infrastructure Project Management and Finance Certificate program at the Cornell Jeb E. Brooks School of Public Policy. As part of that, I opted for the Infrastructure Practicum, which offers a real-world project experience for students interested in learning about and addressing actual infrastructure problems, from transportation and utilities to resilience and renewable energy. This year, the practicum was focused on the Tren Urbano, a $2.25 billion dollar heavy-rail transit project in Puerto Rico.
I was one among a group of 10 students using secondary data to understand the genesis of the project. Together, we looked at the how the project developed, its issues and concerns, and based on that, defined the problem statement and compiled a list of potential solutions. In the first few weeks, discussions with experts in the field, both within and outside of Cornell University, helped students build new perspectives in looking at the problem. Our initial hypothesis was to identify actions to maximize the public and private value of Tren Urbano. About halfway through the semester, during the spring break, we had the opportunity to visit Puerto Rico to personally experience the train and, of course, Puerto Rico itself.
Puerto Rico: Traditions and trials
The first thing that strikes you as you fly into Puerto Rico is how absolutely beautiful it is. The crystal-clear blueness of the water is mesmerizing. While we expected we would be amazed by its natural beauty, whether the beaches or the El Yunque National Forest, we could not help but notice that every single person we interacted with was incredibly friendly and welcoming. Even when language was a barrier, they made extra efforts to ensure we were taken care of, felt safe, and got our concerns resolved. Walking around Old San Juan with its colorful buildings lining pebbled streets, grand palaces teeming with tourists, and delicious local delicacies served by joyful, passionate people was a cultural experience like no other.
Puerto Rico is essentially an island, 100 miles long and 35 miles wide, with the Atlantic Ocean to the north and the Caribbean Sea to its south. Its geographic location makes it especially vulnerable to frequent high-intensity natural disasters. These include the devastating Hurricanes Irma and Maria in 2017, consecutive earthquakes in 2019 and 2020, Hurricane Fiona in 2022. This frequency leaves barely any time for Puerto Rico to recover and build resiliency. The rapid urbanization in the past few decades drastically converted its various watersheds to impervious surfaces, further compounding its problems. Puerto Rico lost about 12 percent of its population, 2010-2020, due to outmigration to mainland United States.
Tren Urbano: An introduction
Construction of Tren Urbano, Puerto Rico's heavy-rail transit project, began in 1997 but operations did not start till December 2004. The 10.7-mile fixed-guideway rapid transit system serves the municipalities of Bayamon, Guaynabo, and San Juan.
In the original plan, these areas were to be connected to the San Juan airport, the tourist hub of San Juan, and other centers of economic activity in subsequent phases. From 1999 to 2004, the estimated project cost increased from $1.65 billion to $2.25 billion. As a result of that, plus political and demographic factors, the subsequent phases have not been constructed. The ridership of Tren Urbano as of the fourth quarter of 2022 was at about a fifth of what was originally projected due to the significant outmigration of population, the train's limited first- and last-mile connectivity, the ever-growing dependence on cars as the primary mode of transport, and lack of awareness among residents regarding the train and its benefits.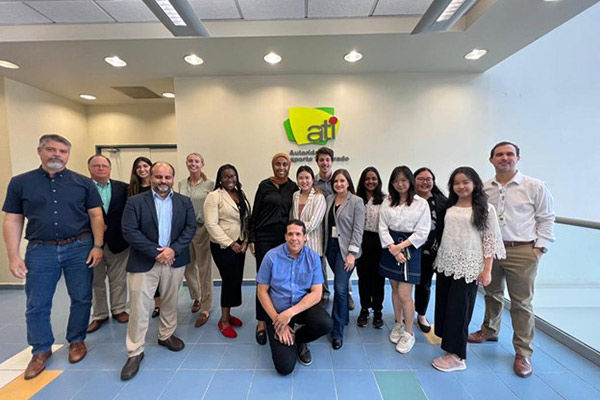 During our week in Puerto Rico, we took every opportunity to leverage the train to reach all our destinations. While the train itself is perfectly clean and comfortable, the train and the train stations are abysmally underutilized. It quickly became evident that people would rather drive in the heat and traffic than take the train. During the week, we were able to meet with senior officials from the three municipalities in addition to planners, designers, engineers, financiers, and other experts who are associated with the development of the transit system in Puerto Rico. We also met with residents and spent a day in the users' shoes to get a first-hand experience of what we do and do not like about the train ride experience. All these enlightening conversations added so many more dimensions to our analysis that we had not considered.
The way forward
After our return, the team worked on trying to consolidate some solutions that we could propose to the relevant authorities. We tried to identify solutions that are not capital-intensive and focus on improving the user experience, enhancing the system's effectiveness, and integrating Tren Urbano into the overall development of Puerto Rico through recommendations around transit-oriented development. We hope this not only improves the ridership of the train, but also accelerates the adoption of public transit over personal vehicles as a primary mode of transportation, which would have social, economic, and environmental benefits for residents. It could also potentially set the precedent for other developing cities to adopt this paradigm.
About Surbhi Vijay Bhavsar, MBA '23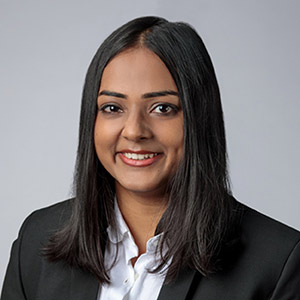 Surbhi Vijay Bhavsar is a class of 2023 graduate of the Two-Year MBA program at the Samuel Curtis Johnson Graduate School of Management and an Emerging Markets Institute (EMI) fellow. She has a background in urban development and a lifelong passion for and commitment to sustainability. She says the Emerging Markets Institute offered her a unique opportunity to gain deep knowledge about global emerging markets and to engage in meaningful dialogue with leaders and experts. Bhavsar aims to leverage her MBA and her experience as an EMI fellow to influence business leaders across geographies to drive towards holistic sustainable development.