Hospitality Hackathon Generates Ideas to Improve the Guest Experience

If you want to travel with a group of friends, chances are you will book an Airbnb rather than a block of hotel rooms.
That's because arranging a group trip at a hotel is not as easy as reserving one through Airbnb and other short-term rental apps. But if hotels provided a platform that allowed guests to book trips together and offered customized experiences after check-in, they would attract more group travel, according to a proposal that won the 2023 Hilton Hospitality Hackathon held at Cornell University.
"People are booking Airbnb, mostly in groups of two to four people," said Robert Kozloff, a student in Cornell's Master of Management in Hospitality (MMH) program who led the winning presentation at the competition. "If hotels can capture those small groups, I think they're going to be taking a lot of customers away from Airbnb."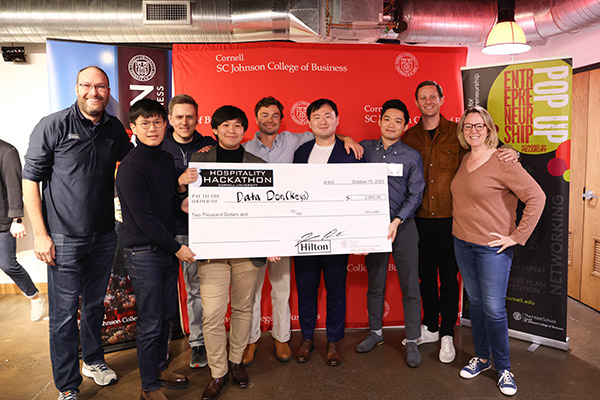 Kozloff and his four teammates, all of them students in the MMH program, received the $2,000 grand prize at the hackathon, hosted by the Leland C. and Mary M. Pillsbury Institute for Hospitality Entrepreneurship at the Cornell Peter and Stephanie Nolan School of Hotel Administration in collaboration with Hilton Hotels. Twelve teams participated in this year's competition — Cornell's fifth Hospitality Hackathon — and included students from eight schools across campus.
What made this Hospitality Hackathon different was the diverse range of ideas the teams developed to answer the question they were asked to address at the competition, said Jess Petitt '05, senior vice president of commercial strategy, insights and analytics at Hilton. "This was the widest breadth of solutions we have ever had," said Petitt, one of the event's four judges. "All of them came up with novel solutions in their own way."
Catering to the hotel guest of the future
The focus of this year's hackathon, held October 13-15 at eHub in Collegetown, was the changing needs of today's hotel guests. In the past several years, guests are increasingly relying on apps to book rooms, blending business and leisure travel, and seeking unique experiences after reaching their destinations.
Leveraging real-life data from Hilton, the 63 students at the competition were asked to develop an "exceptional experience for the hotel guest of the future" by recommending a change to an existing Hilton Hotel offering or recommending a new service. During the whirlwind weekend, the teams attended workshops led by Nolan School faculty and industry experts who reviewed current trends in the industry and offered advice on creating and delivering their proposals.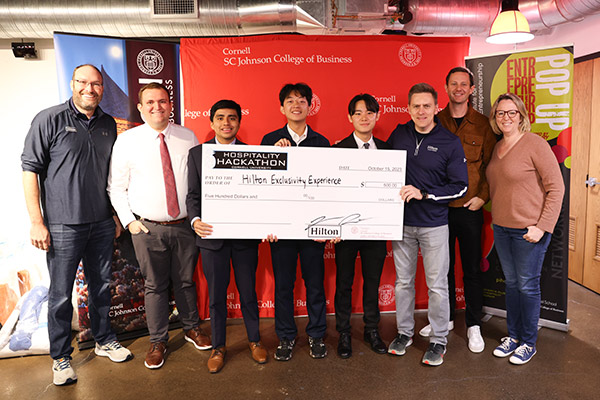 "This is an amazing opportunity for our students to really demonstrate the skill set that they need to work under a lot of pressure," said Robert Gregor '00, JD '07, executive director of the Pillsbury Institute. "They're given a problem on a Friday evening at five o'clock and by Sunday morning at 7 a.m. they have to have that problem answered and supported by a hefty amount of data—and be able to present it in a very coherent fashion."
Alex Zhang, a freshman majoring in information science in the College of Agriculture and Life Sciences, said the challenge was compounded by entering the hackathon without a team. "This was really cool, forming a team and getting to know some total strangers in under 24 hours and being able to work together to create something that's pretty special," he said.
His team's proposal—to create executive lounges in Hilton Hotels that would appeal to business-leisure travelers — won the best presentation award at the hackathon. The five Hilton Exclusivity Experience team members shared a $500 prize and each received a gift bag of Hilton accessories that included pillows, sheets, robes, and slippers.
Ideas for a better hotel experience
The proposal for a better group booking experience at Hilton's hotels received the top prize because it combined all of the elements the teams were asked to consider, Petitt said. "The solution they came up with is actually something we really need to start thinking about," he added. "It's a segment of customer growth potential."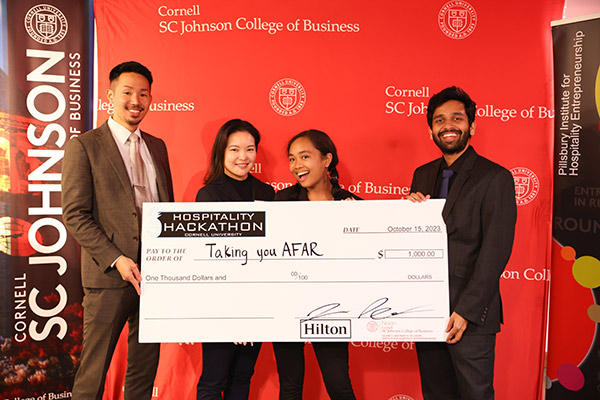 Taking You AFAR, the team winning the second-place prize of $1,000, proposed an interactive digital map that would allow guests to discover experiences and amenities at their hotel. Winning $600 for third place was a team recommending an app that would transform early check-in by digitizing and personalizing luggage storage services.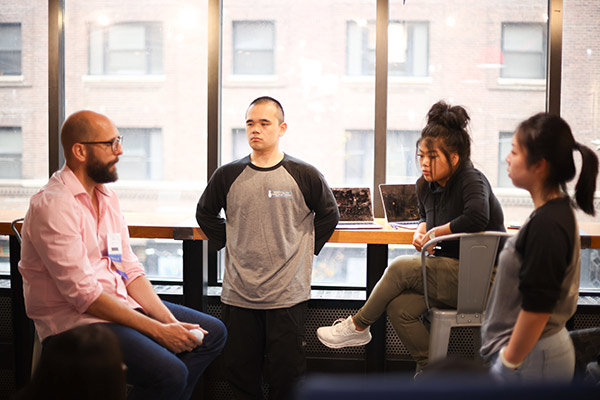 The final award of $500 for the best data visualization went to a team that proposed extending the stay of Hilton guests by converting business travelers to blended travelers.
In addition to Hilton, the Hospitality Hackathon was sponsored by ZS, a management consulting and technology firm, and MicroStrategy, a company that provides business intelligence, mobile software, and cloud-based services.
Petitt said the event not only helps Hilton identify talented students it can potentially recruit, but it also provides ideas developed by a diverse group of students. "This event raises awareness about the power of Cornell," he said. "It's not just about the hotel school. It's about the diversity of thought that exists and the most successful teams often bring those different perspectives."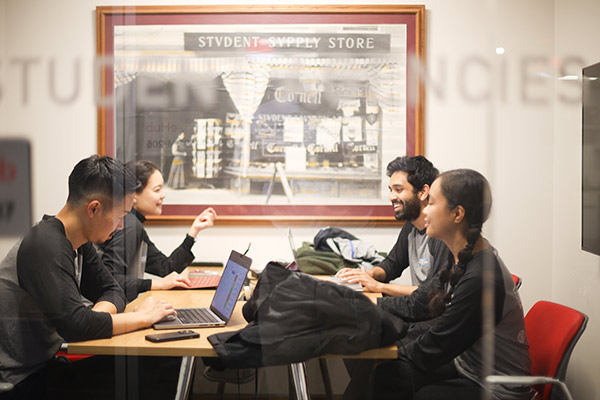 photos by Bitanga Productions