Transformative Summer at IHH Healthcare: Lessons in Operational Excellence
By Nay Thu Rein (Jacky) Aung, MHA '24

This past summer, I embarked on an incredible journey as an operational excellence intern at IHH Healthcare, and I owe this transformative experience to the Emerging Markets Institute's Cañizares Fund. This fund, established by Roberto Cañizares '71, MBA '74, and open to Emerging Markets Institute Fellows, provides a subsidy for a summer internship in an emerging market as well as funding to participate in international case competitions.
In this blog post, I want to share highlights of my internship and the invaluable lessons I learned along the way.
Operational excellence at IHH Healthcare
As a Sloan Master of Health Administration candidate in the Cornell Jeb E. Brooks School of Public Policy who hails from Myanmar, my passion lies in developing healthcare systems across borders; particularly, in exploring the roles of regional governments and private stakeholders in expanding healthcare access throughout Southeast Asia. My summer internship took place at IHH Healthcare Singapore, a leading healthcare institution in Asia. From day one, I was immersed in a deep dive of Singapore's development policies, local culture, and healthcare system.
Learning the ropes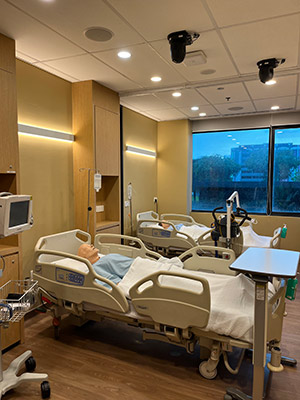 My initial weeks were dedicated to understanding the role of the operational excellence department. This involved reading green belt project reports from the previous year, which detailed continuous improvement initiatives implemented across different hospital departments. Within the first two weeks, I had already gained a high-level understanding of the behind-the-scenes operations that kept the four hospitals under IHH Healthcare running smoothly.
Problem solving
The dynamic nature of a hospital environment demands that successful hospital administrators are also adept problem solvers. Although we have eased out of the pandemic, hospital workforce shortages persist, straining hospitals, particularly when inflationary pressures become more pertinent. Additionally, hospitals faced high demand for inpatient beds, leading to patients waiting for months to secure a bed. Consequently, the operational excellence team was tasked with identifying opportunities to increase the utilization of inpatient beds, given the workforce and infrastructure constraints. I had the privilege of participating in a pilot project that involved moving a group of patients to the hospital's day wards in order to free up inpatient beds for patients with  acute conditions. My supervisors entrusted me with the autonomy to lead meetings and engage with key stakeholders, an experience I greatly appreciated and valued. Not only did I get to develop my project management skills; I also forged new friendships across departments through this project.
Strategic development
Throughout my internship, I was consistently encouraged to ask questions and tasked with projects that both interested and challenged me. When I learned that our department was working on implementing a new strategic planning tool, I was immediately intrigued to learn how strategic objectives were set and cascaded throughout the organization. Working alongside dedicated healthcare professionals taught me the value of collaboration and leadership. I witnessed firsthand how my supervisors engaged and managed stakeholders to establish alignment, a skill that is crucial in the ever-evolving field of healthcare administration.
Expanding my network across Asia
Over the summer, I also had the opportunity to travel across the region and meet industry leaders. These encounters offered me a unique and holistic perspective on the regional healthcare landscape. Meeting these individuals not only expanded my professional network but also allowed me to witness firsthand the passion, dedication, and innovation that is driving Southeast Asia's healthcare forward. These connections and experiences have left an indelible mark on my understanding of healthcare administration and reinforced my commitment to contributing positively to this vital field.
A vibrant culinary landscape and a rich cultural tapestry
Exploring the food and culture scene in Singapore was another unforgettable part of my summer internship experience. Lining up for a plate of char kway teow at a bustling hawker center was always a gastronomic adventure in itself. The aroma of sizzling flat rice noodles, succulent prawns, and smoky Chinese sausage wafted through the air. As I stood in line, I couldn't help but appreciate the communal spirit of hawker centers, where people come together to savor the rich and flavorful dishes that are an integral part of Singapore's culinary heritage. 
Visits to neighborhoods like Chinatown, Little India, and Kampong Glam allowed me to witness the coexistence of different ethnic communities and their unique traditions. I also had the opportunity to delve into the remarkable legacy of Lee Kuan Yew through books and museums dedicated to his life and leadership. His visionary insights and transformative role in shaping Singapore into the thriving metropolis it is today became evident as I explored his achievements, challenges, and the nation's history. These experiences deepened my understanding of the profound impact a visionary leader can have on a nation's trajectory, making me even more appreciative of my time in Singapore.
Looking forward
As my summer internship at IHH Healthcare came to a close, I couldn't help but envision the future of healthcare in Asia. The lessons I learned during my time in Singapore extended far beyond the hospital's walls. I gained a profound appreciation for the interconnectedness of the healthcare system, spanning across the macro-level policy landscape to the micro-level intricacies of healthcare delivery. My summer experience also offered insights into the resilience and adaptability of healthcare systems and the critical role operational excellence plays in ensuring quality care. Armed with this knowledge, I am better equipped to contribute to the improvement of healthcare access and delivery in my home country of Myanmar. 
Heartfelt gratitude
I want to express my sincere gratitude to Roberto and Gail Cañizares for supporting my goals. I also extend my appreciation to the dedicated professionals at IHH Healthcare Singapore, especially my supervisors and colleagues, who generously shared their expertise and mentored me through this journey. This internship not only enriched my knowledge but also inspired me to continue pushing boundaries in the field of healthcare. I am excited to apply the skills and insights I gained to address evolving healthcare challenges and to work towards a future where healthcare is accessible and of the highest quality for all. 
About Nay Thu Rein (Jacky) Aung, MHA '24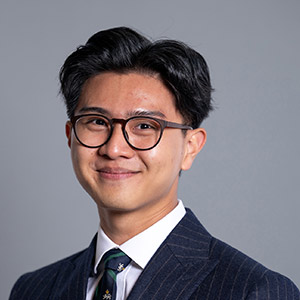 Nay Thu Rein (Jacky) Aung is a second-year student in the Sloan Master of Health Administration program at the Cornell Jeb E. Brooks School of Public Policy and an Emerging Markets Institute Fellow. An international student from Myanmar, he is passionate about developing his country's healthcare infrastructure through social entrepreneurship. Aung graduated magna cum laude from George Washington University, where he earned his Bachelor of Science in chemistry. Outside of work, he enjoys the great outdoors, exploring local coffee shops, and reading autobiographies.