Park Perspective: Getting involved at Johnson
By John Van Orden, MBA '24

Reflecting on Destination Johnson
This past May I attended Destination Johnson as a current student, and I was thrilled to find campus buzzing with the energy of admitted students come to set eyes on their new potential home.
For many current students, DJ is an anniversary of sorts. It marks exactly one year to the day when, unbeknownst at the time, our first Johnson friends were made while building LEGOs and attending club fairs together in Sage Hall.
For myself, DJ is also a weekend of reflection as I begrudgingly face the fact that my first year at Johnson has come to an end. Johnson is a school well-known for being "student led". Indeed, in my experience, what and how one chooses to participate in the community plays an enormous role in regulating the business school experience.
Chatting with so many incredible admitted students, it strikes me that deciding exactly how they will participate in the Johnson MBA is the single biggest decision each of them will make once they arrive in August. And collectively, they will determine what the future of Johnson will look like.
In our core curriculum as MBA students, we touch in various ways on the importance of allocating resources. Just as new students have to decide what clubs to join, events to attend, and classes to take, every business leader has to decide where to focus, what to spend money on, and how to spend its time. Furthermore, any business must make these decisions with incomplete information about the environment it is operating in, injecting an element of uncertainty and game theory into its decision-making processes. These collective resource allocation decisions are often the difference between growth and stagnation.
As an admitted student, I did not think in these terms. I was excited to be a part of everything and pursue whatever passion flashed across my immediate field of view. Looking back, I wonder how exactly I became involved in the Cornell Johnson community in the way I have – and how I can help admitted students navigate this most important of questions for themselves.
Getting involved at Johnson
There are 4 main ways I feel involved at Johnson, although each comes with various sub-categories, and this represents only my personal experience. They are:
1. Classes: Which classes to take and when
2. Career: How, for what roles, and when to recruit for internships and full-time work
3. Johnson events: Which clubs, Johnson-related activities, treks, and social events to join
4. External experiences: How to allocate time for activities with friends, exploring Cornell, Ithaca, and NY outside of Johnson
For each, I used a similar approach for deciding how was the best way for myself to become involved. First, I approached activities divergently, and then I became convergent in my decision making.
As an example, take clubs and Johnson related activities. Early on, I tried to learn as much as I could about the many activities and clubs available on campus. Sometimes this was through club fairs or attending introductory meetings. Sometimes it was by attending an event planned by the organization. Dumpling making party anyone? Or perhaps dancing in Johnson's annual Diwali celebration? There is so much happening in our community that it can sometimes make your head spin. And for the first few months at Johnson, I happily let myself become dizzy.
Eventually however, everyone must find a sustainable balance of activities, and decide where to become more deeply involved. This is where I shifted to a more convergent decision-making approach. Which activities felt the most impactful to me? Which would bring me the most joy? Should I participate in Big Red Consulting or Big Red Tech Strategy? Should I attend Sage Social this afternoon or try to improve my climbing at the gym? These are not questions easily answered, and this is where I struggled the most.
The divergent-convergent decision-making framework
I have learned a great deal and grown enormously during just the first year of my MBA, and one of the most important learnings has come from the classes and toolkits that allow me to think more critically about business decisions. I may not have been a great convergent thinker when I began the MBA, but one Critical Strategic Thinking class, a deep dive into capital allocation decisions for a client project, and dozens of theoretical and practical decision-making frameworks later, I feel much more confident in this skillset.
Making convergent decisions of all shapes and sizes is a critical skill for any business leader. It is a skill that I will be able to take directly from this program and use for the rest of my life. Luckily for me, it is also one that I have already put to the test many times over right here at Johnson.
To be sure, my process of divergent-convergent decision-making is imperfect and will hopefully continue to evolve and improve. But understanding my own process has also shaped how I try to support admitted students when they are thinking about their own community involvement at Johnson. First and foremost, I hope to be available and a resource to eliminate as much of the informational uncertainty that new students face as possible.
But more importantly, I would encourage all of our new students to take a moment to approach Johnson divergently – by getting involved in ways that they did not anticipate or imagine – as well as convergently. For myself, the latter was a challenge, but that is certainly not true for everyone. Whatever one's strengths, it is always beneficial to think big, but be prepared to focus.
Come this time next year, the door will be nearly shut on my time as an MBA student. However, meeting the exceptional admitted students at DJ reminds me how many new perspectives and skills are about to join our program. I'm looking forward to evolving how I am involved in the program as a second-year student as the newest cohort begins to make the school their own.
About John Van Orden, MBA '24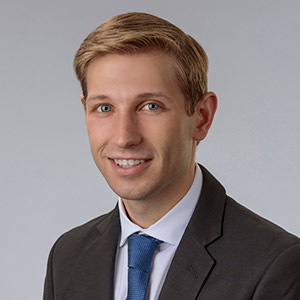 John Van Orden is a second-year MBA candidate at the Samuel Curtis Johnson Graduate School of Management. Prior to joining the MBA class of 2024, he worked for the global scientific publisher Elsevier in Amsterdam, where he led a team to provide data-driven insights for scientists and policy makers around the world. Before this, he worked as chief of staff for the director of corporate affairs at RELX and as analyst and speech writer in the office of the chairman at Elsevier in New York. He holds a BSE in mechanical and aerospace engineering from Princeton University.