Streamlining Patient Care: 4 ways my MBA made telemedicine possible in the ED
By Rahul Sharma, MD, MBA, Associate Director of the Executive MBA/MS in Healthcare Leadership Program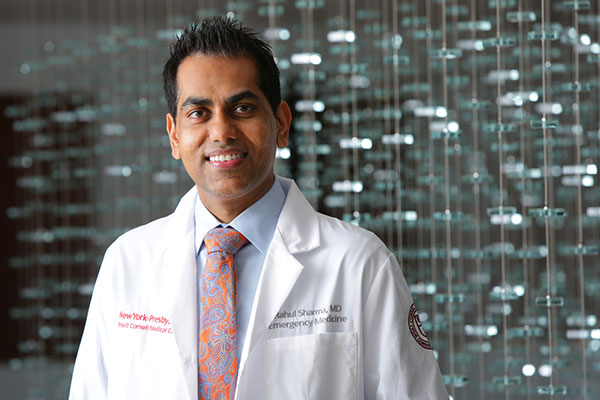 Business and management competencies are essential to leadership roles in healthcare, especially if you wish to foster sustainable change. Healthcare is increasingly recognized as a business and its changes are becoming more complex. While initiatives will always be patient centered, today's healthcare landscape demands understanding and navigation of additional issues, such as costs, third-party payers, regulatory review, patient experience, and efficiencies. As healthcare continues to evolve and change, leaders must be equipped with a business skill set in order to be effective—an MBA can be invaluable.
Prior to medical school, I took courses in accounting, marketing, and economics, which sparked an initial interest in business. When applying to medical school, I believed it would be very helpful to earn an MBA along with my medical degree given the changing healthcare environment. Several years later, I still employ the skills I learned in business school every day, not only as an emergency medicine physician, but also as a leader of the Emergency Department.
In addition to providing great clinical care, my MBA has given me integral skills in operations management, strategy, organizational behavior, and finance, which I use on a daily basis. As the head of a very busy, high-volume academic Emergency Department, we are constantly adapting to changing demands. I have devised and implemented workflow changes and launched multiple patient-centered initiatives. My MBA education allows me to not only optimize operations within the Emergency Department, but also model from successes in other industries.
When I talk with prospective students interested in the Executive MBA/MS in Healthcare Leadership program, they often ask for advice on the value of earning an MBA: Will I use it? Will it help my career? Can an MBA help me make a difference?
The short answer is yes—you will use the skills you learn every day, like I do, and you will have an edge on workforce competition because you will thoroughly understand how business fits within healthcare. The Executive MBA/MS in Healthcare Leadership program combines world-class faculty from the Samuel Curtis Johnson Graduate School of Management at Cornell University and Weill Cornell Medicine. Over the course of 20 months, you and your colleagues—healthcare leaders, directors, PAs, administrators, physicians, and more—will work on finding solutions for real challenges that are affecting high-profile healthcare institutions. You will dive into the program on Saturdays and Sundays while continuing to work in your current job, and then complete the program with two degrees in hand.
—–
I have had the opportunity to work on several innovative patient care programs with NewYork-Presbyterian/Weill Cornell Medicine. One such initiative is the launch of telehealth in the Emergency Department with the NYP/Weill Cornell ED Express Care Service (featured in the Wall Street Journal). It is one of the first ED-based telehealth programs in the country, and it is already incredibly successful in terms of streamlining efficiencies and improving patient care. In fact, we are consulting with many other U.S. health systems, which have expressed interest in implementing this program at their institutions. This program is innovative and deeply relevant because telehealth not only improves the quality of patient care and experience, but also provides increased access in a climate of limited resources.
Incoming patients are triaged and given a medical screening exam by a nurse practitioner or a physician assistant. If it is determined that their condition is not urgent—such as flu-like symptoms, a sprain, or minor abrasions—patients are offered the option of ED Express Care. Once patients consent, they are moved to a private room where a physician treats them via videoconference. Discharge paperwork is printed right in the room, and then patients are free to leave, without any further checkout process. All ED Express Care patients receive a follow-up phone call the following day from an RN.
Here's how my MBA helped to make the launch of this important initiative possible.
1. Taking an approach from the pages of Business Strategy
We had a clear goal for Express Care Service: to reduce emergency room waiting times for patients with non-urgent conditions by streamlining processes without compromising quality of care. This required an in-depth analysis of the current patient experience and process. Then we formulated a strategy to provide a new service (ED Express Care), which would further optimize patient experience without disrupting traditional workflows. My ability to prepare a strategic business plan, which addressed concerns before they became obstacles, was key to this process. And the results have been promising: Our patients overwhelmingly approve of this service, with patient satisfaction scores in the 99th percentile.
ED Express Care has reduced wait times from 2 to 2.5 hours to an average of 35 to 40 minutes.
2. Identifying stakeholders and keeping them engaged
In order to successfully implement a project of this scale, we needed to identify and engage with key stakeholders early and often. Business school gave me the skills I needed to make such identifications, ask the right questions, negotiate the best solutions for all parties involved, and most importantly, keep everyone enthusiastic and engaged. We needed several teams and departments to be fully invested, including the nursing department, the registrar, the innovation team, corporate compliance, and the legal team. A patient entering ED Express Care would interact with nursing, registration, and other ED personnel, and we wanted those first interactions to be positive.
3. Analyzing (and communicating with) the hospital landscape
The landscape that comprises a hospital is not all that different than one of a corporation. Like any business, the healthcare system is made up of employees who serve customers. Physicians do not always learn much about organizational behavior, health policy regulations, operations management, finance, or compliance, but these are areas of extreme importance when it comes to running a hospital or department smoothly and delivering outstanding care. It was very helpful for me to understand the necessity of process improvement plans from a business and clinical operations perspective. Before implementing ED Express Care, we communicated with frontline hospital staff to ensure they knew how the project aimed to improve patient care and our own efficiencies. Immediately following the launch of ED Express Care, we performed in-depth patient and staff interviews and changed and enhanced workflows based on feedback.
4. Keeping up with trends in business and healthcare delivery
Business school presents us with cases that need solutions, and we see business cases in the healthcare system every day. For us, telehealth was the solution to a common complaint in the Emergency Department—wait times. As technology grows and improves, telehealth is becoming more prominent. It speaks to the demands of a "right now" culture. The telemedicine project at NYP/Weill Cornell Medicine has been so successful that it is recognized as an example of quality service among leading teaching hospitals. Our colleagues from NYP/Weill Cornell Medicine have been invited to speak on several national panels and have also been invited to serve on several national and regional telehealth committees. We often speak and consult with our peers about how they can implement similar systems.
The Executive MBA/MS in Healthcare Leadership program is launching at such an optimal time—there is a lot more change to come to the field of healthcare. We need to prepare leaders to stay up-to-date with trends and learn to apply, or even build, up-to-date solutions that serve the business of healthcare.
About Dr. Rahul Sharma, Associate Director of the Executive MBA/MS in Healthcare Leadership Program
Dr. Rahul Sharma is an associate professor of clinical medicine. He oversees all academic and operational activities for the Division of Emergency Medicine. He is also associate director of the Executive MBA/MS in Healthcare Leadership program and an associate professor of clinical healthcare policy and research.

Dr. Sharma has a distinguished record as a medical educator. He founded and serves as director of the Healthcare Leadership and Management Scholars Program for medical students at Weill Cornell Medicine. He was honored with two national teaching awards, including the Emergency Medicine Residents' Association (EMRA) National Excellence in Teaching Award and the American College of Emergency Physicians (ACEP) National Faculty Teaching Award. Dr. Sharma received combined MD and MBA degrees in Health Management from Tufts University School of Medicine.