Noteworthy: Alumna Maggie Chan Jones, MBA '09, named 15th Most Influential CMO of 2017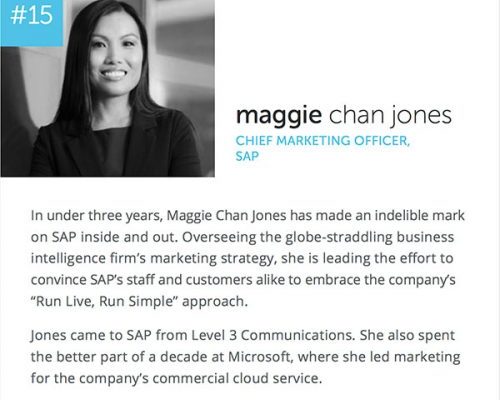 Forbes, in partnership with LinkedIn and Sprinklr, has released their list of the World's Most Influential Chief Marketing Officers (CMOs) for 2017. Johnson's own alumna, Maggie Chan Jones '09, was ranked among the country's best and brightest marketing influencers.
As technology and social media continue to evolve, so too does the role of CMOs. Today, more than ever, CMOs need to understand their audiences and be able to connect, problem solve creatively, and keep up with technological trends in order to remain relevant and successful.
Jones, who received her MBA from Cornell in 2009, has a keen understanding of how technology impacts the marketing landscape and identified the following three key qualities, in Enterprise Online, as necessary traits for success in business.
Adaptability
Putting people first
Maintaining a healthy work/life balance and support system
In addition to possessing key characteristics, Jones has great advice for how to focus on your career and be successful in business.
Read the full report or story to learn more about Forbes' Most Influential CMOs of 2017 list.