Join us! Johnson Means Business diversity event to welcome prospective MBAs
By Eddie Asbie, Associate Director of Admissions & Financial Aid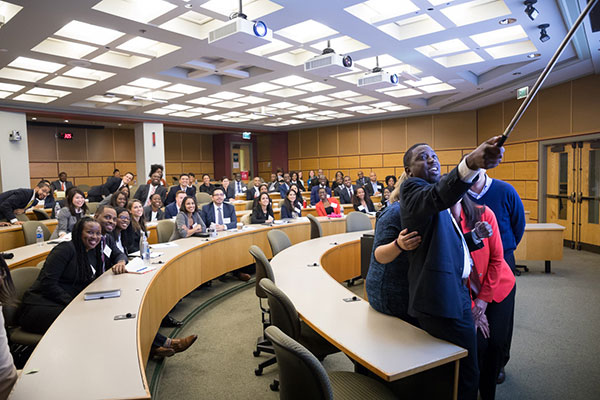 With the fall semester in full swing, we're gearing up for Johnson Means Business (JMB), our diverse and LGBTQ student hosting event on campus. On October 26, we'll welcome members of underrepresented populations and the LGBTQ community to Cornell University for two days. Visitors will experience life at Johnson, learn about our MBA programs, and meet students, faculty, and alumni. Our admissions team and student ambassadors are excited to introduce you to our Cornell MBA family!
Why attend JMB?
If you're considering an MBA, it's important to fully research the schools that you will apply to. At Johnson, we talk a lot about "fit"—making sure that this program and community is right for you. There's no better way to do that than to visiting campus yourself. Getting an MBA is a huge investment, both financially and personally. Whether you're making a career switch or looking to advance on your current trajectory, we want to make sure Johnson is the right fit for you.
JMB will not only give you the opportunity to experience Johnson firsthand, but also see how we support diverse initiatives. Additionally, you'll be invited to attend our annual Diversity Symposium and Alumni Awards Dinner. This year, we are honoring two distinguished alumnae leaders in business. Our student leaders and alumni put a lot of thought and care into planning JMB and the symposium. We want you to get the most out of your visit.
"JMB gives me the opportunity to organize an event that showcases why Johnson is a great place and why I am glad to call it home. Furthermore, as we see a lot of racial tension across the country, I am honored to organize JMB to demonstrate how open-armed and supportive Cornell has been to underrepresented minorities through these difficult times."

— Bright Botchway, MBA '18, Diversity Symposium co-chair
What to expect
If you are accepted to JMB and plan to come to Ithaca, NY, your student host will contact you before you arrive. This MBA student will help guide you and be a resource throughout the event. We'll also help you find a place to stay while you're in town. And while you're here, there will be time for you to explore Cornell University and Ithaca, NY—located in the heart of the Finger Lakes. Our campus is full of history and inspiration, surrounded by natural beauty, and steps away from a bustling college town. We hope you'll be able to see yourself here, studying and working in Sage Hall and our brand new Breazzano Family Center for Business Education.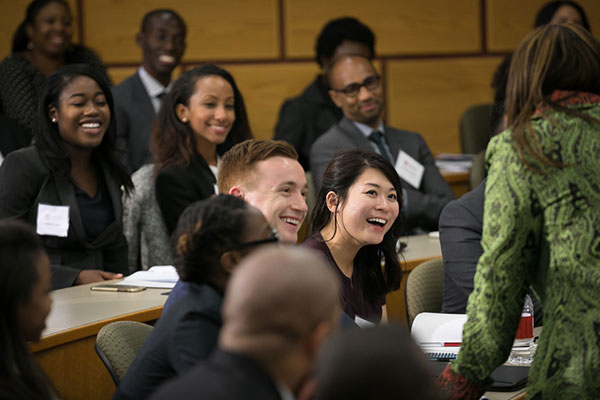 During the two-day event, you'll participate in a mock class, listen to student and alumni panels, and learn about our Career Management Center and Office of Diversity and Inclusion. Additionally, because leadership is a focal point of our MBA programs, you'll take part in an interactive leadership activity. There will also be plenty of opportunities to hear about Johnson's MBA curriculum and diversity and inclusion training and programming. Attendees will join our current students, faculty, and alumni for a number of social events, as well.
Start making connections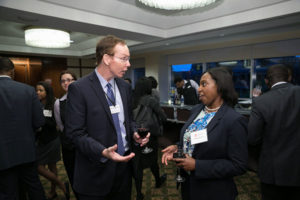 You will meet A LOT of people while you're here—there's no better time to start making connections. You'll network with our JMB Committee and members of our diverse student organizations including the Black Graduate Business Association, the Hispanic American Business Leaders Association, and Out for Business. On Thursday, you'll be invited to Sage Social, where we'll welcome our JMB participants. Sage Social happens every Thursday at Sage Hall—free food and drinks for our MBA community!
The Career Management Center will be available to answer questions and many of our alumni are returning to speak and network with our students and prospects. Even before you become an MBA student at Johnson, you'll be able to ask questions about career planning and paths.
Embracing diversity in business
Diversity in a classroom and collegiate setting really helps people grow in business, and it helps develop leaders from diverse backgrounds who will change and support the industry. Ultimately, it helps the business world grow, strengthen our communities, and break out into different areas. Different populations bring different mindsets and sets of skills—this is the only way we can succeed.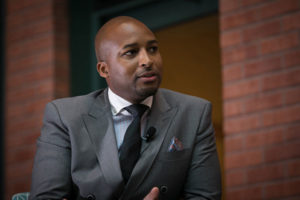 While applying to business schools, think about what your short- and long-term career goals are. Think about your network, and place yourself in an environment where you can thrive and grow. JMB can help you make this decision and see how Johnson makes all of this possible.
Benefits of attending JMB
JMB attendees who are applying for admission to Johnson this year are guaranteed an admissions interview. If you have not yet applied, you can take part in our interview prep session at JMB, and if you have applied for the October round already, you will be able to conduct your admissions interview while on campus.
JMB sessions and accommodations are free thanks to the generosity and support of our current students! You'll be responsible for the cost of travel, but if you're applying for admission through The Consortium, you will be given up to $200 in travel reimbursement. We want to be sure that we help you see and explore all that we have to offer as a community and hope this incentive allows you to visit with us next month. Please contact us for recommendations on traveling to Ithaca.
There's no better time to begin your MBA journey. Take the first step and visit us at JMB!