The Consortium: You can choose your family
By Earl Roach III, Two-Year MBA '19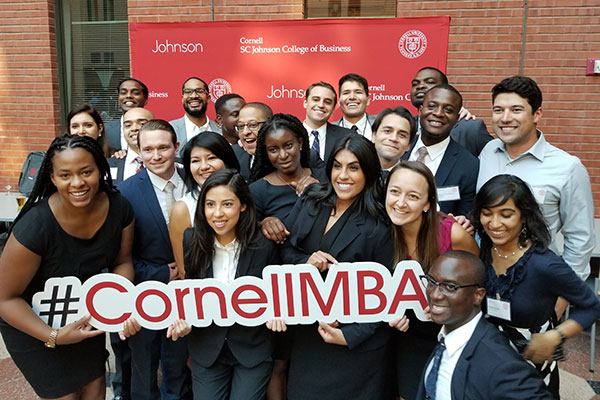 The Consortium for Graduate Study in Management is the largest MBA diversity network in the United States. Its focus is on increasing the number of underrepresented minorities in business schools. I began the Two-Year program this year as a Consortium member.
In June, I met 24 amazing classmates as part of The Consortium's Orientation Program, known to us students simply as "The OP." Over the six days at OP, my classmates and I established deep connections with one another because we met in a more intimate setting that fostered a tight bond between us. At OP, we learned a powerful chant:
"Be Proud…I Am Proud, Be Humble…I Am Humble, Be Gracious…I Am Gracious, Be Ready…I Am Ready!"
It is only fitting to talk about my Consortium family through the lens of being proud, humble, gracious, and ready. For this blog post, I am adding one additional principle: Be Family.
Be Proud
As underrepresented minorities at an Ivy League institution, we sometimes fall victim to imposter syndrome by thinking we do not belong to or do not have the aptitude to succeed at Cornell. This was our main topic one night when we were up until 2 a.m. talking and getting to know one another at OP. In a passionate plea to my Consortium family, I urged them to remember that it is no mistake Johnson's admissions team thought we were more than capable of excelling at Johnson. For us, this means being proud of where we came from, the abilities that we have, and the contributions we will make to the Johnson community.
Be Humble
This is the principle I love the most about my Consortium family. We are a collection of insanely talented individuals. And an eclectic group at that—from future bankers and brand managers to consultants and entrepreneurs. If you are truly humble, you find it uncomfortable to be arrogant while discussing your own accomplishments, but I have no shame in sharing and celebrating the accomplishments of my Consortium family. Through Pre-MBA recruiting, my Consortium family amassed internship offers from companies such as J&J, CVS, General Mills, Amazon, Dell, Google, Starbucks, and Bank of America! On campus, however, you would never know because we did not come to Johnson to boast. Instead, we are at Johnson to fundamentally impact the institutions we see around us.
Be Gracious
In light of the August 2017 events in Charlottesville, VA, I was pleasantly surprised by how fast my Consortium family, and Johnson's Office of Diversity and Inclusion, organized to bring everyone together to show our support for our peers at the University of Virginia's Darden School of Business. The picture below shows Johnson's solidarity and unity against the displays of intolerance and bigotry that occurred. What struck me the most, however, is the conversations it sparked regarding our role, as future business leaders, in promoting equity and inclusiveness. This good-natured spirit has not ceased to stop as calamity seems to face the world daily. In fact, one of my Consortium classmates organized a fundraising campaign to raise money for survivors of hurricanes Harvey and Irma.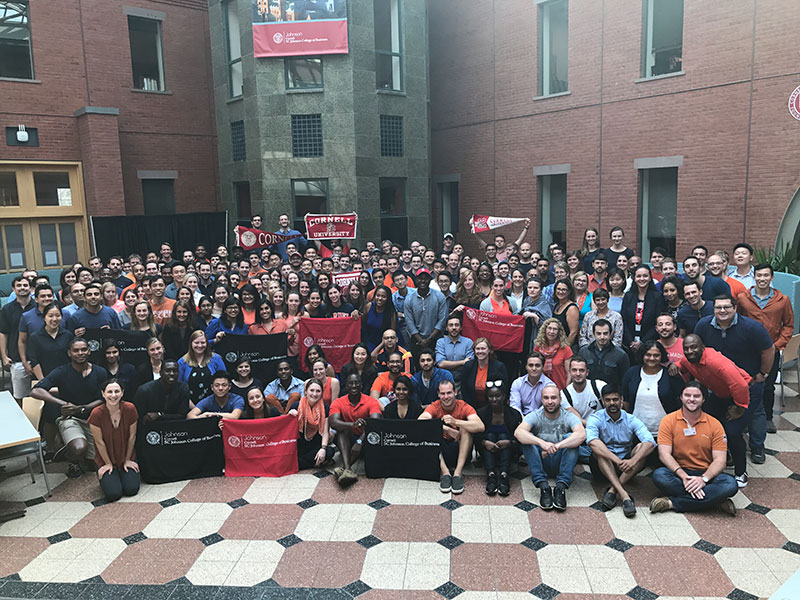 Be Ready
In a 2007 PBS interview with Tavis Smiley, Will Smith exclaimed a representative phrase of my Consortium family: "If you stay ready, you don't have to get ready!" We stay ready by supporting one another through practicing pitches, mock interviews or cases, study sessions, and most importantly… words of encouragement! We are ready to be the future business leaders across many functions and industries. Small but mighty comes to mind when thinking about my Consortium family. Every one of us will accomplish great things together in our careers beyond Cornell. It is encouraging to know that the deep bonds I create here will have a significant impact on the identity of myself and Johnson.
Be Family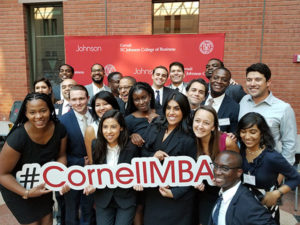 More than any other school, I had multiple and significant conversations with Johnson students, alumni, and admissions. As I began to learn about Johnson, alumni made themselves available to describe their experience. As I filled out my application, the admissions team was willing to be a sounding board as I sorted through my ideas. As I made my final decision, current students reached out to me (in droves!) to help assure that this was the right place for me. All these experiences helped me realize that I am part of an awesome family.
If you are thinking of joining the Johnson family, we are available to help any business school applicant as they navigate through their MBA journey effectively. If you are a prospective student who identifies as an underrepresented minority, do not hesitate to contact me, as I will happily connect you with someone in my Consortium family who matches your interests. Learn more about applying through the Consortium.

---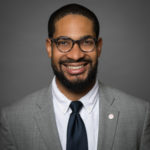 About Earl Roach III, Two-Year MBA '19
Earl is an MBA student, Class of 2019, from New Jersey. He earned a Bachelor's of Science in Business Management from NYU's Stern School of Business. As an MLK Scholar, he was heavily involved in education initiatives around NYC, which lead him to join Teach for America. Prior to Cornell's SC Johnson College of Business, Earl spent over three years as a Technology Consultant at Deloitte implementing custom software for state government clients. As a Park Leadership Fellow, his MBA program will be focused on strategic marketing, digital technology, and a passion of his to bring disruptive technology to education.