Act Fast! Aleda Schaffer, MBA '10, speaks on women's empowerment at JWiB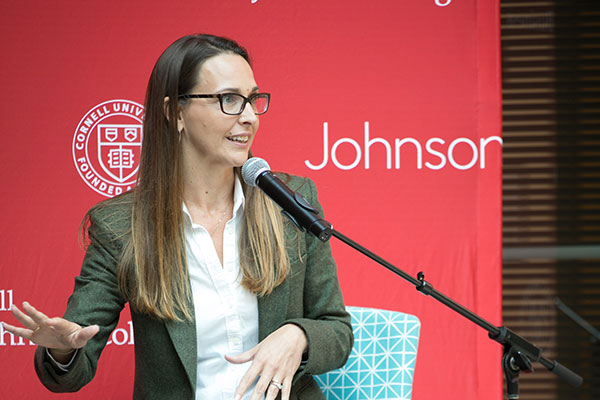 The beginning of fall semester often brings a wave of department programs, events, and gatherings meant to reveal what exactly Cornell University has to offer for current and prospective students. And in a welcoming Cornellian fashion, Johnson Women in Business (JWiB), an annual two-day admissions event for prospective women MBAs, began on September 21.
JWiB's admissions event invites women interested in pursuing an MBA straight through the doors of Johnson's Sage Hall to experience for themselves our campus culture, community, and opportunities. In doing so, prospective students are able to not only interact with current students and alumnae, but also witness and participate from within a tight-knit community that fosters opportunities for women in business.
After several administrative welcomes, socials, and workshops, JWiB hosts its lunch and keynote speaker on the final day. This year JWiB welcomed Aleda Schaffer, MBA '10, general manager of Snacks for EAT Club. As soon as Schaffer was welcomed on stage by JWiB co-chairs Stephanie Isenman and Marissa Grayfer, both MBA candidates in the Class of 2018, she launched into her story of discovering herself as a professional and a mother within the disarray of wavering career goals and expectations.
As a sign language interpreter for five years, Schaffer felt maxed out in her career by the time she was in her early twenties. Having grown up in extreme poverty, Schaffer desired stability and security to ensure she and her future family would not return to her childhood lifestyle. The plateau in her career, coupled with her need for more assurance, prompted her to attend graduate school.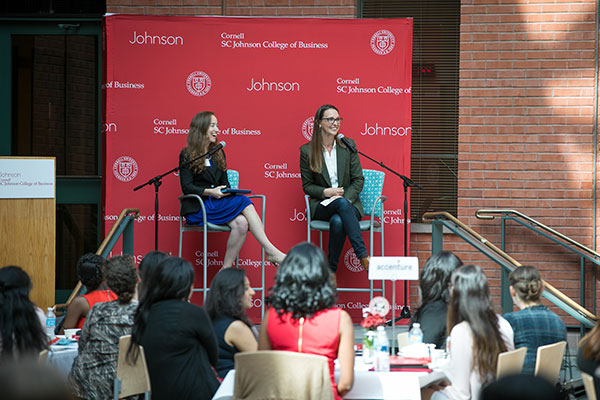 When a prospective student asked Schaffer what prompted her decision to choose Johnson, she chuckled and said: "There are not many times in my life where I can say that a moment has changed me."
Following her response was a vivid description of one of her first MBA courses at Cornell, where she was assigned to read an article entitled "Women Don't Ask." The article discusses the timidness of women in the business field and motivates women to be more bold, which Schaffer, as a fresh-faced MBA student, had immediately resonated with. From that point on, she drew inspiration from Johnson's community of women and felt empowered to put aside her fear and begin to ask the questions she wanted to ask.
A year out of school, Schaffer landed the job of program manager at American Airlines where she was tasked with the project of rebuilding and designing an airport terminal all while she was pregnant. To Schaffer, her pregnancy beared no hindrance besides the routine comments she collected from her co-workers: "Are you okay?" or "Shouldn't you be home?" To which she retorted with: "I'm pregnant, not broken."
For Schaffer, her experience at Johnson taught and reminded her that her aspirations as a woman in her career and life are both obtainable and not divergent of one another.
"I think for everybody, it's important that you take ownership of what you are doing and share the knowledge that you learn," she says. "It is one thing to go through the experience and it's another to put your thoughts out there and share." As a full-time working mother, Schaffer leaves the audience with the mantra she has picked up from her time as a Johnson MBA candidate, mother, and woman in business: "Act Fast!"