Beyond Ithaca: Johnson's Ithaca-based MBAs can take classes at Tech campus, NYC
By Vishal Gaur, Associate Dean for MBA Programs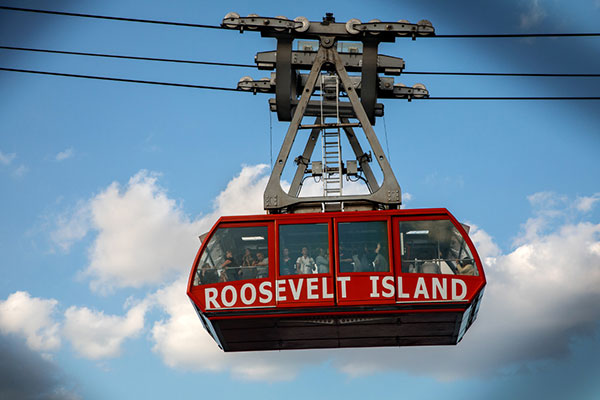 Did you know that Johnson is the only US business school with a true two-campus model? With our main campus in Ithaca, and space and faculty on the Cornell Tech campus on Roosevelt Island in New York City, Johnson students can experience a more traditional campus environment upstate and also take advantage of opportunities unique to Cornell Tech and the city.
In an effort to bring the two campuses closer together, Ithaca second-year MBA students will have the opportunity to take coursework in NYC for a whole semester starting in the spring of 2018. Not only will this provide our students on both campuses the opportunity to interface more closely with each other, but it will also allow students in Ithaca to access corporate externships, faculty, and speakers they might not otherwise encounter on the main campus.
Spring intensives at Cornell Tech
MBA students today desire a new kind of second-year experience; one that is designed for new business environments and that distinguishes them in future careers. The genesis for creating these two intensives, Fintech and Digital Marketing, was to provide Johnson students with a cutting-edge curriculum that benefits from the mission of Cornell Tech. After conducting market research with current students, faculty, and alumni, we identified fintech and digital marketing as the two areas of learning students were most excited about. About 50 second-year MBA students will be spending the spring 2018 semester at Cornell Tech.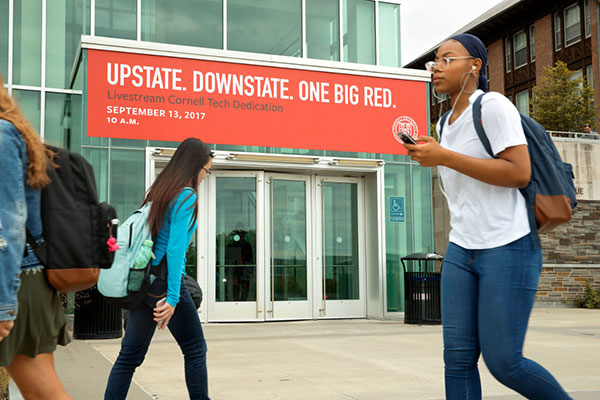 Fintech and digital marketing are two disruptive topics, lending themselves well to the connections and resources provided by Cornell Tech and Johnson alumni in NYC. Both intensives are composed of a blend of courses teaching highly sought-after skills, involving collaborative projects, and featuring a roster of highly esteemed guest speakers. They will be taught jointly to Ithaca MBA students who spend the spring semester in New York and to Johnson Cornell Tech MBA students.
From student surveys, we learned that those interested in this curriculum wanted to better understand what the future holds, stay ahead of market disruptions, and gain the skills necessary to excel in the ever-changing business environment. These intensives give students the opportunity to explore and challenge themselves on new topics before they graduate. By holding the intensives in the spring, students in their second year are able to use this time to network with companies in the city, participate in externships, and explore outside recruitment options in NYC.
Fall weekend courses in the city
Some of our Ithaca MBA students are looking to experience Cornell Tech but not necessarily spend an entire semester in New York. Our fall weekend courses provide the perfect opportunity for these students. We offer weekend courses for Johnson students at Cornell Tech on topics such as Designing Data Products, Design Thinking, Digital Leadership in Cultural Markets, and Leading Agile Innovation. These classes meet on Friday and Saturday, giving students the opportunity to network with Cornell Tech classmates, companies, and speakers on a regular basis without necessitating permanent housing in the city. About 60 MBA students are taking advantage of these fall classes this semester.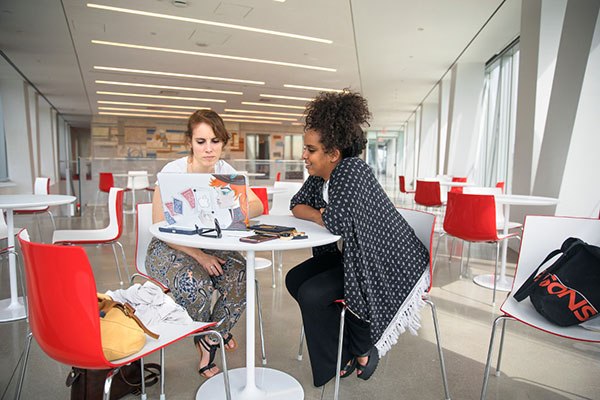 The spring intensives and fall weekend courses in NYC make it easier for Johnson students to visit company sites, collect data, and meet with key players in their industry. This curriculum expands the opportunities available to Johnson MBA students in the second year of the MBA program.
If you're interested in industries such as real estate, healthcare, human resources, or physical sciences, the offerings in Ithaca may more than satisfy your needs. For students going into tech, digital marketing, or banking, however, the experience provided by the Johnson NYC Curriculum will prove invaluable as you seek to create and innovate in your chosen field.

---
About Vishal Gaur, associate dean for MBA programs
Professor Gaur's research interests lie in retail operations and supply chain management, including topics such as inventory management, product variety, demand forecasting, store execution, and linking operations to financial performance. His research uses different types of data sets and models, such as aggregate publicly available firm-level or industry-level data, proprietary transaction-level data from firms, and online consumer browsing data to assess performance, improve demand forecasting, and optimize decision-making.