Noteworthy: Judi Byers, admissions, offers insights on Johnson MBA applications, new developments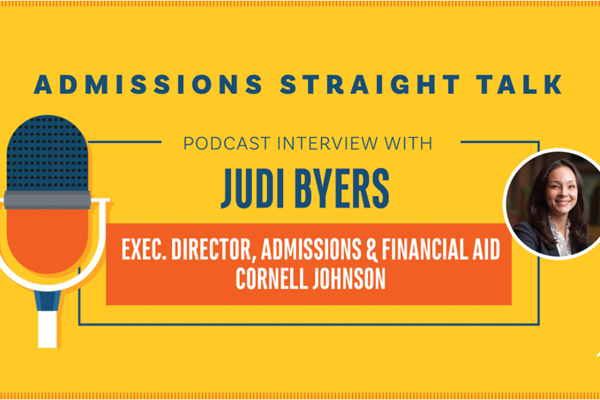 In an interview for Accepted, Executive Director of Admissions and Financial Aid Judi Byers discusses new developments at Johnson and the application process.
Johnson offers both a One-Year and Two-Year MBA program based in Ithaca, NY, each with unique advantages such as Immersion Learning, which offers students an opportunity to gain deep, hands-on experience while applying their learning in a practical sense. Students can also now opt to complete weekend or semester-long courses at Cornell Tech, connecting Ithaca and New York City.
Integrating Johnson with Cornell's Dyson School and the School of Hotel Administration, into the Cornell SC Johnson College of Business "…helps the alignment across our teaching and recruiting functions," says Byers. This has opened up opportunities for MBA students to specialize in new academic areas of focus. Byers expects continued growth for the school, particularly from the new connections between Johnson in Ithaca and Cornell Tech in NYC, as well as the new elective offerings within the larger College of Business.
Key Takeaways from Judi's talk with Accepted:
In her interview, Judi Byers addressed some things to consider when applying to Johnson Graduate School of Management:
We look for students with a diversity of perspectives—geographic, academic, professional.
"In a small community the notion of how an individual fits in is important. We look at values…you need to know what's important to you."
In the essay prompts, there's a big focus on fit and impact
"…know whether this is a community that aligns with what you're looking for…Make certain you're applying when you have your best application to put forward," Byers says.
Byers encourages applicants to engage with our events—it will help your understanding of the school and determine whether this is a community that aligns with what you're looking for.
For those planning to apply next year or later…
Byers suggests visiting or participating in regional recruiting events while you focus on your short- and long-term goals.
Read the full transcript from Accepted to learn more about applying to Johnson's MBA programs and the exciting developments at the school.