A decade in the making: From military to MBA
By Brady Reece, Two-Year MBA '18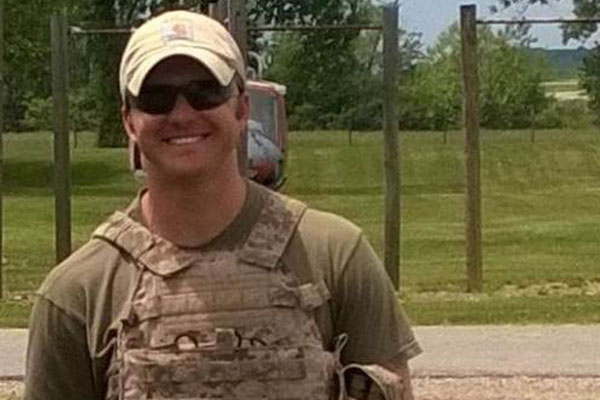 If I were asked a decade ago, "Where do you see yourself in 10 years?" I would have probably said: "In Colorado working as an engineer." I would never have thought that I'd be in Ithaca, New York earning my MBA at Johnson—and on the path to investment banking, at that.
Ten years ago, I had just come home from a deployment with the Marine Corps and was in Boulder, Colorado finishing my degree in mechanical engineering. The winding path that brought me to Upstate New York, and then to Houston after graduation, has been made possible only by an enormous amount of help along the way. This help has been from family, friends, and an amazingly deep military network that supported me while I was in the service and continues to support me as I have transitioned to school and a civilian career.
Leaving the military
I had a wonderful experience in the military, serving in both the Marine Corps and the Navy, through multiple deployments. As I came to the end of my second enlistment, I decided that I needed to make a change and started to look outside the service for other opportunities.
It was a difficult decision to leave the military for two reasons. First, it was the only real job I had ever had; it was all I had ever known. To some extent, I also felt that I was letting down my friends and fellow servicemen with whom I had been through so much. Second, I didn't know what else I would do. There was a fear that I would dislike any other civilian job and, though it sounds extreme, be miserable for the rest of my life.
My path to investment banking
When considering the possibilities of future careers, I thought back to what I enjoyed in the military. A very influential role that I had in the military was as a trusted advisor. This role left a lasting impression on me because it demonstrated how a small, highly skilled group of people, working as a team, could make a large and lasting impression on an organization, all the way up to a governmental level. I started reaching out to fellow veterans in many different industries in an attempt to find a role where I would be a good fit—one that enabled me to continue as a trusted advisor. With my engineering background, I wanted to find a career with a more analytical and quantitative focus, while still allowing me to continue working with dynamic, elite teams on large and impactful deals. I thought investment banking would be a perfect fit.
Without a finance background, I needed a way to quickly get myself up to speed and get the proper tools that I would need to be successful. An MBA was a logical next step. I knew that there were parts of my application that I wouldn't be able to change and parts that I could change. I spent my time evenly between studying for the GMAT and writing application essays.
While looking at different MBA programs, I wanted to find an environment that mirrored that of the SEAL Teams. I wanted a small, close-knit, structured program that had a steep learning curve and taught me exactly what I needed to know to be successful. I also wanted to be surrounded by motivated, forward-leaning people who didn't mind putting in extra work to do things right—people who had had success in their past, expected success in their future, but were humble in the present. I found all these things when I visited Cornell and was introduced to Johnson's Investment Banking Immersion. As I saw it, the Investment Banking Immersion was a semester long boot camp for bankers, which was exactly what I was looking for.
A summer internship and beyond
One of the benefits of attending a top-ranked MBA program is the opportunity to interact with the other amazing students, who come from all walks of life, on a daily basis. The professors provide a good framework for learning, but the real learning takes place outside the classroom. It was only with help from my peers that I was able to secure an investment banking summer internship with Evercore Partners in their Houston office during the summer of 2017. Much like wanting to find a school that mirrored some of the qualities of the SEAL Teams, it was important to me to find a bank that did the same. I had a great summer, trying to take in and learn as much as I could. I am very excited to return as a full-time associate after graduation in May.
I wouldn't have been able to tell ten years ago where I would be today, and I certainly don't know where I will be in another ten years. What I can say is, between the military and my MBA, I feel prepared for whatever comes next.
---
About Brady Reece, Two-Year MBA '18
Brady Reece, MBA '18, is a second-year MBA student at Johnson. He is the president of the Johnson Association of Veterans, a Park Leadership Fellow, and was part of the Investment Banking Immersion.