Changing careers: My transition from Starwood to Amazon
By Nasser Nammari, Executive MBA Americas '17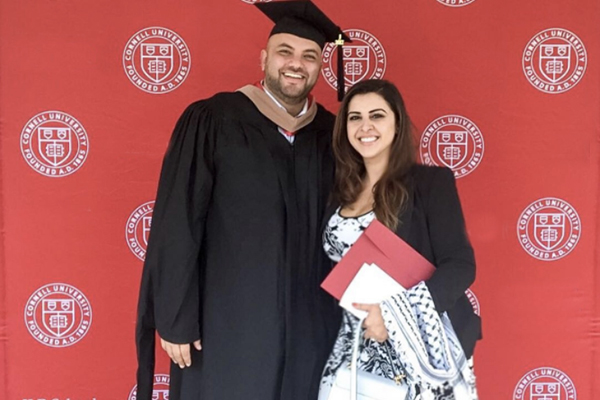 I'm a big believer in the fact that anyone can change careers at any time. But how do you know your new position will be a better fit? The key is to find something that fits your personality and your goals.
Although I started my career working a number of different jobs in the hospitality industry, I've since transitioned to a new role working for the largest internet retailer in the world. How did I go from hotel manager at Starwood Hotels & Resorts to product manager at Amazon? I chose to invest in myself and my future by enrolling in the Cornell Executive MBA Americas program.
Saying goodbye to the hospitality industry
Prior to earning my MBA, I was director of Food and Beverage at one of the biggest hotels in Edmonton, Alberta. But after working in the hospitality industry for close to 16 years, I came to the realization that I didn't see myself becoming a general manager at Starwood or any other hotel, for that matter. I knew it was time for a career change.
In order to make this career shift a reality, I was determined to expand my horizons by earning my MBA. I began looking into programs that would allow me to earn an MBA while simultaneously working 40-50 hour weeks. The Cornell Executive MBA Americas program was the perfect fit because it enabled me to attend class on weekends and didn't interfere with my day job at Starwood.
My path to product management
Unsure of the direction I wanted to pivot in after earning my MBA, I began exploring product management, project management, and consulting as possible career paths. After speaking with multiple professionals in the field, I discovered that many consultants ultimately end up transitioning into product management roles due to the long hours and stress involved in consulting. I found product management a better fit for my personality and goals.
Product managers are natural problem solvers. I was attracted to the ambiguous environment associated with product management and the opportunity to create new products that would influence the future of technology. Additionally, I was fascinated by the role product managers play in balancing the requests of different stakeholders to create a valuable product that is functional and satisfies the basic requirements for all parties.
Amazon and beyond
Earning an Executive MBA from Cornell has opened multiple doors for me. Not only did it enable me to switch careers and land a job as senior product manager at Amazon, but it also prepared me with the tools necessary to tackle challenges at any organization.
So much of what I learned from my MBA has carried over into my current role at Amazon. The soft skills I use most frequently are those gained from working in teams and solving case-based assignments. As senior product manager, I work on complex projects that require buy-in from multiple stakeholders. The Executive MBA Americas program taught me how to manage by influence, holding each party accountable for the commitment they made at the initial phase of the project.
The decision to change careers was an easy one for me. The hard part was preparing for what comes next. I went from being an expert in my field to transitioning into a new industry with a steep learning curve. It's important to consider this adjustment before changing careers. Ultimately, it was the right decision for me and one I would choose again.