MBA Women in Investing: Ramona Persaud discusses uncertainty, change, and career success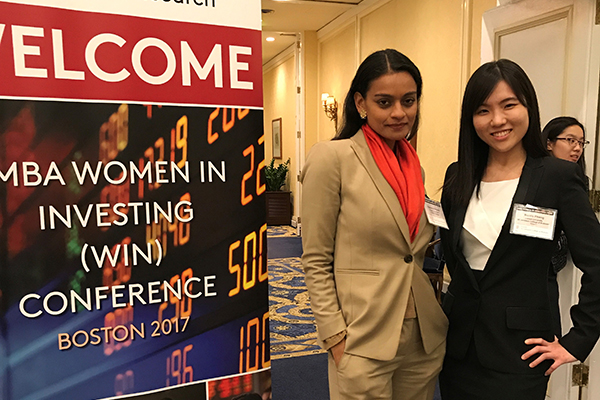 For Ramona Persaud, a portfolio manager at Fidelity Investments, constant change and uncertainty growing up helped propel her to career success.
Her cultural background is South Asian, but she has lived in many parts of the world—born in South America, spent her youth in Latin America, was educated in the United States, and now calls Europe home. In short, she's learned to embrace the unknown.
"As with so many things in life, this is not what I envisioned when I went to university to study engineering at the tender age of 16 years old," she explained to attendees of the MBA Women in Investing (WIN) Conference in Boston on Nov. 16. "So I've learned it's the plot twists in life that can be most rewarding."
As one of the conference's keynote speakers, Persaud was charged with inspiring the next generation of women going into investment management, an industry still largely dominated by men.
"You could drop me pretty much anywhere—Bombay, London, the Bronx, or even Bogota—and I'll probably blend right in, and with a bit of time, figure out how to thrive," she said.
Indeed, it was the "immense discomfort" from a consistent lack of belonging that helped lay the groundwork for Persaud's ability to take risks in her career.
"The upside is that this translated into a great familiarity with uncertainty and change, a characteristic that enables one to thrive in any setting and lends itself to personal risk taking," she said. "If you find yourselves there—and many of you will, since you're women interested in finance—do embrace being on the outside looking in. It can lead to highly differentiated thinking and in the investment business this is the Holy Grail."
In 2003, Persaud joined Fidelity in Boston as a research analyst. Years later, she left Fidelity's corporate office in Boston for London. She had the opportunity to manage a multimillion-dollar fund, while working on a number of other portfolios. Moreover, in London she happily started a family, something she attributed to taking the risk to leave Boston.
"Push into unchartered territory, which means being more uncomfortable than you already are," she said. During her talk, Persaud encouraged students to meditate on a particular quote from writer Anaïs Nin: "And the day came when the risk to remain tight in a bud was more painful than the risk it took to blossom."
The WIN Conference, now in its 8th year, is organized by the Parker Center for Investment Research, part of the Samuel Curtis Johnson Graduate School of Management at Cornell University. This year, women from 11 of the top MBA programs in the country were in attendance along with representatives from 15 investment management firms. The conference is focused around topics such as career opportunities, mentorship and networking, and the popular, if somewhat nerve-racking, stock pitch exercise.
It's important for young women to see their predecessors who have made it to the top in investment management, said Lakshmi Bhojraj, director of the Parker Center and founder of the WIN Conference.
"Just by virtue of being a successful woman portfolio manager in a male dominated field at a premier investment management firm, Fidelity Investments, [Persaud] is an inspiration to all the young women in attendance," Bhojraj said.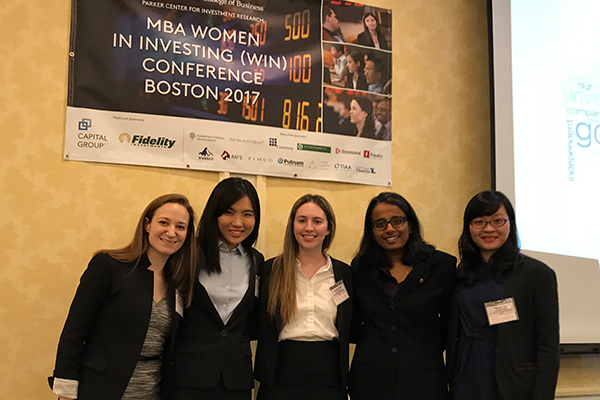 The WIN Conference aims to inspire and educate a new cohort of women interested in investment management. Bhojraj wants to help prepare women to be more confident and take their careers to the next level.
One of the conference attendees was Nicole Phang, MBA '19. The 29 year old moved to the United States about four months ago to start classes at Johnson. She found Persaud's message relatable.
"I do feel like I'm on the outside looking in," Phang said. "I would love to be part of the investment management scene but it feels like a far reach from what I was doing before. This conference was really exciting and inspiring because we've met so many women who are already there—they're successful in investment management careers."
Persaud gave additional pieces of advice, too. She said to realize the importance of mentors and sponsors (a colleague who actively vouches for your talent and potential) at work, stay true to yourself, be compassionate, and do work you find interesting because the money will follow.
"If you're smart and hungry, embracing discomfort can take you very, very far," Persaud said. "It also helps to be compassionate. I've never subscribed to the idea that success is a zero sum game. So, if this resonates with you, too, seek role models who model compassion and empathy as fiercely as they do winning."