2017 Two-Year MBA Employment Report: Higher salaries, stronger network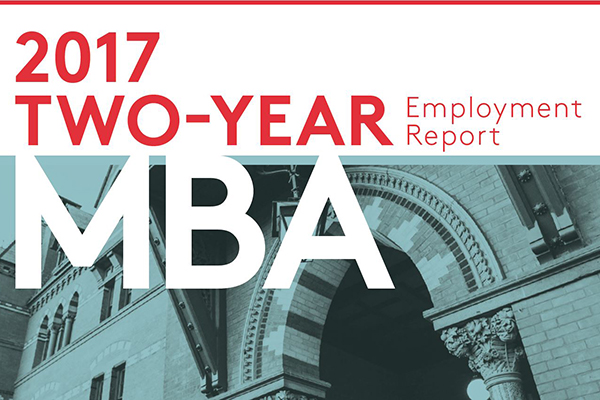 As 2017 came to a close, so did an eighth straight year of growth for the United States economy. National unemployment rates dropped to 4.1 percent in December—its lowest number since 2001. And in the third quarter of 2017, the economy expanded at 3.3 percent, marking its quickest pace in three years.
How likely is it for MBA graduates to find career success among statistics like these? Johnson's recently published 2017 Two-Year MBA Employment Report details encouraging data that mirrors nationwide trends in growth.
Class of 2017 employment data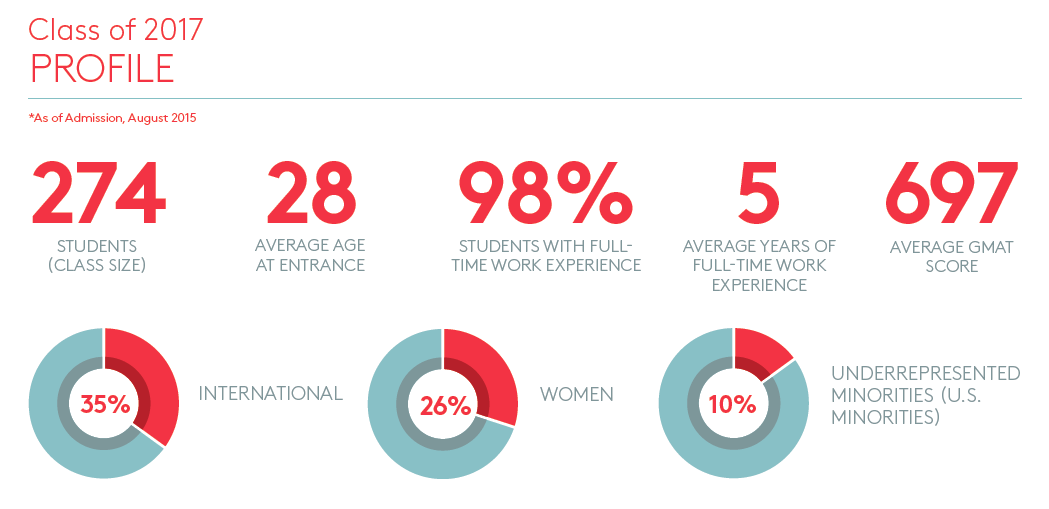 Ninety-three percent of Two-Year MBA Class of 2017 graduates reported full-time job offers within three months of graduation. These MBAs landed at 122 different companies while top recruiters included Citigroup Inc., Amazon, Deloitte Consulting LLP, Ernst & Young, Bank of America, Corning Incorporated, and Liberty Mutual.

The Career Management Center (CMC) continues to work with on-campus recruiters and welcomed 38 new companies to Ithaca. This is a significant jump from 2016—a 72 percent increase in the number of on-campus recruiting companies. In the 2016 Recruiter Survey conducted by Bloomberg Businessweek, a recruiter commented: "The quality of students is as high as ever, and we are happy to continue to recruit at Cornell."
Johnson MBAs see the value and ROI of their MBA in more ways than job placement. Average base salary was up from last year about 3.5 percent to $125,578. The increase was driven by salary growth in consulting and finance. This figure is Johnson's highest salary level to date.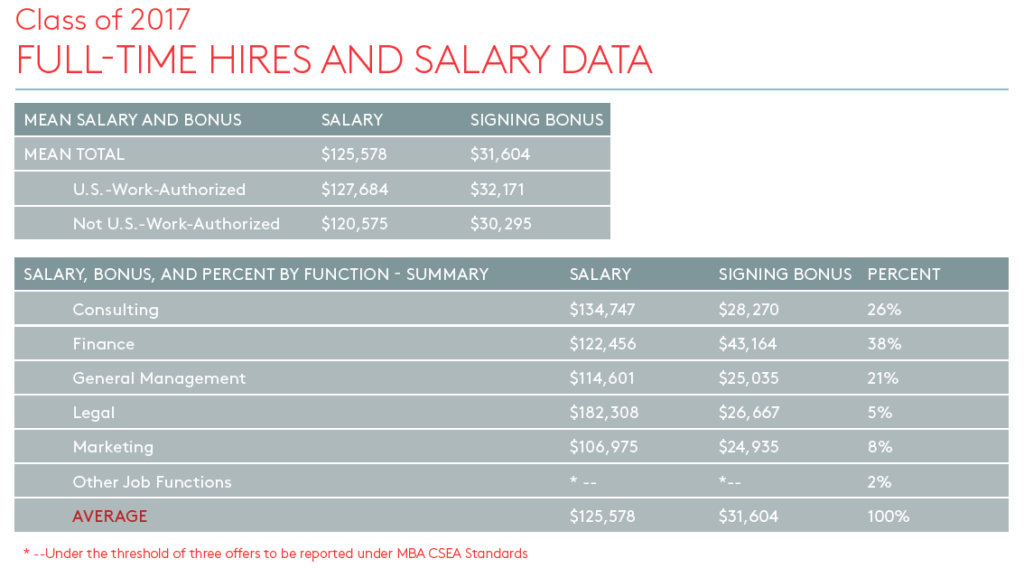 When evaluating career outcomes and employment reports among different MBA programs, prospective students should consider what else comes with their degree in hand. Johnson and Cornell's network of alumni strengthen the value of graduates' MBA with 15,000 and 250,000 alumni respectively.
"Employment rates are certainly an important measure. But it is also important to look at how strong an MBA program's network is and the salary growth that graduates continue to experience," says Cynthia Saunders-Cheatham, executive director of the CMC. "Many recruiters who return to campus are Cornell and Johnson alumni," she says. "They are passionate about Johnson and want to come back. They are available for informational meetings with our students. Some of them do mock interviews with students. They want to see our students do well. They are definitely partners in the process."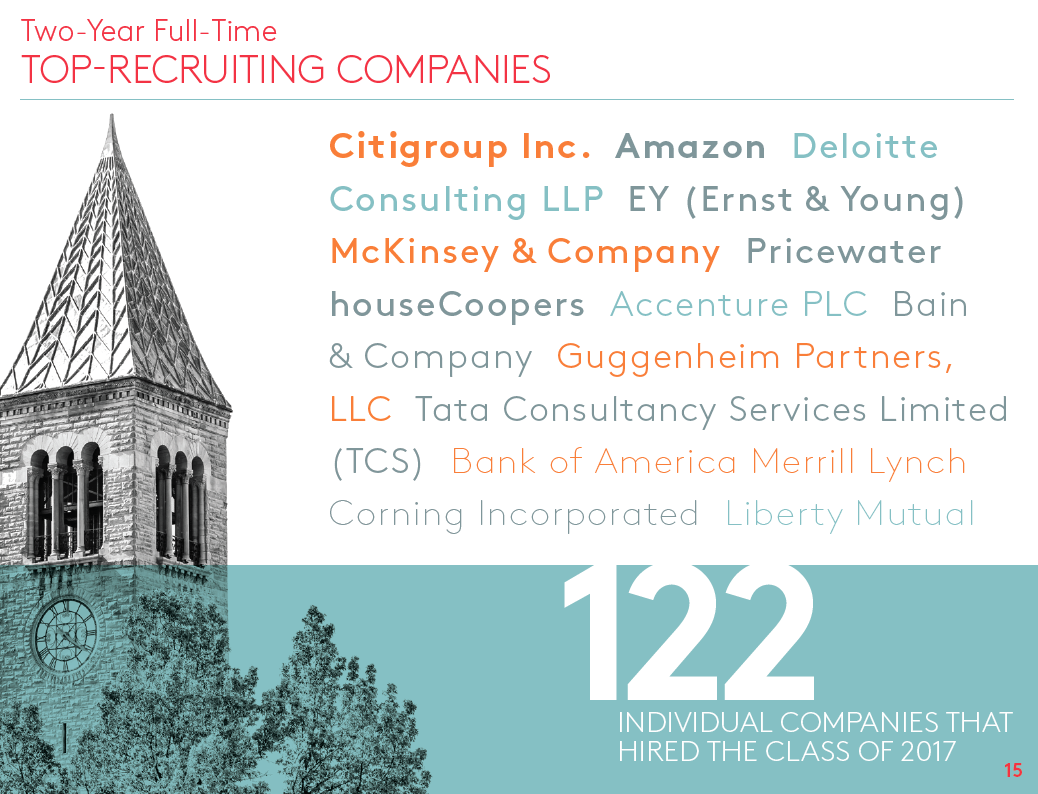 Class of 2018 internship data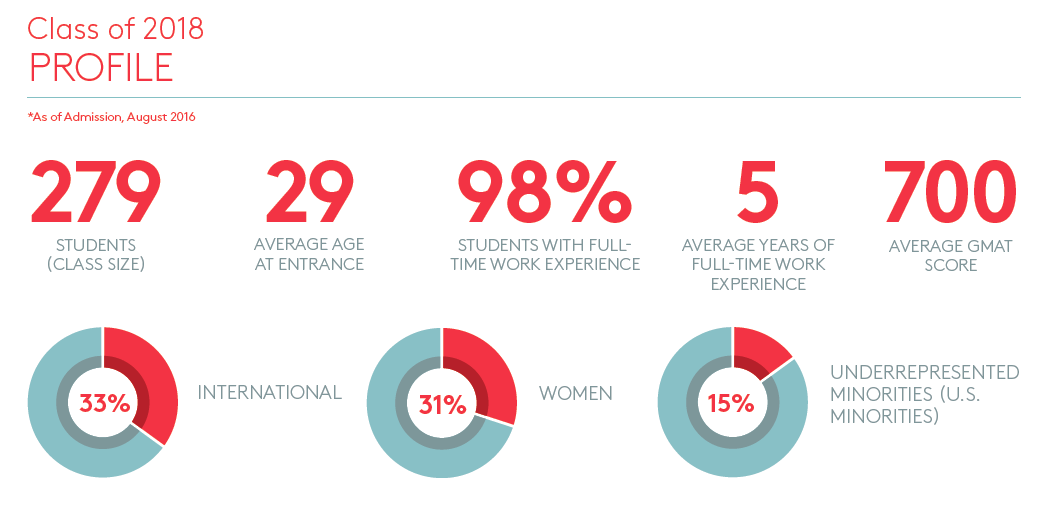 Ninety-nine percent of students in the Class of 2018 secured full-time internships for the summer of 2017. The highest percentage of students took on consulting internships at 22 percent, but investment banking was a close second at 18 percent. Investment banking continues to be a popular subject and immersion choice at Johnson. Internships in this function paid the highest average salary ($10,415) second to 4 percent of the class that interned in law ($14,795).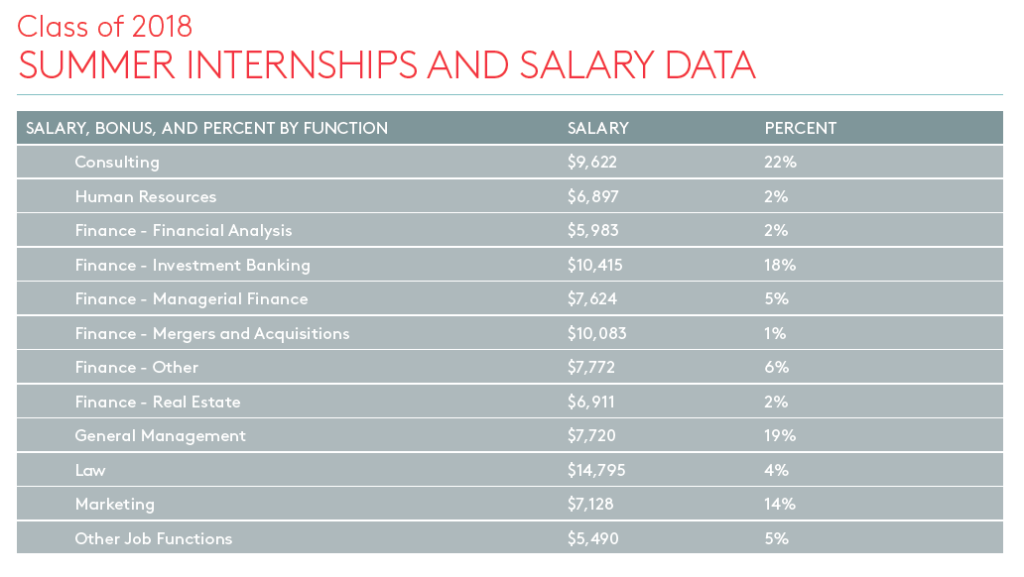 Although many MBA programs begin on-campus recruiting for internships in January, Saunders-Cheatham says some Johnson students get internship offers over the summer before they even start their coursework. For incoming students who are defining their career goals, the CMC works with them beginning on week one by scheduling meetings with career advisors and hosting alumni career panels.
"Each year, we experience the anticipation and joy of meeting incoming students, share their anxieties and optimism regarding job searches, and feel pride and satisfaction when they graduate and launch their new careers," Saunder-Cheatham says. "Student achievements are made possible because of the unwavering commitment of the entire Johnson community."
As a testament to the tight-knit nature of Johnson's community, the CMC is proud to know the employment status of 99 percent of the Class of 2017.
Read the entire 2017 Two-Year MBA Employment Report here or learn more about the Career Management Center.