Park Perspectives: Beyond the classroom with hackathons and startups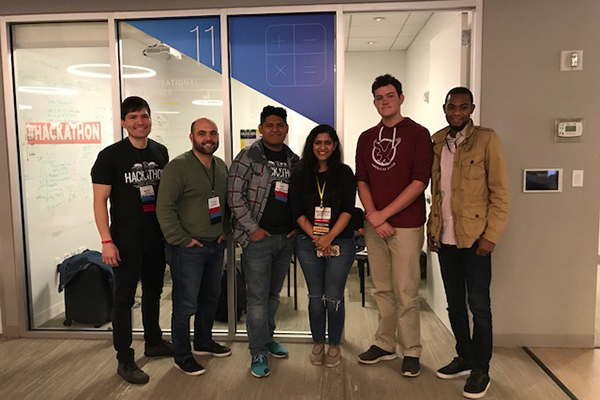 By Donnie Hampton, Two-Year MBA '19
Park Perspectives are authored by Johnson's Park Leadership Fellows.
Though I knew going to a top business school in pursuit of my MBA would stretch me in new ways, I severely underestimated how many amazing growth opportunities existed across the Cornell community for new graduate students beyond the classroom. Like many of my classmates, I came to business school to gain the skills necessary to become a Swiss Army knife capable of helping any company become better. To sharpen my saw and add skills to my toolbelt, learning what it takes to start a company seemed to be a great path in learning how to help existing companies become even better.
Following this thinking, as a Johnson student, there have been amazing opportunities to learn what it takes to go from idea to market outside the classroom.
Hackathon in hospitality
One of my initial learnings came through my first-ever hackathon experience. Having a focus on hospitality, the goal for this hackathon weekend was to develop a minimal viable product that would create a frictionless and personalized experience for Hilton customers. I knew going in I wanted to form a team that would help me expand my network outside of Johnson, and by chance, I ended up partnering with five undergraduate computer science allstars. Following design thinking principles, by the last day, we had iterated 20+ ideas, wireframed our solution design, developed a deployable mobile application (that featured computer vision), and created a story for how our concept that we called Persata could be a game changer.
Like all the other teams, we had only four minutes to pitch our idea and we had a lot of ground to cover. Though we felt confident in our work, we didn't leave a lot of time to practice our pitch, and sadly, we didn't place. For only having a four-minute pitch, we tried to stuff in 15 minutes' worth of detail and had four different speakers present—in hindsight, we did not follow a formula for great storytelling. The panel of judges was filled by executives from Hilton and had we really known the audience, our pitch should have been much more compelling and simple. We didn't leave them with a clear "so what" and you just can't do that. In the end, it became obvious to me that a great story can trump a great idea, especially if the idea isn't connecting with your audience.
And on to fintech
Taking this lesson to heart, I was compelled to participate in another hackathon. Having a passion around financial inclusion, Cornell's NYC fintech hackathon weekend challenged teams to develop innovate solutions to help those in Latin America that are either underbanked and unbanked. After finding a great team (which included two others from Johnson—Mike Annunziata and Farouk Appiedu), we focused on the customer and held countless interviews with representatives from banks in Peru and Paraguay.
Listening for the voice of the customer led to multiple solution iterations, helping us find a needed focus area. As opposed to boiling the ocean, we really chose to tackle one big issue: how to bridge the lack of trust rural small business owners had with banks in Latin America. Through this iterative process, we created a compelling story, chose to use only one presenter during our pitch, and ended up winning first place.
Then applying the lean model canvas
Coming off of this experience, to build in more practice reps for developing minimal viable products, I decided to participate in Cornell's 3-day startup weekend. Through this experience, I learned the value of following a lean model canvas approach for testing out business ideas. For those unfamiliar with this approach, the lean model canvas is a one-page business plan template that helps you quickly evaluate business ideas throughout key phases of creating a viable business.
After completing some initial brainstorming activities in our randomized placed groups, it was my turn to pitch an idea in front of all the participants and before I knew it, I had 11 eager future teammates wanting to partner up. In breaking our team up into three groups, we developed a lean model canvas in mini-workstreams, and it was obvious our initial idea had many flaws. Once we did real customer discovery with prospective customers, we decided to do a complete pivot.
In the end, our pitch and demo were substantially more compelling, and our large team was way more passionate about what we created. Had we tried launching a real business based on our initial idea, we would have spent thousands of dollars and countless hours to find out we didn't have a customer; the lean model canvas truly saved us.
After participating in two hackathons and the "3-day startup program," I feel substantially more prepared to take on the next challenge: creating a real product with a Cornell startup for my digital technology immersion practicum project. As I build on my first semester at Johnson, I am thankful for these learnings and for the new friendships I've gained. My Johnson journey has been great so far, and if these three unique experiences are just the tip of the iceberg for my Cornell story, then I can't wait to see what's in store for me my next semester.

About Donnie Hampton, Two-Year MBA '19:
Previous Academic Institution(s): Kansas State University
Previous Employer: Phillips 66
Interests: Digital Technology, Entrepreneurship, Service, Music