The state of fintech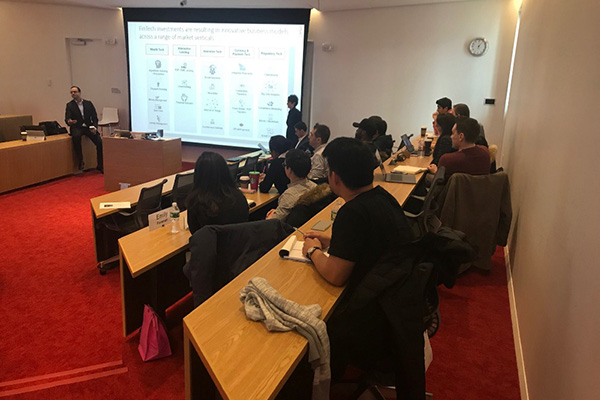 By Rodrigo Huerta, One-Year MBA '18
The banking industry has been a late adopter of technology, known for making things inefficient and hard both for internal processes and clients using their products. Although late adoption has worked OK for them for decades, new tech competitors (specially the FANG companies), are now threatening the banking industry by offering a superior user experience. They are using data and changing products to a value-based proposition—in short, making things easier for customers.
Why is fintech stronger than ever?
Macrotrends such as a higher availability of smartphones, access to bandwidth, and cheap computing power are combined with a generational change: People are more interested in convenience and open to trusting their money to non-bank institutions.
New technologies that allow for safer, cheaper, or better ways to process financial transactions such as blockchain, Internet of Things, artificial intelligence, etc.
A huge amount of cash is available to fund tech initiatives not only from VCs, but also through new models such as Initial Coin Offerings (ICOs). These offer a faster and easier funding process, as they are currently unregulated.
Although incumbents are responding by innovating from inside the institution, establishing incubators, accelerators, investing in, and acquiring fintech startups, collaborating with fintech startups seems to be the best way for fintech to grow. Even as startups traditionally have tried to disintermediate banks, most of them have realized that to directly cater to consumers is difficult and expensive, while banks are now more open to collaborate as they can explore ways to lower costs and improve customer experience without deploying too many resources. This collaboration will lead to strong ecosystems capable of competing in this fast-changing environment.
Trends to keep an eye on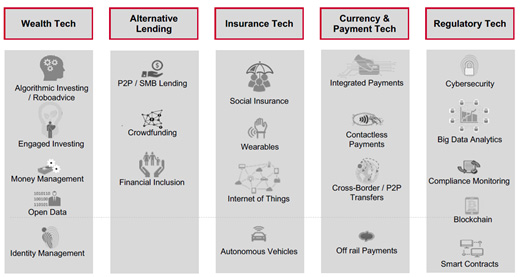 Although all of this sounds really cool, the key is in identifying those that will help institutions to achieve best and faster results. For example, as game-changing as blockchain is, there is still the need to find solutions that can actually be monetized by enterprises. In contrast, alternative credit scoring platforms allow for an increase in the customer base and a very lucrative business opportunity for banks (even though, as of now, little data is available regarding the real risk of these substitute metrics).
Being able to successfully execute ideas will be another key challenge, even for collaborative ecosystems considering that the work cultures and policies of tech startups and banks are very different, so integration will not be an easy task. Regulation will play an important role by determining how open or restrictive the environment to provide innovative products is.
In conclusion, although there are many challenges ahead, the huge amount of opportunities in this immense market, combined with great momentum, makes fintech one of the hottest industries to be part of.

---
About Rodrigo Huerta, One-Year MBA '18

Rodrigo is a CFA charterholder and has 10 years of experience in the Mexican banking industry with asset management, corporate banking, and commercial banking. He has a passion for financial innovation, particularly in fintech, cryptocurrencies, and blockchain technologies for the financial industry.