Park Perspectives: Growing personally while starting over professionally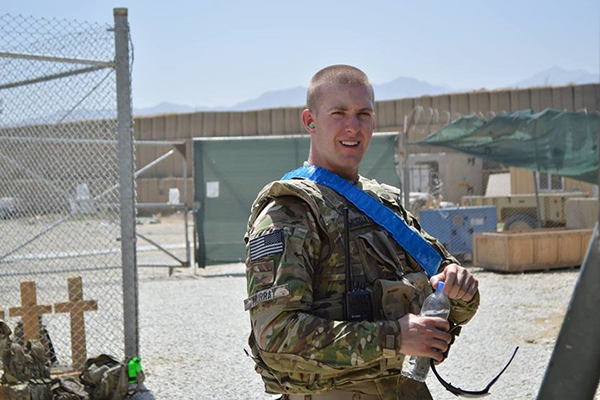 By Michael Murray, Two-Year MBA '19
Park Perspectives are authored by Johnson's Park Leadership Fellows.
Some career switchers think business school is all about getting a job, while some career advancers view it as a two-year vacation. It is merely a means to an end for these people, and before business school I was one of them. Believe it or not, before applying I had never known someone who went to a full-time MBA program. Prior to school, I was a logistics officer in the U.S. Army where almost all advanced degrees are completed online. I'm also from a small rural community in Pennsylvania, the kind of place that people hate when they are growing up, but never end up leaving. In this area, advanced degrees are scarce, and advanced degrees in business are unheard of. I knew what the MBA could do for my career, but I didn't know what it could do for me personally.
Time for the next chapter
Deciding to change your career is never an easy one, and it wasn't for me either. I loved the people I worked with and the sense of purpose that the military gave me, but the fact was, I couldn't see myself doing it for 20 years. I wanted to have more control over my future and eventually settle down and have a family. Seeing the struggles of my soldiers and fellow officers trying to raise families while deployed, I knew the decision I had to make. I learned so much about myself through serving, but it was time for the next chapter in my life.
The online MBA was recommended to me by every single one of my senior officers when they heard of my goals. "Why would you forgo two years of salary for the same degree?" "Why would you spend all of that money when everything that you will learn is readily available online?" These were the most common comments. But I had done my research and knew that for the career that I wanted to pursue (equity research), a top-ranked, full-time MBA was a requirement for a career switcher, especially one coming from the military. I had to reinvent myself professionally, develop my financial knowledge, and utilize my new network to attain my dream job, but I had no idea that what was in store for me was much more than that.
Finding a sense of purpose
Once at Johnson, I immediately started learning everything I could about finance and, in particular, stock pitches as this was the key to gaining an internship, which was the first step to attaining a job, which was the whole goal of business school. I was quickly forced to, thankfully, take a breath and reflect through different Park Fellows events. The events are designed to take you outside of your comfort zone and think about different critical moments in your life and how your actions shaped who you are. This self-reflection enhances your sense of purpose as you craft a vision for yourself to continue to help others and stand for something you believe in years down the road.
I started to realize that business school isn't about where you are going or what you've done—but who you are. I looked around and saw so many incredibly intelligent and successful people willing to help complete strangers. I saw second-years taking time out of their nights and weekends to help first-years prepare for interviews, first-years helping second-years by introducing them to people at their old firms, and I never imagined how much I would learn from my peers and second-years in the various clubs I'm in.
There's more to business school than finding a job
While business school will help you achieve your goals, either to go into an entirely new industry or to accelerate your advancement within your current industry, it should be much more than that. It should be about finding who you are, what you stand for, and helping others. It is a unique opportunity to grow personally while starting over professionally.
Wherever you are on your journey (maybe you are thinking about applying to Johnson, maybe you are a current student, or maybe you are an alumnus reflecting on your years at school), I encourage everyone to take a breath and reflect upon what is most important to you and what you want your impact to be, not just at school, but in life.
After coming to Johnson and meeting the people here, I now know that business school doesn't have to be a means to an end. Students should take advantage of this unique opportunity in their lives to explore what excites them, get out of their comfort zone, compete in competitions, learn from others, tell people their story, and most importantly, grow as a person.

About Michael Murray, Two-Year MBA '19
Previous Academic Institution(s): Pennsylvania State University
Previous Employer: United States Army
Interests: Equity Research, Investing, Soccer, Snowboarding, Chess